Designation/Position- Guest Assistant Professor
Sri Venkateswara College (University of Delhi), New Delhi, invites applications for Guest Assistant Professor from eligible and interested candidates.
About- Sri Venkateswara College in Dhaula Kuan, New Delhi is seeking candidates for the position of Assistant Professor on a guest basis in the Department of Botany. Interviews will be held on 31st January, 2023 at 11:30 AM.
Designation: Assistant Professor (Guest Basis)
Research Area: Botany
Location: Sri Venkateswara College, Dhaula Kuan, New Delhi-110021
Eligibility/Qualification:
Candidates should have the necessary qualifications and experience as required for the position of Assistant Professor. Candidates whose names are empaneled in the current adhoc panel L.e. 2022-23 panel will only be considered for interview.
Job Description:
The Assistant Professor will be responsible for teaching and research in the field of Botany. They will also be expected to participate in departmental activities and contribute to the overall development of the college.
How to Apply:
Candidates should attend the interview with their original certificates relating to academic qualification, experience certificate(s) and updated resume etc. as per the schedule.
Last Date for Apply: 31 January 2023 at 11:30 AM.
Candidates are requested to monior the college website for any addendum/corrigendum before turning up for the interview on the scheduled date.
Please note that No T.A. or D.A. will be paid for appearing in the interview. The candidates are advised to wear proper mask and adhere to other stipulated government mandated guidelines as per Covid 19 norms before entry into the campus.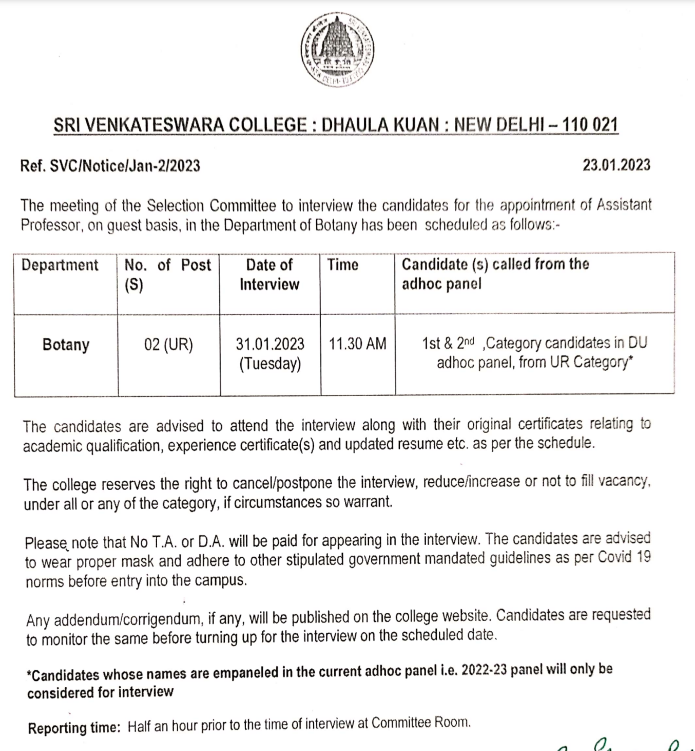 You can get our Regular updates on Telegram also
See Also: Motivation Letter for PhD, Postdoc, and Other Research Positions
Whitesmoke Grammar Checker Online – Improve Your Research Writing Skill – Alternative to Grammarly
How to write a literature review: Tips, Format, and Significance
Research Proposal How to Write: Detail Guide and Template