Bhaskaracharya College of Applied Sciences, affiliated with the University of Delhi and accredited with Grade 'A++' by NAAC, is conducting walk-in interviews to appoint Guest Faculty members in various departments. Qualified candidates are invited to participate in the selection process as per the schedule provided below.
Designation: Guest Faculty
Research Area: Biomedical Science
Location: Bhaskaracharya College of Applied Sciences, University of Delhi
Eligibility/Qualification:
Eligibility criteria for Guest Faculty positions will be as per UGC Regulations 2018 and as adopted by the University of Delhi.
Candidates must be empaneled with the Ad-hoc panel of the respective Departments of the University of Delhi. Only candidates whose names are empaneled in the Ad-hoc panel will be considered for the interview.
Applicants should not hold any other teaching assignment simultaneously.
Retired teachers (superannuated) up to the age of 70 years may also be considered for engagement as Guest Faculty.
Job Description:
Guest Faculty members will be responsible for teaching and related academic activities in their respective departments.
The appointment is on a temporary basis to fill vacant positions.
Specific duties and responsibilities will be discussed during the interview.
How to Apply: Interested candidates are required to attend the walk-in interview as per the following schedule:
Reporting Date and Time: 3rd October 2023, 11:30 AM
Please note:
Candidates should come prepared with all necessary documents, including their empanelment details.
The college reserves the right to increase, decrease, or not fill the vacancy based on circumstances.
No remuneration will be paid for attending the interview.
Last Date for Apply: 03 October 2023 (walk-in interview)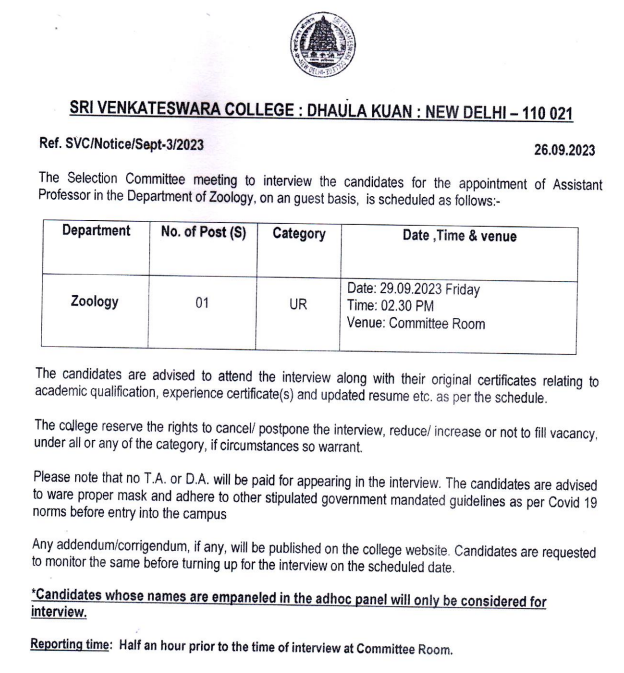 You can get our Regular updates on Telegram also
See Also: Motivation Letter for PhD, Postdoc, and Other Research Positions
Whitesmoke Grammar Checker Online – Improve Your Research Writing Skill – Alternative to Grammarly
How to write a literature review: Tips, Format, and Significance
Research Proposal How to Write: Detail Guide and Template