Designation/Position- Research Associate I at IISER Bhopal
IISER Bhopal, India invites application for Research Associate I at IISER Bhopal from eligible and interested candidates
About- Indian Institute of Science Education and Research, Bhopal is an autonomous public research university in Bhauri, Bhopal district, Madhya Pradesh, India. Research Associate I Position at IISER
Applications are invited for the post of Research Associate-I in a SERB project "Alternatively connected corrole-porphyrin hybrids: Investigations on metalation, structure and properties". The vision of the Institute is to provide high quality education to undergraduate, postgraduate, and doctoral students. The Institute also aspires to contribute to the society through teaching and research to help achieve global sustainability. Further, the Institute aims to produce leaders in science and related disciplines. To establish, build, and sustain an Institution of the highest caliber by the complete integration of teaching and state-of-the-art research.
Research Area- Inorganic / organic chemistry
Location- Indian Institute of Science Education and Research Bhopal, Madhya Pradesh
Eligibility/Qualification–
• Ph.D. in Inorganic / organic chemistry with a good academic record.
• In addition to the above-mentioned minimum qualifications, the candidate should have hands-on experience in synthesis, characterization and electrochemical analysis of porphyrin-based macromolecules and/or related conjugates.
Working knowledge in molecular magnetic materials/Photo- or electrocatalysis using metal complexes/ solar cells; Analysis of data from structural/ electrochemical /magnetic measurements
Job/Position Description-
Number of positions: 1
Duration: 1 year with a possibility to extend for another year on satisfactory performance.
Fellowship: Rs.4 7000 /- + HRA as applicable
Accommodation: As per IISERB rule
How to Apply-
The application containing an updated CV with a recent photograph, names & addresses of two referees (including Ph. D. thesis supervisor) and a brief synopsis of their Ph.D. thesis should be sent to sankar@iiserb.ac.in. The e-mail containing the application should have the subject "Application for the post of RA in a SERB project". The application should reach us on or before 1st of March, 2021.
Interview: Only shortlisted candidates would be called for an online interview.
Last Date for Apply–1 March 2021.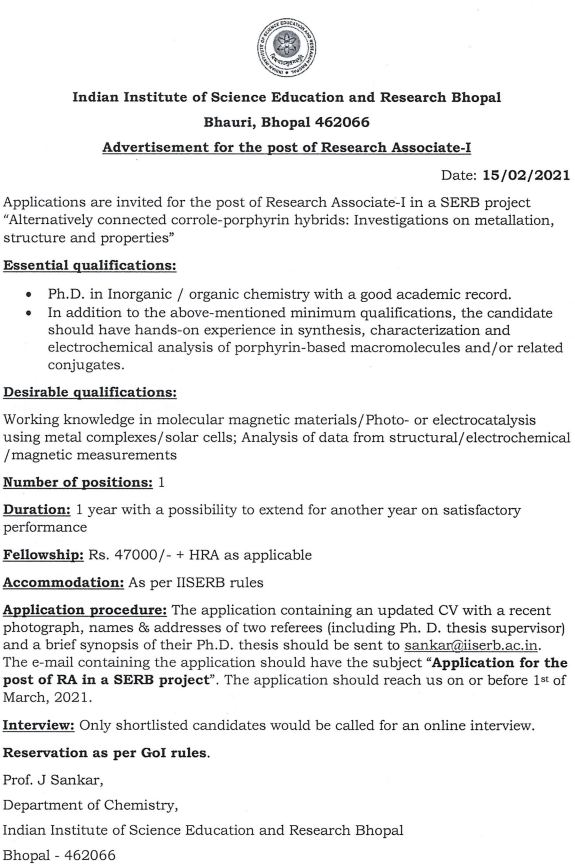 Find or Post Research Project PositionS – Researchersjob Board
Join Our Discussion Forum – Keep your view, share knowledge/opportunity and ask your questions