Research Associate – I (RA-1) Position in IACS, Jadavpur, Kolkata, India
Designation/Position- Research Associate – I (RA-1) Position
Indian Association For The Cultivation Of Science, Jadavpur, Kolkata, India, invites applications for Research Associate – I (RA-1) Position in IACS from eligible and interested candidates
About- The Indian Association for the Cultivation of Science (IACS) is a society registered under Act XXI of 1860 and the corresponding State Act viz. the West Bengal State Registration Act 1961, with its headquarters at 2A & 2B, Raja S. C. Mallick Road, Calcutta – 700 032, West Bengal, India. It has a Governing Council with several members elected or nominated and the Registrar as its Non-Member Secretary. The Council has the functions, duties and power as envisaged in the Memorandum and Bye-Laws and per the relevant Act's provisions.
Research/Job Area- Biology
Location- Indian Association for The Cultivation Of Science, Jadavpur, Kolkata, India
How to Organize for Research Work – Research Paper Writing Tips
Eligibility/Qualification–
A candidate should have a first-class or a high second-class B.Sc. & M.Sc. degree in any discipline of Biology with minimum average marks of 55% and has obtained a Ph.D. The candidate should have a Ph.D. degree in Biology and research experience supported by publications in peer-reviewed journals. Preference will be given to the candidate who has teaching/lab experience. For RAII post the candidate should have 2 years post doc experience.
Job/Position Description-
Walk-in Interviews for one Research Associate-I/ Research Associate-II (1 post) will be held at the School of Biological Sciences (Room Number M-104) IACS, Jadavpur, Kolkata-700032 on 11.12.23 at 11.30 a.m. Interested candidates with the following qualifications are required to appear along with a full bio-data.
Duties: Along with the research work,the candidate will be responsible for taking the practical classes as well as the laboratory of BS-MS and Int-PBS program of the School of Biological Science (SBS). Occasionally candidates may also need to teach a few theory classes in the same program.
Research Area: Biological Science
Emoluments: As per the rules of the institute The post is purely temporary. No TA will be admissible for attending the interview.
How to Apply-
Interested candidates may attend the interview with a complete resume (mentioning email address) and photocopies of all certificates, reprints, etc. along with the original certificates of qualification, experience, etc.
Date of Walk-in-Interview: 11.12.2023 at 2.00 p.m. in the School of Biological Sciences (Room
No M104), IACS.
For further details, candidates may contact:
Prof Prosenjit Sen
School of Biological Sciences E-mail: bcps@iacs.res.in.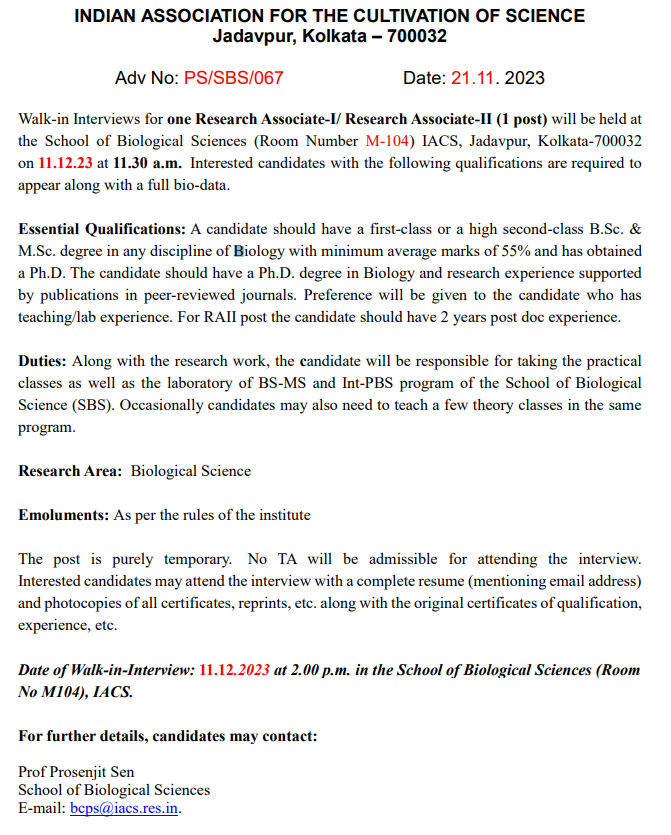 Last Date for Apply– 11 December 2023
Join Our Discussion Forum – Keep your view, share knowledge/opportunity and ask your questions