CSIR Scientist Recruitment -CSIR-IIIM, Jammu, India, Pay Level-11, 12 & 13
Designation/Position- Scientist Jobs in India
CSIR-IIIM, Jammu, India invites application for Scientist Jobs in India – from eligible and interested candidates
About- CSIR-Indian Institute of Integrative Medicine (CSIR-IIIM), Jammu, is one of the constituent Institutes of the Council of Scientific & Industrial Research (CSIR), a premier multi-disciplinary R & D organization in India which is an autonomous body under the Ministry of Science & Technology, Government of India. CSIR-IIIM, Jammu is engaged in high quality research and development having primary focus on drug discovery from natural resources (medicinal plants and microbial species). CSIR Scientist Recruitment
Research/Job Area-
The applicant must be a citizen of India.
The date for determining the upper age limit, qualifications and /or experience shall be the closing date i.e.; 10.02.2022, prescribed for receipt of applications.
The upper age limit is relaxable upto 05 years for SC/ST and 03 years for OBC (Non-Creamy layer)as per Government orders in force only in those cases where the posts are reserved for respective categories, on production of relevant certificate in the prescribed format signed by the specified authority at the time of interview.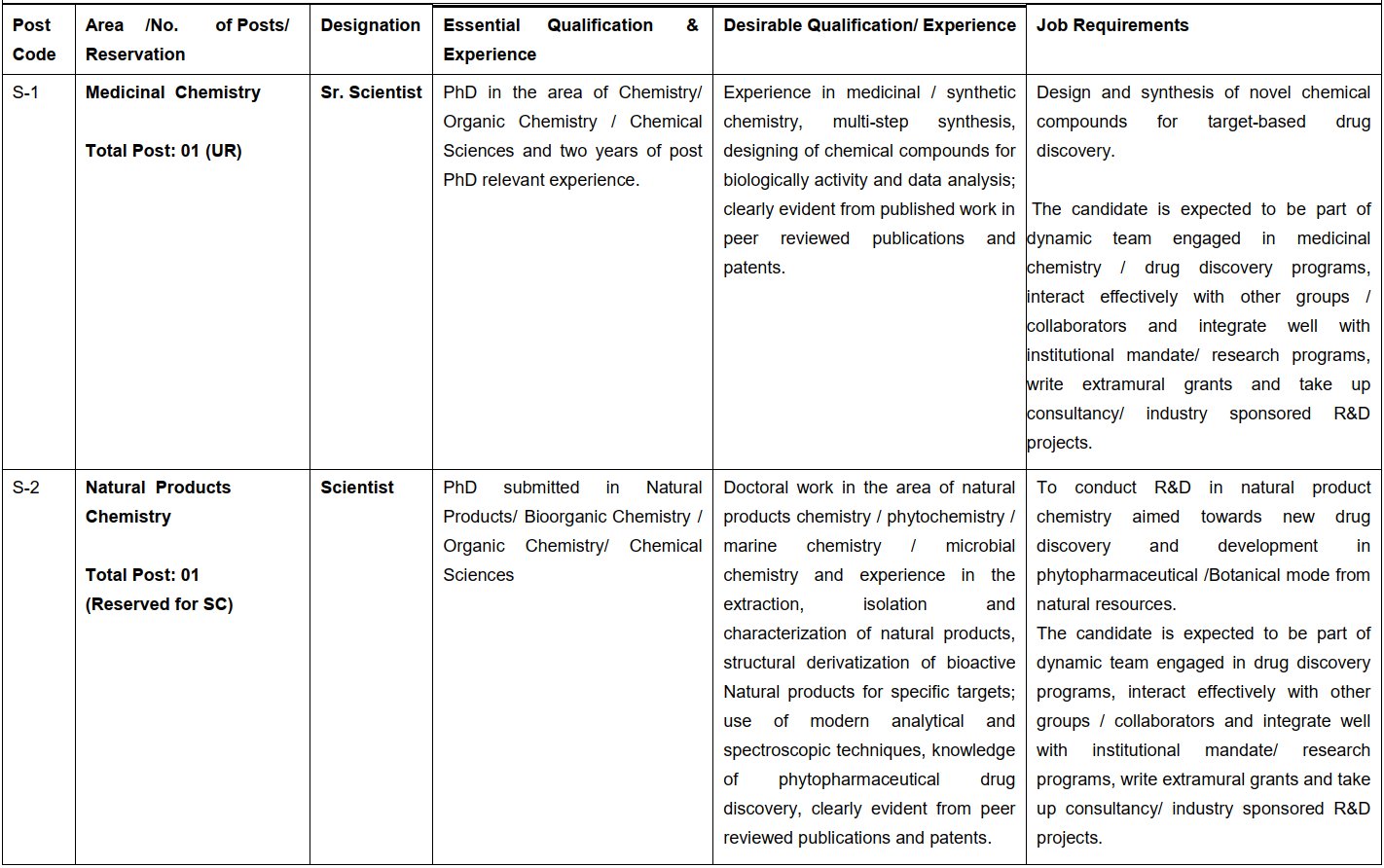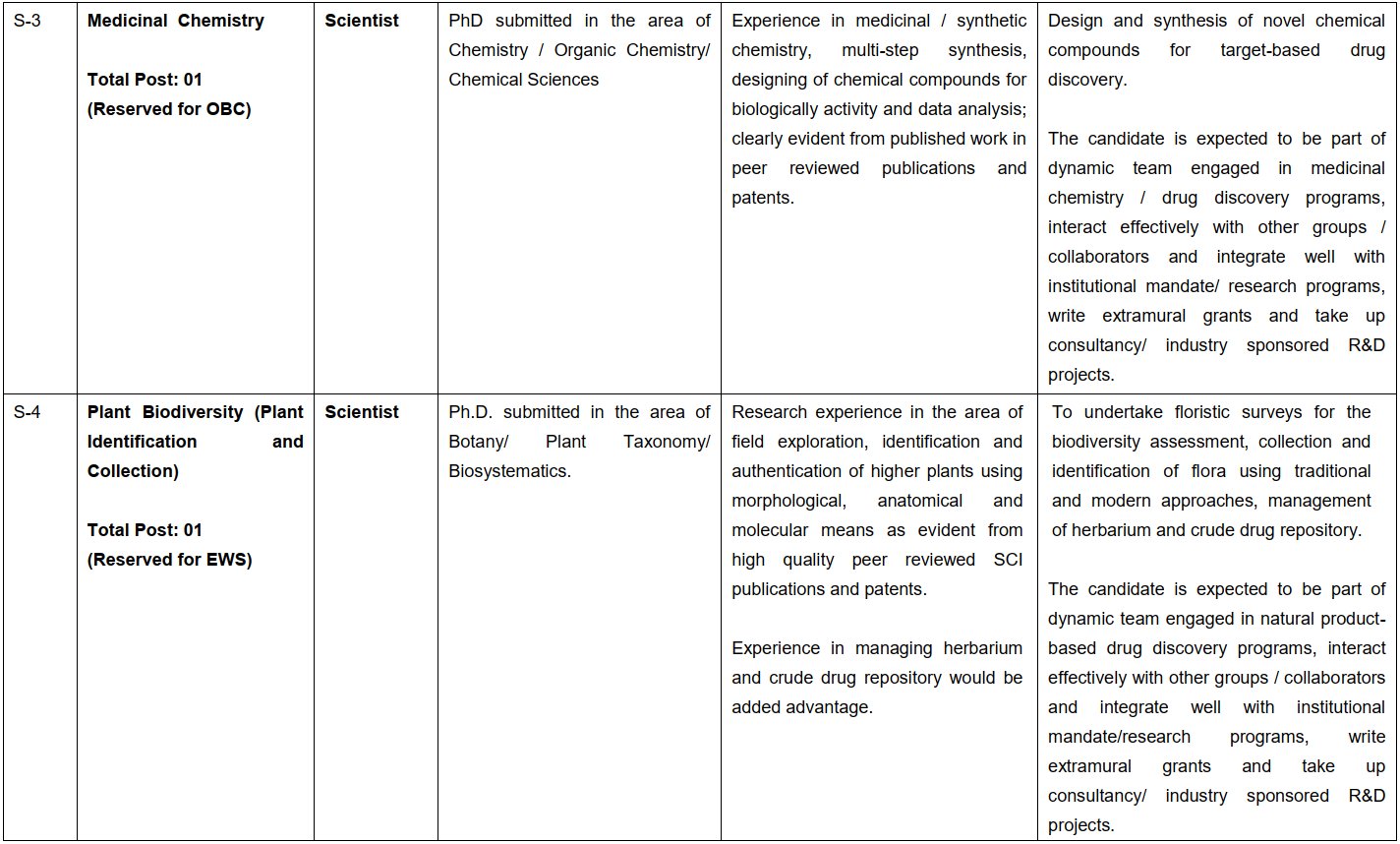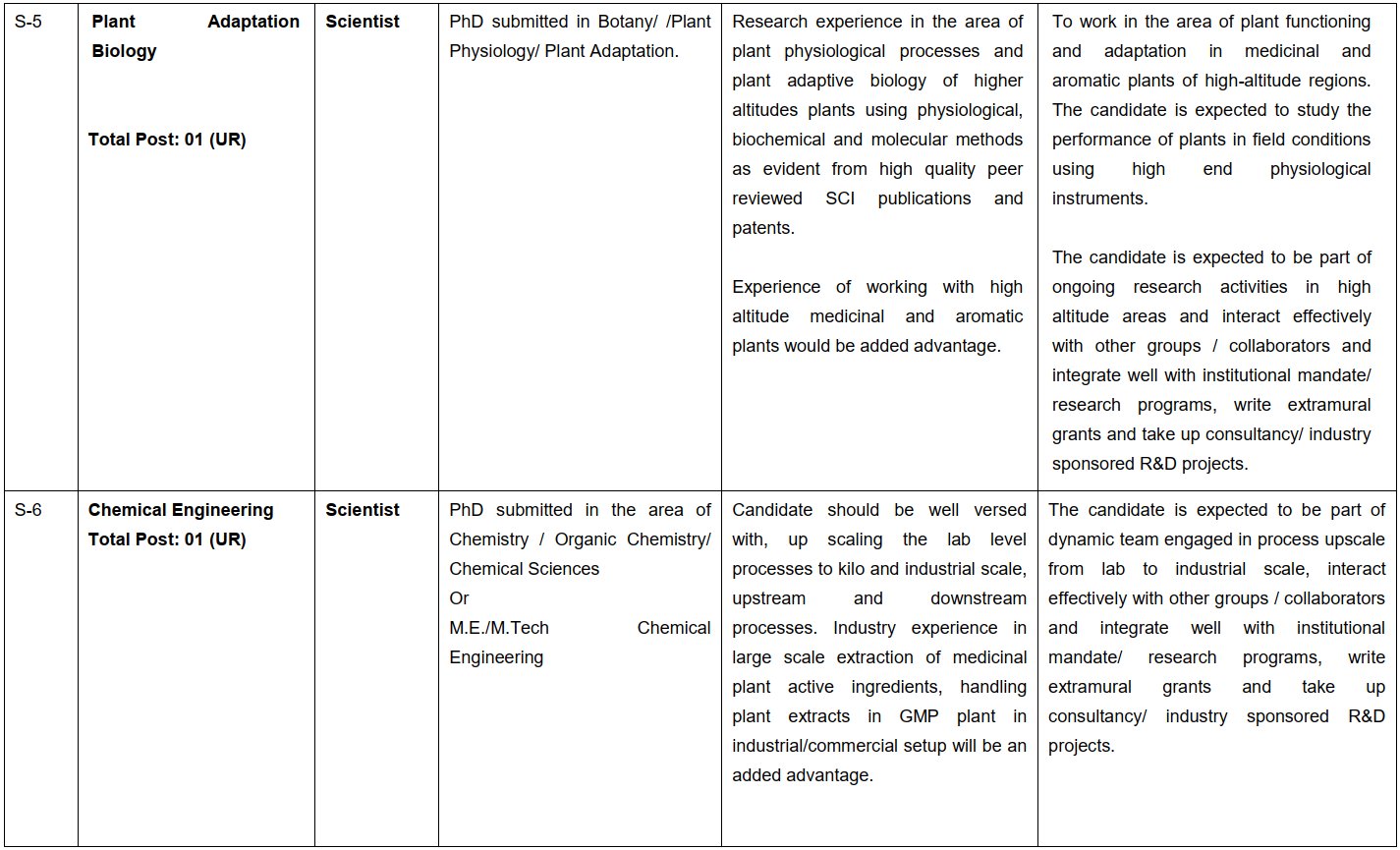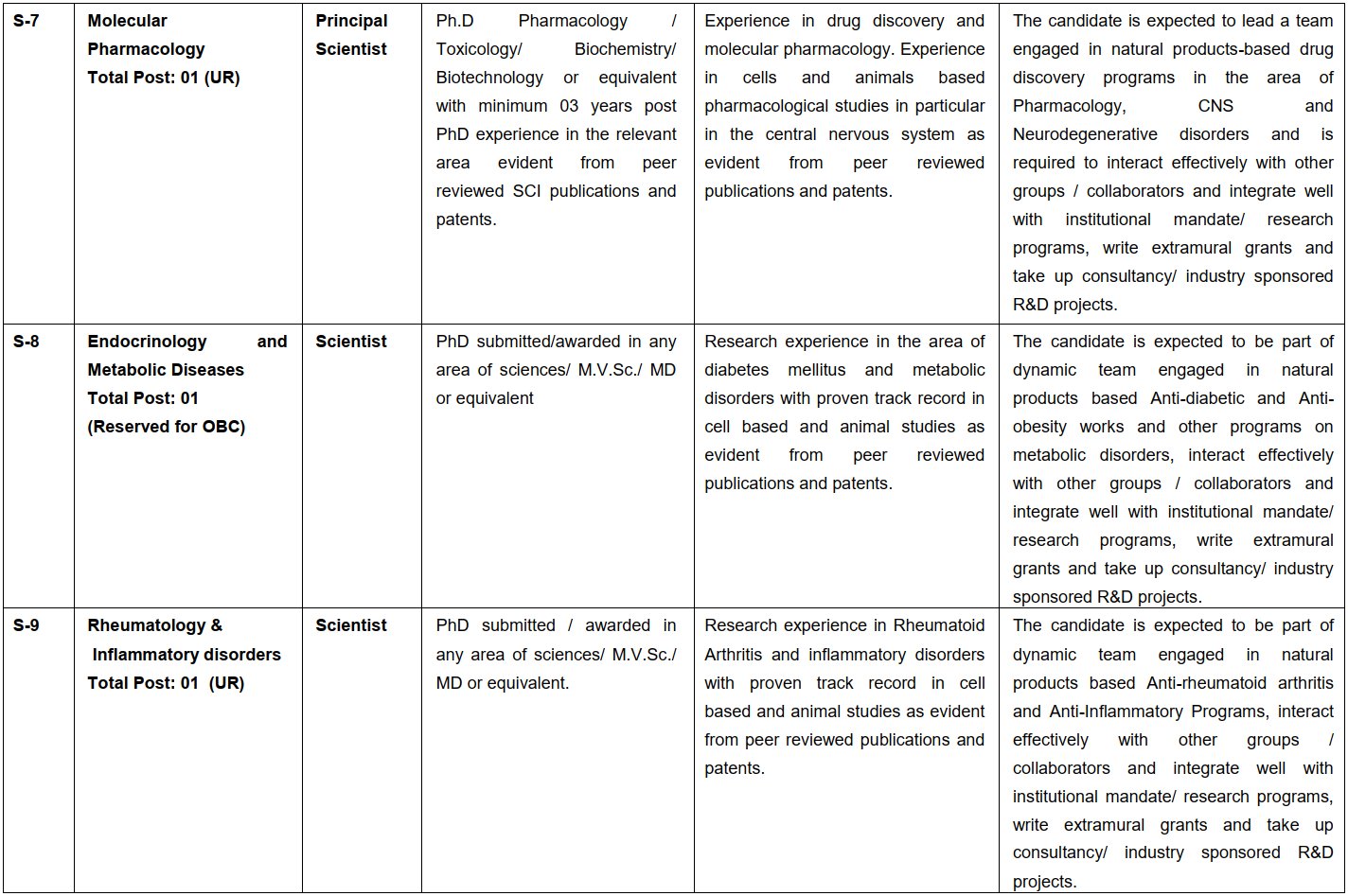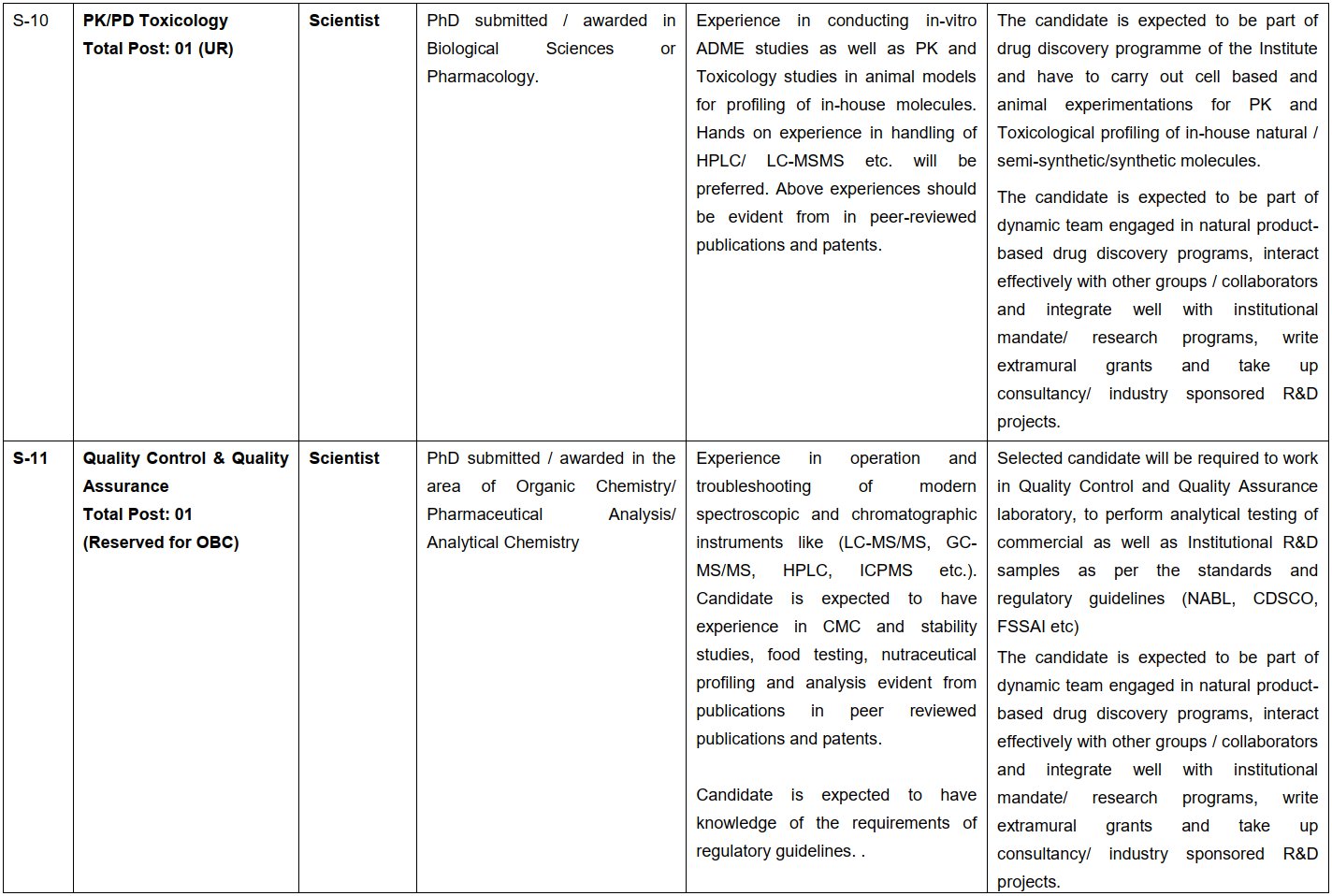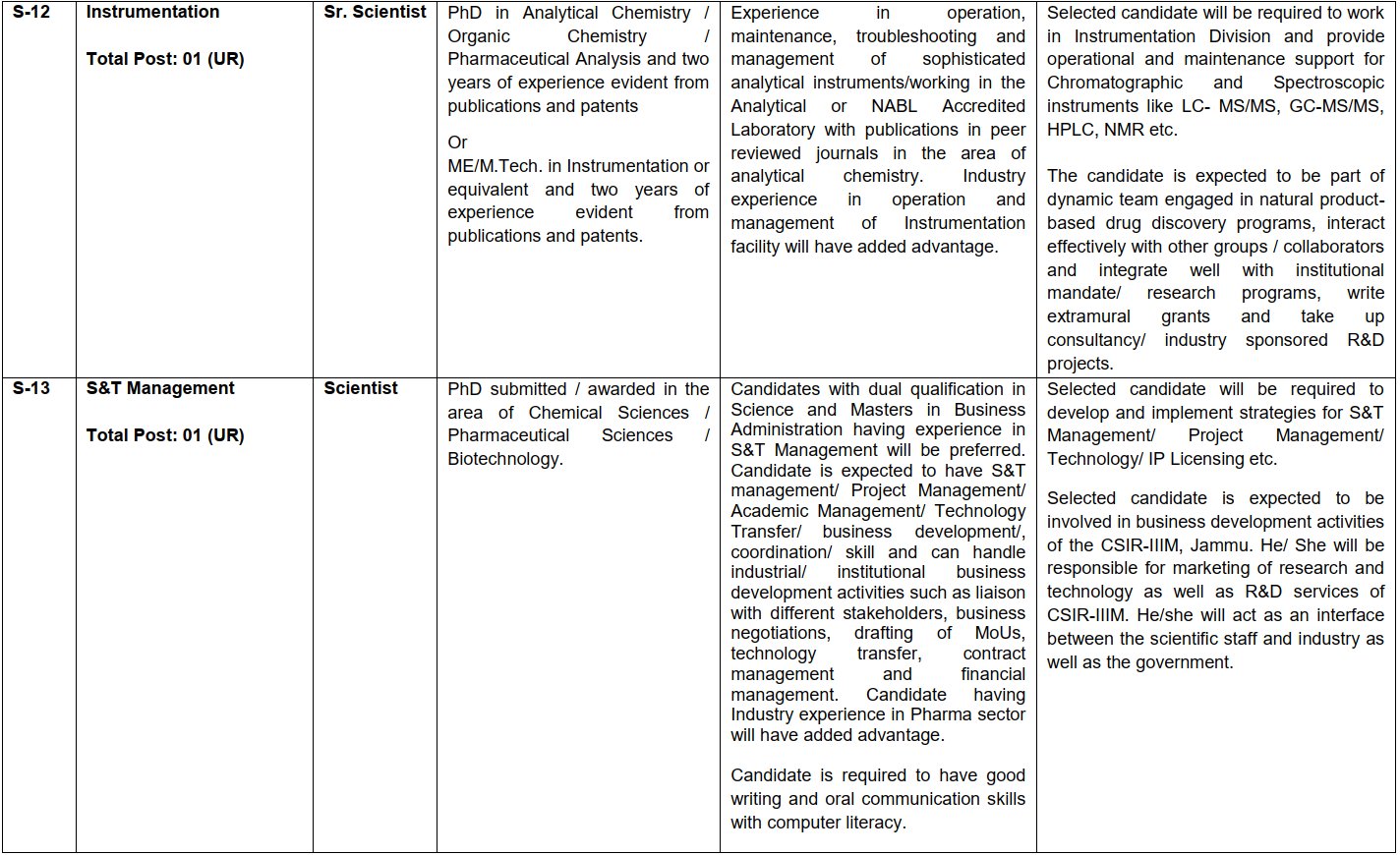 Location- CSIR – CSIR-IIIM, Jammu, India
Job/Position Description-
| | | | |
| --- | --- | --- | --- |
| Designation | No. of Posts with Reservation | Pay Level & Pay Matrix | *Emoluments (in Rs.) |
| Scientist | 10 Posts [UR-05, EWS-01,OBC-03, SC-01] | Pay Level-11 [67,700-208700] | 1,05,589/- |
| Senior Scientist | 02 Posts [UR-02] | Pay Level-12 [78,800-209200] | 1,22,128/- |
| Principal Scientist | 01 Post [UR-01] | Pay Level-13 [123100-215900] | 1,88,135/- |
| | |
| --- | --- |
| Designation | **Upper Age Limit not exceeding (as on last date ) |
| Scientist | 32 years |
| Senior Scientist | 37 years |
| Principal Scientist | 45 years |
Candidates are to deposit a non- refundable fee of Rs. 100/- (Rupee One hundred only) online through SBI Collect from the following link only. https://www.onlinesbi.sbi/sbicollect/icollecthome.htm?corpID=310473
How to Apply-
Candidates are required to apply ONLINE ONLY through our website http://www.iiim.res.in followed by sending hard copy of online application duly signed along with copies of mark sheets, certificates, fee payment receipt, and other testimonials etc.
Online application will be available on our website http://www.iiim.res.in from 10.01.2022 to 31.01.2022 .
Candidates applying for more than one post code must submit separate applications indicating the post code of the post in the application form. Each application should be accompanied by separate SB Collect payment receipt.
The computer generated application duly signed by the candidate and accompanied by self attested copies of the certificates, mark sheets, testimonials in support of Date of Birth, education qualifications, experience, Category Certificate, EWS Certificate and fee payment receipt, if applicable along with one recent passport size self-signed photograph affixed should be sent in an envelope super scribed "APPLICATION FOR THE POST OF ________ (Post Code )" so as to reach the Senior Controller of Administration, CSIR-Indian Institute of Integrative Medicine, Canal Road, Jammu–180001, (J&K) on or before 10.02.2022 (15.02.2022 for candidates residing in far flung areas) .
Application once submitted will not be allowed to be withdrawn and fees once paid will not be refunded on any count nor can it be held in reserve for any other recruitment or selection process.
List of enclosures – Self-attested copies of the following documents must be enclosed with the hard copy sent by post:
One colour photograph pasted on the form and signed across in full.
Self-attested photocopy of Certificate(HS/HSSC/Birth Certificate) proving Date of Birth.
Printed copy of SBI Collect Reference number.
Self Attested photocopies of Certificates & Marks Sheets (semester wise/year wise) in support of minimum qualification and any other higher qualification.
Self Attested photocopy of SC/ST/OBC/EWS certificate, if applicable. In case of widow/divorced women/judicially separated women, the relevant certificate may be attached. Attested copy of disability certificate issued by the Competent Authority in the form prescribed by the GoI. f) Self Attested photocopies of experience certificates.
NOC in case of employees working in Govt. Departments/Autonomous Bodies/Public Sector Undertakings.
Candidates applying for more than one post must submit separate Application form for each Post indicating the Post Code number by indicating all the post codes in every application submitted by the candidate.
Last Date for Apply– 31 January 2022
Date of Commencement of Online Application: 10.01.2022
Last Date for Receipt of Online Application: 31.01.2022 till 05:00 P.M
Last Date for Receipt of Hard Copy of Online Application: 10.02.2022
(For candidates residing in far flung areas viz North Eastern regions, Andaman & Nicobar Islands, Lakshadweep, Lahaul & Spiti Districts of Himachal Pradesh, U.T of Ladakh, etc. the last date of receipt of hard copy of Online Applications is 15.02.2022)
5 Important Tips About How To Choose Where to Apply Postdoc
Join Our Discussion Forum – Keep your view, share knowledge/opportunity and ask your questions