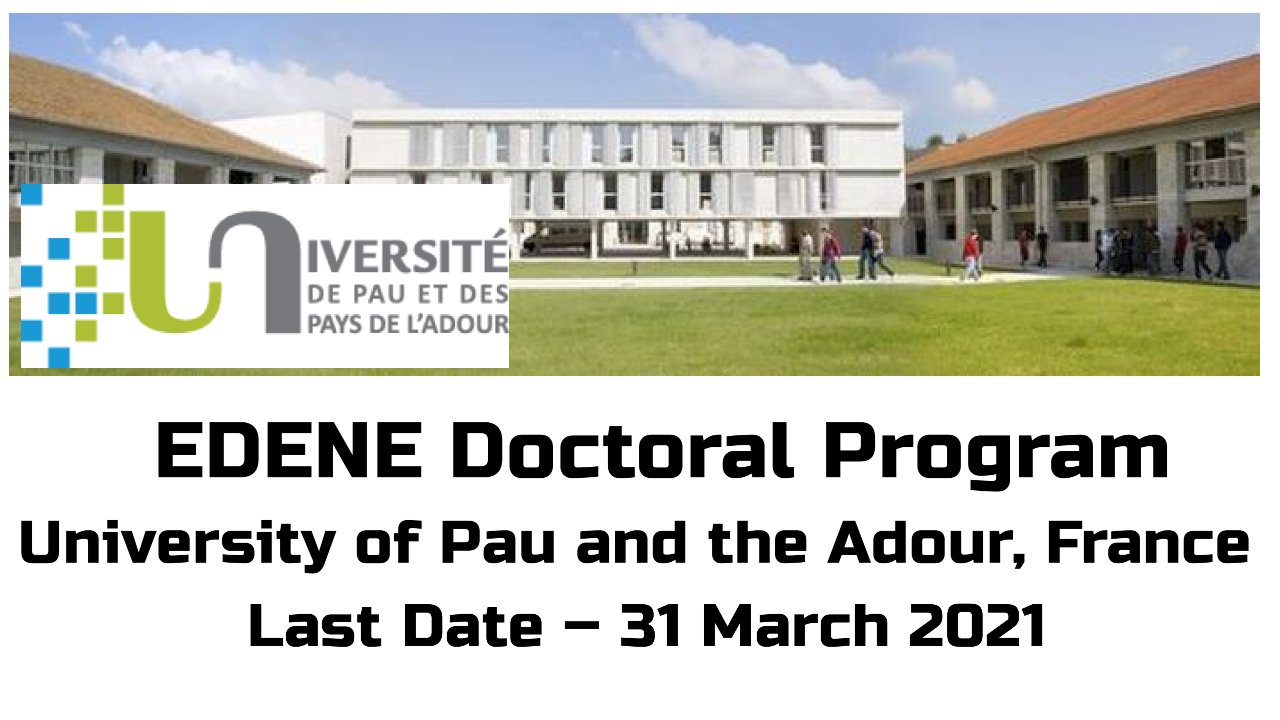 Designation/Position- EDENE doctoral program
The University of Pau and the Adour Region, France invites application for EDENE doctoral program for eligible and interested candidates
About- Energy and the environment are two subjects linked to the main societal challenges described in the strategic European
research project Horizon H2020. In this context, the European doctoral program in Energy and Environment, EDENE, is
an ambitious multidisciplinary, intersectoral and international program over a period of 5 years offering quality training to 30 international and highly qualified doctoral students in this field. The ambition of EDENE is to create a working
dynamic around innovative subjects on these topics in all disciplines where the University of Pau et des Pays de l' Adour
(UPPA) enjoys proven scientific recognition. The UPPA has been recognized since 2017 with the Competitive Science /
Innovation / Territories / Economy label of excellence by the French Investissements d'Avenir Program for its Energy &
Environment Solutions (E2S UPPA) initiative. Within this framework, the UPPA's priority is to attract new talents, to
develop international collaborations with targeted universities and to develop the international training offer, mainly in
the fields of energy and the environment.
Location- The University of Pau and the Adour Region, France
Eligibility/Qualification–
Diploma– On the date of application, the candidate should be in possession or finalising a Master degree
(or equivalent degree) and have less than 4 years of research experience (full-time equivalent)
Seniority – Candidates can apply within 3 years of obtaining their Master degree, calculated from the
application deadline
Extensions will be granted for maternity leave (18 months for each child born before or after the Master's graduation, or
if the applicant can document a longer maternity leave, the eligibility period will be extended by the documented amount
of actual leave taken until the call deadline), paternity (extension by the documented time of paternity leave taken until
the call deadline for each child born before or after the Master's graduation), long-term illness or national service
(extension by the documented amount of leave taken until the call deadline for each incident which occurred after the
Master's graduation date)
Research topics – Guaranteed freedom to design the tailor-made research project, to choose the host research
laboratory at the UPPA and a partner for secondment. Preliminary contact with the potential Supervisors will enable the candidate to work on his/her scientific proposal.
Mobility rule– Candidates must not have resided or carried out their main activity (work, studies, etc.) in France for more than 12 months in the 3 years immediately preceding the date of recruitment (doctoral thesis starting date). Compulsory national service, short stays such as holidays, and time spent as part of a procedure for obtaining refugee status under the Geneva Convention are not taken into account.
Nationality- The call is open to researchers of any nationality
Language- Applicants who are non-native speakers of English are required to provide proof of proficiency in the language, as EDENE's working language is English. A minimum B2 level in English is required. A variety of English Language tests may be provided, such as TOEIC, TOEFL, TOEFL Internet-based Test, IELTS, CPE, PTE (Pearson Test of English), CAE. Please check to be sure your test results are still
valid (some tests are valid for 2 years, whereas CPE and CAE results are valid for life).
Formal proposal criteria– Application submitted before the deadline (all required support documents must be submitted online via the call website) Completeness of the application (including potential Supervisor's letter of support)
Application submitted in English Only one application per call and per Fellow
Job/Position Description-
A net salary (before taxes) of approximately 1 555 € (French income tax will be withheld at the source, at a rate determined by the tax authorities)
A dedicated relocation allowance of 1 000 € to cover the expenses relating to the initial travel and installation
To encourage mobility and the participation in scientific events, EDENE will subsidize up to € 4,500 to cover travel, accommodation, etc. related to secondments during the duration of the project, and costs of participation in conferences up to € 3,600 over the 3 years of the thesis
Research costs will be borne by the UPPA
Secondments of 3 to 6 months are possible and encouraged among the project partners. Other partners can also contribute.
Personalized support
During the doctoral training, the researcher will benefit from personalized support via a Personal Career Devel-opment Plan (PCDP) and will have access to a wide variety of training and workshops.
In addition, detachments of 3 to 6 months are possible and encouraged among the project partners. Other part-ners can also contribute.
EDENE offers a comprehensive training program to ensure the acquisition of skills in line with the personal professional project of each doctoral student. The partnerships created will allow researchers to acquire skills and experience, particularly international and / or intersectoral experience, facilitating integration into the desired future profession.
Available instrumental resources and documentation funds
For experimental subjects, UPPA Tech will be accessible. It is an instrumental service center for the university, bringing together all the experimental power available within the research laboratories. UPPA Tech is structured in the form of technical platforms backed by several UPPA research laboratories. It offers a range of advanced technical services to meet experimental needs requiring high technicality.
For the Social Sciences and Humanities sector, specialized and extensive documentation funds are available. These are essential for laboratories and they are vectors of research influence.
Career opportunities
One of EDENE's ambitions is to provide doctors trained at the UPPA with important professional perspectives. Co-supervision by a partner, secondment within partner organizations, and the possibility of training in cross-functional areas are all facilitating tools for good professional integration in line with the personal professional project.
EDENE's 5 strong points for optimized professional integration:
Obtaining a doctorate from a high-level research university as part of the globally-recognized MSCA program
The ability to draw on international, multisectoral and interdisciplinary networks for future collaborations and career opportunities
Experience in research applied to Research and Innovation
The development of transferable skills, including dissemination and communication
Appropriation of an ambitious but achievable career plan (PCDP) through individualized mentoring
How to Apply-
The entire application procedure (Eligibility criteria, timetable, application and selection process, required doc-uments, various committees involved …) is detailed in the "Applicant Guide" (pdf – 2Mo)". Please refer to it before applying.
In order to prepare your research project, you must contact the UPPA research laboratories of your choice according to your area of interest.
The UPPA's research units, or research laboratories, are attached to two doctoral schools:
Your application
Only COMPLETE applications, submitted in ENGLISH and on the dedicated platform, will be considered.
Last Date for Apply– 31 March 2021
More Opportunities
PhD Scholarship in Energy Storage at UNSW Sydney, Australia
Singapore Scholarship for International students 2021 : A*STAR Fellowship