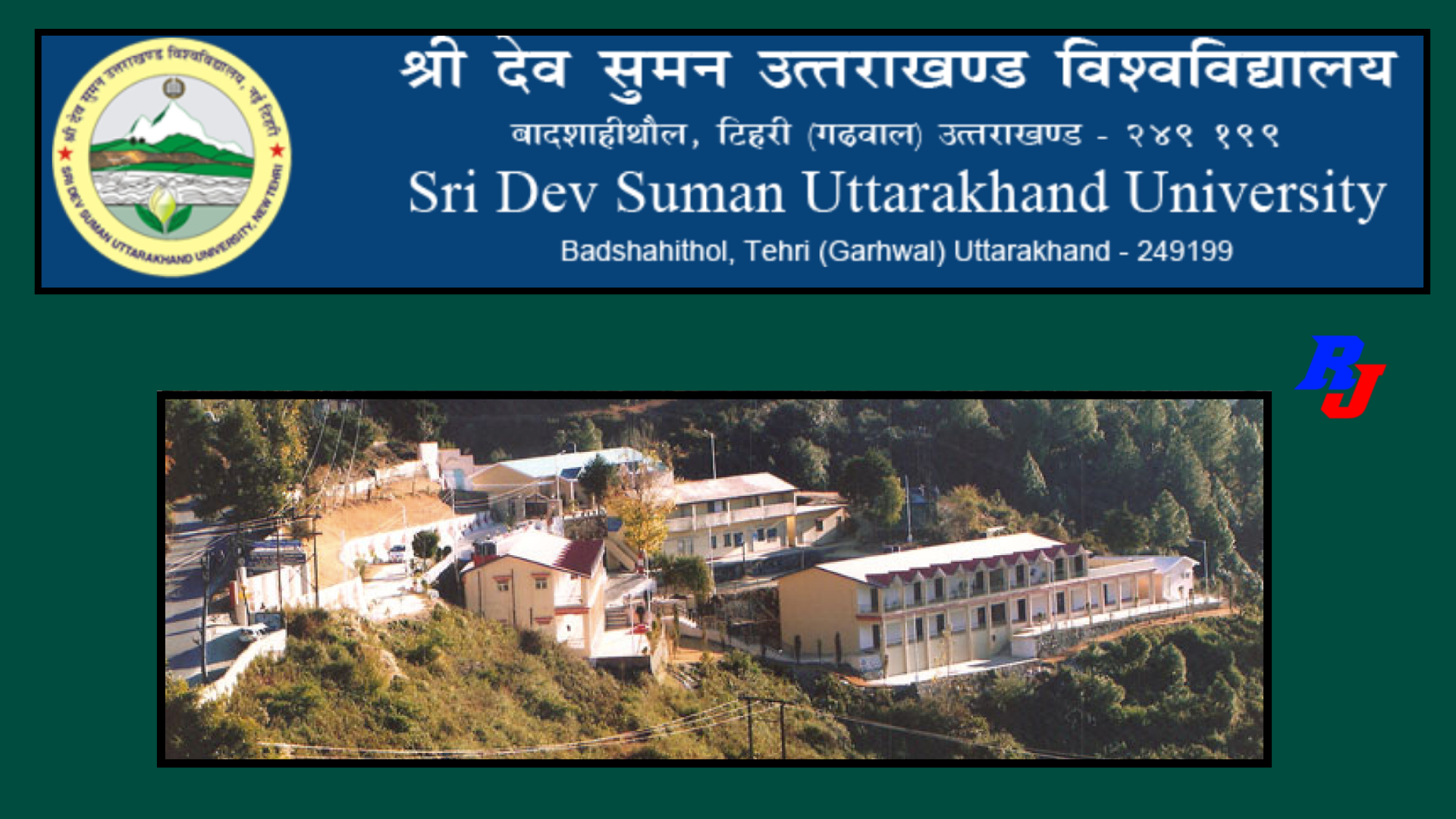 Designation/Position- Faculty Positions at SDSUV
Sri Dev Suman Uttarakhand Vishwavidhyalay, India invites application for Faculty Positions at SDSUV from eligible and interested candidates
About- Sri Dev Suman Uttarakhand University is a State university situated at Badshahithaul in Tehri Garhwal district of north Indian state of Uttarakhand, India. It was established by the Government of Uttarakhand through Pt. Deen Dayal Upadhyay Uttarakhand Vishwavidhyalaya Act, 2011. Faculty Positions at SDSUV
Research/Job Area- Various
| | | | | |
| --- | --- | --- | --- | --- |
| Subject | Professor, Pay Matrix Level-14 1,44,200-2,18,200 | Associate Professor, Pay Matrix- Level 13A 1,31,400-2,17,100 | Assistant Professor. pay Matrix- Level- 10 57,700-1,82,400 | Total |
| Commerce & Management | 01 SC | 01 UR | 01 01 UR | 02 UR, 02 SC |
| Physics | 01 UR | 01 SC | 01 SC, 01 UR | 02 UR, 02 SC |
| Zoology | 01 UR | 01 SC | 01 UR, 01 UR(WO) | 02 UR, 01 UR (WC)), 01 SC |
| Botany | 01 UR | 01 OBC | 01 UR 01 SC | 01 UR, 01 UR CWO), 01 SC 01 OBC |
| Chemistry | 01 UR (WO) | 01 UR(WO) | 01 OBC, 01 UR | 01 UR, 02 UR WO), 01 OBC |
| Mathematics | 01 SC | 01 UR | 01 UR, 01 EWS | 02 UR, O1 SC, 01 EWS |
| Home Science | 01 OBC | 01 UR (WO) | 01 SC, 01 UR | 01 UR (WO), 01 UR, 01 SC, 01 OBC |
| Anthropology | 01 UR | 01 SC | 01 UR, 01 OBC | 02 UR, 01 SC, 01 OBC |
| Political Science | 01 UR | 01 UR | 01 EWS (WC)), 01 SC | 02 UR, 01 EWS WO, 01 SC |
| Social Work | 01 EWS | 01 EWS | 02 UR | 02 UR 02 EWS |
| Economics | 01 SC | 01 UR | 01 OBC, 01 UR | 02 UR, 01 SC, 01 OBC |
| – | Total Post-11 | Total Post-11 | Total Post-22 | Total Post-44 |
More Opportunities:
Georg Forster Research Award by Alexander von Humboldt Foundation, Germany
Various Research Positions – 14 October 2021: Researchersjob- Updated
Scientist Jobs in India -Various Latest Labs and Government Scientist Jobs
Teaching Posts (Revised Walk in Interview Schedule) at Shivaji University, Kolhapur
Location- Uttarakhand
Eligibility/Qualification–
Minimum eligibility criteria for the posts will be in accordance with the "UGC Regulations on minimum qualifications for appointment of teachers and other academic staff in universities and colleges and measures for the maintenance of standards in higher education, 2018 as adopted by the State of Uttarakhand.
The candidates having a domicile certificate of Uttarakhand will only be considered under reserve categories (SC/ST/OBC/EWS/PWD) as per the policy of Uttarakhand Government. The candidates under reserve categories (SC/ST/OBC) will have to submit the relevant category certificate issued by the competent authority and State domicile certificate along with application in the prescribed format.
Job/Position Description-
Applications are invited from the eligible candidates for the posts of Assistant Professor, Associate Professor and Professor, in the various Departments of the University on regular basis.
Please visit University website for general instructions, qualifications, eligibility criteria and other details.
Last date for submission of application in the prescribed format is 15th November 2021.
Candidates who have already applied earlier for Teaching posts, their applications have now been cancelled due to some error in reservation.
The candidates who had attached fee along with their application earlier will be refunded to the concerned bank A/C of the candidate. Candidates are required to send their Bank Details i.e. Bank A/C No. with IFSC code, Bank Name, etc as soon as possible to the University
For the posts of Professor, Associate Professor & Assistant Professor.
How to Apply-
Applications in the preseribed form are invited from the eligible candidates ror the following Teaching and Non Teaching posts for the campuses of Sri Dev Suman Uttarakhand University, Badshahilhaul, Tehri Garhwal-249199, Uttarakhand.
Last Date for Apply– 15 November 2021
Find or Post Research Project PositionS – Researchersjob Board
See Also: Berlin Mathematical School PhD Program – Freie Universität Berlin
Hong Kong PhD Fellowship Scheme (HKPFS), Up to 300 Ph.D. Fellowships
Hans Böckler Foundation: Ph.D. scholarship at German institutions of higher education
Research Associate & Scientist Positions at GenVynn Biologics Pvt. Ltd.
Join Our Discussion Forum – Keep your view, share knowledge/opportunity and ask your questions