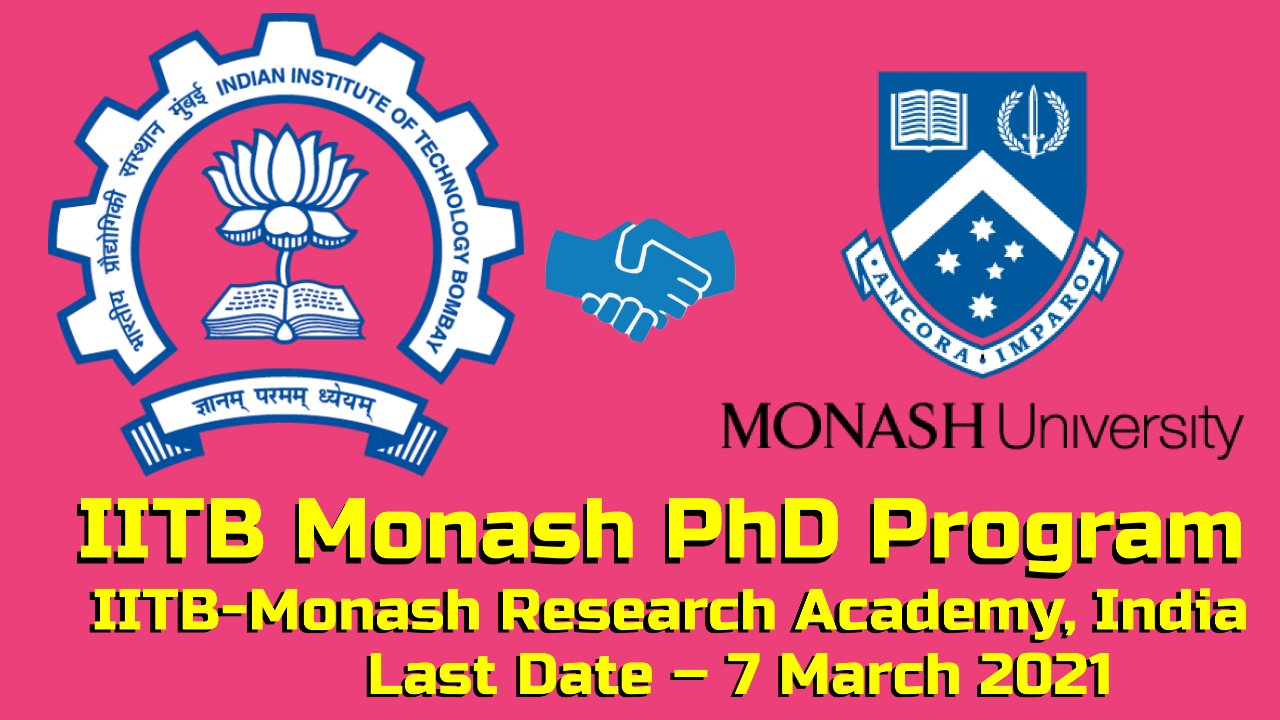 Designation/Position- IITB Monash PhD Program
IITB-Monash Research Academy, India invites application for IITB Monash PhD Program for eligible and interested candidates
About- ITB and Monash University's joint venture PhD program called IITB Monash PhD Program is unique in terms of size and scale. Through collaborative research projects the academy produces a highly talented pool of graduates who are currently taking on world challenges in fields as diverse as novel approaches to drug delivery and sustainable forms of energy production.
IITB-Monash Research Academy outputs are about making an impact, challenging the status quo and harnessing the combined strengths from two highly-skilled institutions. Academy PhD students work on problems that need to be solved, rather than problems that can be solved.
To ensure significant and enduring impact, we operate at a scale unrivalled by any other Australian-Indian collaboration: with close to 200 PhD students, 400 researchers and 400 research projects to date. The joint PhD program attracts up to 4000 applications for up to 50 places per year. Our highly sought-after graduates typically secure employment well before graduation in leading global companies (such as Amazon Lab 126, CSIRO and Tata Group) and in academia where they are making outstanding contributions.
Study level- PhD program
Location- IITB-Monash Research Academy, India
Eligibility/Qualification–
Exceptional students whose intended area of study aligns with the research priorities of the IITB-Monash Research Academy are invited to apply for the Joint PhD program.
The minimum entrance requirements for PhD admission are:
First class or equivalent Master's degree in a range of disciplines
First class Bachelor's degree and a valid GATE score
Satisfying requirements of academic qualifications and English Language proficiency of Monash University.
NOTE: Candidates without a valid GATE score or research fellowship can be considered for admission if they have a minimum of two years professional experience. Competition for places is high and a competitive selection process is applied to all applicants
Job/Position Description-
Step 1: EOI
The first step of the admissions process is the Expression of Interest (EOI) stage. In this stage, candidates fill in an EOI form Online.
Please click on the Expression of Interest (EOI) form to enable us to adequately evaluate your background, academic record and research interests. If your EOI form is found to be suitable, you will receive an email indicating you are able to proceed to Step 2 of the application stage.
If your EOI Form is found to be suitable, you will need to download and complete the full application form, Form A. Candidates who are successful in this EOI stage will be invited to go Step-2 once the EOI stage is completed. Contained in this invitation email will be a unique Form A Number (FAN). This email will be sent only after the EOI stage is completed
Step 2: Form A
If your EOI form is found to be suitable, you will be notified via email and you will receive a unique FAN number. You need the FAN number to upload your Form-A online. At this stage you will need to upload your transcripts, publications, certificates, etc and make project selections too. For logging in to the Form A site, use your unique Form A Number (FAN). Do not give this FAN to anyone else. It is for your use only. Moreover, you can use your FAN only once. At the site, you will need to upload your Form A as well as copies of all of your academic transcripts, publications GATE score sheet, and other supporting documentation. Remember again that you will only have one opportunity to use your FAN to login to the site to upload all of your documentation related to the applications-process.
So it will be most optimal if you collect all documentation relating to your application before visiting the site.
Step 3: Short-listing for Interview
If your Form-A is found to be suitable, you will be notified via email and you will receive an interview invitation. The Interview short-list will be announced only after the Form-A stage is complete.
Step 4: Interviews and Successful Candidates
After the interviews, successful candidates will be notified by email..
In case you have any doubts, please read the Applications Process FAQ before sending your doubts to students@iitbmonash.org. We will not respond to queries that have already been adequately answered in the FAQ document.
How to Apply-
https://apps.connect.monash.edu.au/apex/f?p=1150:5
Last Date for Apply– 7 March 2021
More Opportunities
PhD Scholarship in Energy Storage at UNSW Sydney, Australia
Singapore Scholarship for International students 2021 : A*STAR Fellowship