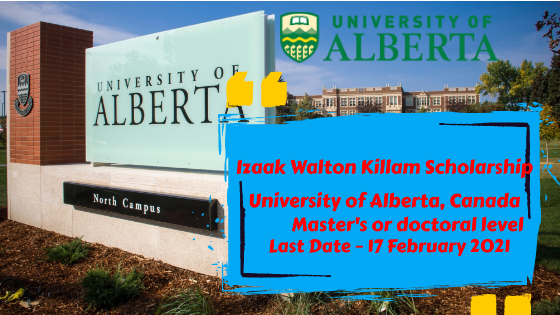 Designation/Position- Izaak Walton Killam Scholarship
University of Alberta,Canada invites application for Izaak Walton Killam Memorial Scholarship for eligible and interested candidates
About- The $400 million Killam Trusts are among Canada's largest and most prestigious endowments for scholarly activities. The Killam Bequest has provided more than $60 million to the University of Alberta between the three programs that the Faculty of Graduate Studies and Research (FGSR) administers: Izaak Walton Killam Scholarship
• Izaak Walton Killam Memorial Scholarship
Research/Job Area- Master's or doctoral level
Location- University of Alberta, Canada
Eligibility/Qualification–
• Offered to outstanding students registered in, or admissible to, a doctoral program
• No restrictions on citizenship. All fields are eligible for funding
• Applicants must have completed at least one year of graduate work (master's or doctoral level) before start of tenure; tenure may begin on May 1st or September 1st
• As the Killam Scholarship is offered for a two-year period (subject to review after the first year), applicants should anticipate being registered in doctoral program for at least 18 months (as of May 2021) and must have completed no more than 48 months in the doctoral program as of December 31, 2020 to apply

Additional information regarding eligibility criteria can be found in the Applicant Instructions document below. Please note that the GPA for current graduate students is calculated using the current graduate program graded course work. For newly admitted graduate students or current graduate students who have no graded course work to date, the admission gpa will be used.
Job/Position Description-
This is the most prestigious graduate award administered by the University of Alberta. Every effort is made to honor the criteria set out in the will of Dorothy Killam. Mrs. Killam desired that those awarded scholarships and fellowships be likely to contribute to the advancement of learning or to win distinction in their profession. Killam scholars should not be one-sided, and a sound character should complement their intellectual sound character should complement their intellect.
The award is valued at up to $45,000 a year for 2 years (subject to renewal in year two of the award*), plus any applicable International Graduate Differential Fee. Recipients will also receive a certificate acknowledging their award.
*Renewals must meet eligibility requirements and submit a request in GSMS Awards Portal six weeks before the end of year one funding
How to Apply-
Applicants are encouraged to apply early and order required transcripts as soon as possible.
Applicants must contact their department for departmental deadline.
For graduate departments: 2021 Izaak Walton Killam Scholarship Department Memo
Last Date for Apply– 17 February 2021 at 4:00 PM
More opportunities:-
LLL Fellows and ILLL Student Interns at University of Delhi: Apply…
ndo-German Bilateral Virtual Workshops at IGST, Gurgaon, India
Faculty Positions at RCB, Haryana, India: Apply by 01 February 2021