Designation/Position- Research Associate-I at IISER Bhopal
Indian Institute of Science and Research Bhopal invites application for Research Associate-I at IISER Bhopal from eligible and interested candidates
About- Indian Institute of Science Education and Research, Bhopal is an autonomous public research university in Bhauri, Bhopal district, Madhya Pradesh, India. Research Associate-I at IISER Bhopal
Research/Job Area- Mathematics
More Opportunities: RA-1 Position at IACS, Jadavpur, Kolkata, West Bengal, India: Apply by…
Various Research Positions – 26 August 2021: Researchersjob- Updated
Various Research Positions – 24 August 2021: Researchersjob- Updated
Project Scientist-II Position at BHU, Varanasi- Apply by 11 September 2021
Location- Bhopal
Eligibility/Qualification–
Ph.D. in Mathematics from a recognized University/lnstitute with research interests in onc or morc of the following areas:
Contact and Symplectic Geometry
Geometric group theory
Mapping class groups
Job/Position Description-
Applications are invited for the post of "Research Associate I"
Number of posts: 01
Duration: Until March 31, 2022
Salary: As per Institute norms, as applicable from time to time (current Rs. 47,000 + 16% HRA)
How to Apply-
The application should contain a detailed CV with name of two referees. Completed application should be sent to kashyap@iiserb.ac.in. No correspondence will be entertained with regard to application status. Only shortlisted candidates will be asked to appear for an interview. No TA/DA will be paid to attend the interview.
For any questions regarding the post, the nature of the project, or the suitability of your candidature for the advertised post, please contact the undersigned.
Dr. Kashyap Rajeevsarathy
Associate Professor, Mathematics
#306, Academic Building 1
Indian Institute of Science Education and Research (IISER) Bhopal Bhopal By-pass road, Bhauri
Last Date for Apply– 02 September 2021
Last date to apply: Applications shall be considered till a suitable candidate is found and the position is filled.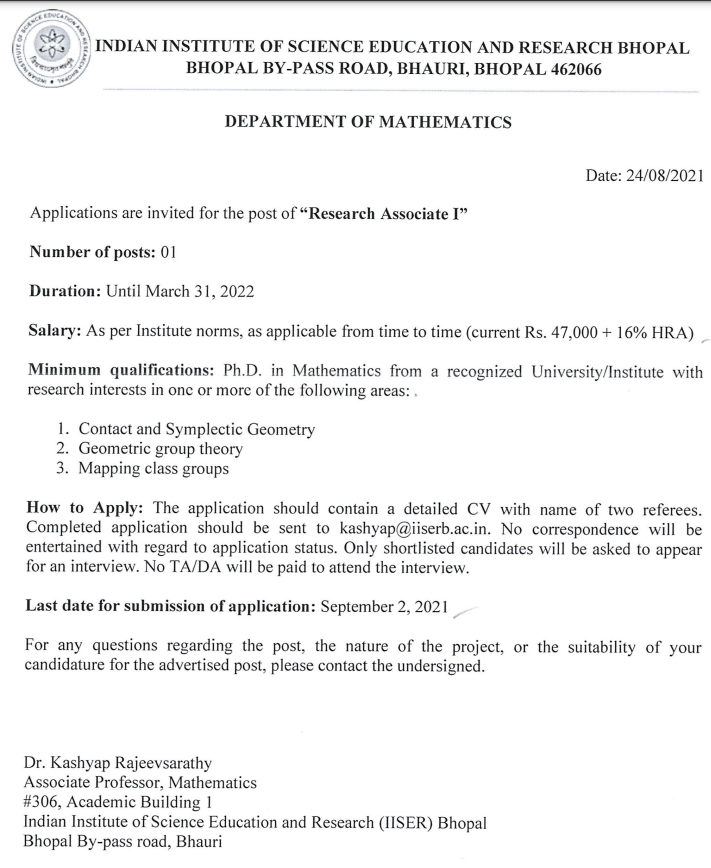 Join Our Discussion Forum – Keep your view, share knowledge/opportunity and ask your questions