Research Associate Position at IIT Gandhinagar
Designation/Position- Research Associate Position at IIT
IIT Gandhinagar, Gujarat, India invites application for Research Associate Position at IIT from eligible and interested candidates
About- IIT Gandhinagar offers a unique undergraduate and graduate education experience in India with unmatched innovations in curriculum. We take pride in our student-centric philosophy resulting in a safe, nurturing, and empowering environment for students. The institute promotes critical thinking and an appreciation of the interdisciplinary character of knowledge, with an emphasis on the liberal arts, project oriented learning, compulsory courses in design and the life sciences, diversity and globalization. Research Associate Position at IIT
Research/Job Area- Computational biology, Bioinformatics, Computational chemistry, Physics, Material Sciences or allied subjects
Location- IIT Gandhinagar, Gujarat, India
More Opportunity:
Scientist 'H' at CSIR-4Pl: Level 15 (Rs. 1,82,200-2,24,100) of pay matrix…
Scientist Positions at CSIR-IMTECH: Apply by 15 February 2021
Recruitment for Scientist-B Post at GBRC,Gujarat, India, Total Post= 10
Academic, Technical & Management Positions at RCB, Haryana, India
Eligibility/Qualification–
PhD in Computational biology, Bioinformatics, Computational chemistry, Physics, Material Sciences or allied subjects from reputed institute with good scientific publication record.
Experience in molecular dynamics simulations, graph theory and Python programming.
Candidates who have submitted their thesis are equally eligible for the position.
Job/Position Description-
Indian Institute of Technology Gandhinagar (IITGN) invites applications for Postdoctoral Fellow position in Computational Biology for a research project funded by Indian Institute of Technology, Gandhinagar.
The candidate will work on computational investigation of structure and dynamics of proteins involved in mammalian circadian regulation. He/she will have the opportunity to work on the integrative modeling techniques and develop methods for macromolecular structure analysis. For details of research work in lab, please visit https://iitgnbioe.wixsite.com/bioe/ashutosh
The candidate should be highly motivated and be able to work independently. Good communication skills, both in scientific writing as well as presentations are highly desirable.
Duration: Initial appointment is for 1 year, extendable up to 1 more year based on performance
Remuneration: 50,000 INR per month plus 10,000 INR HRA
How to Apply-
Candidates must fill the online form provided at the IIT Gandhinagar website AND send the following documents via e-mail to Dr. Ashutosh Srivastava (ashutosh.s@iitgn.ac.in). The documents must be sent as a single pdf attachment to the email:
Current CV with a list of publications, technical and programming skills
A one-page summary of previous research/work experience
A one-page write-up about why you want to take up this postdoc position 4. Names and email addresses of 2 potential referees.
The applications will continue to be screened until the position is filled. The applications received before 25th January 2021 will be given priority.
Queries may be directed to Dr. Ashutosh Srivastava via email (ashutosh.s@iitgn.ac.in).
Last Date for Apply– 25 January, 2021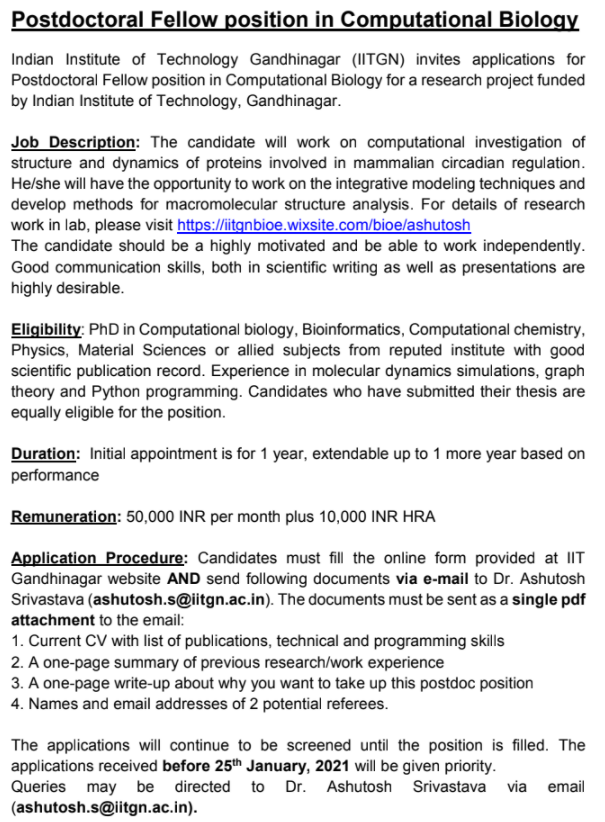 Join Our Discussion Forum – Keep your view, share knowledge/opportunity and ask your questions