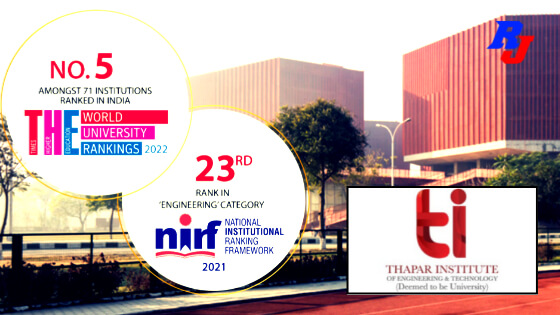 Designation/Position- Faculty Positions at Thapar Institute
Thapar Institute of Engineering & Technology, Patiala, Punjab invites application for Faculty Positions at Thapar Institute from eligible and interested candidates
About- |Thapar Institute, one of India's premier institutions for higher education, is a platform for world-class education and cutting-edge research in Engineering, Sciences and Management. It is ranked 23rd in the Engineering category & 26th in the University category in NIRF Rankings 2021. The Institute has synergistic relationships with many other internationally renowned institutions.
Research/Job Area- Various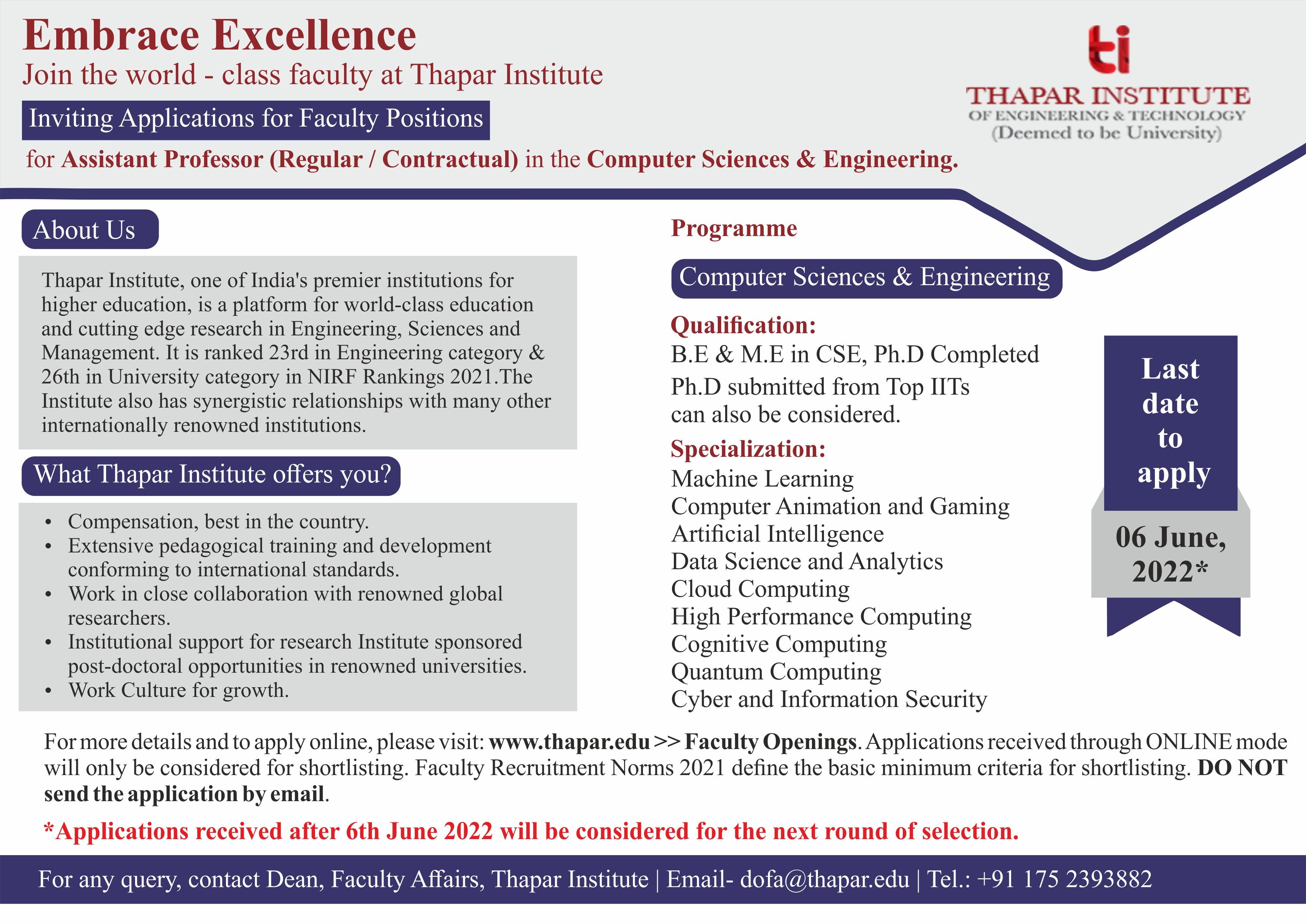 Location- Thapar Institute of Engineering and Technology, Patiala, Punjab.
Eligibility/Qualification–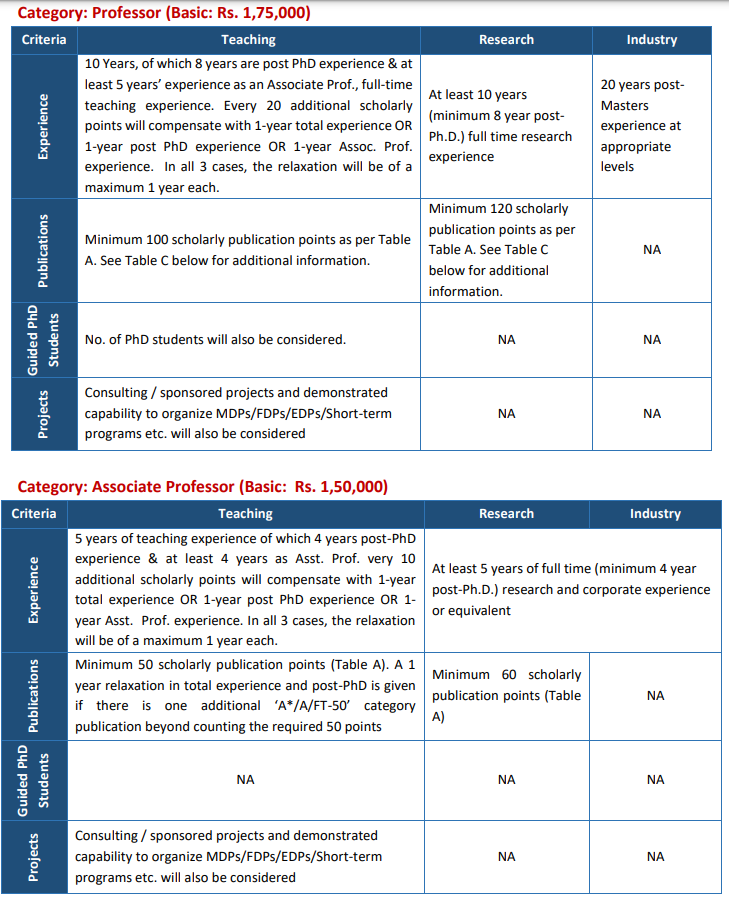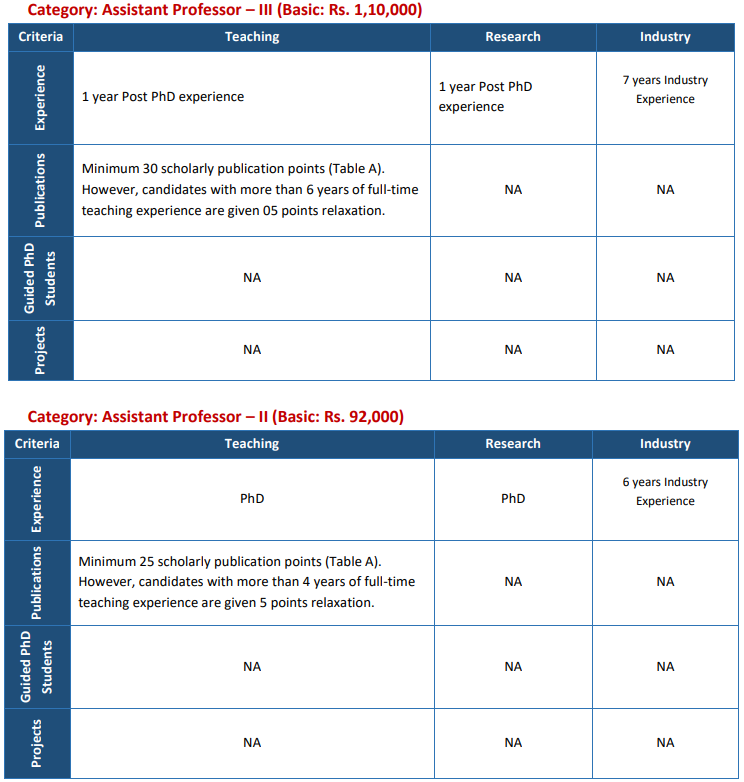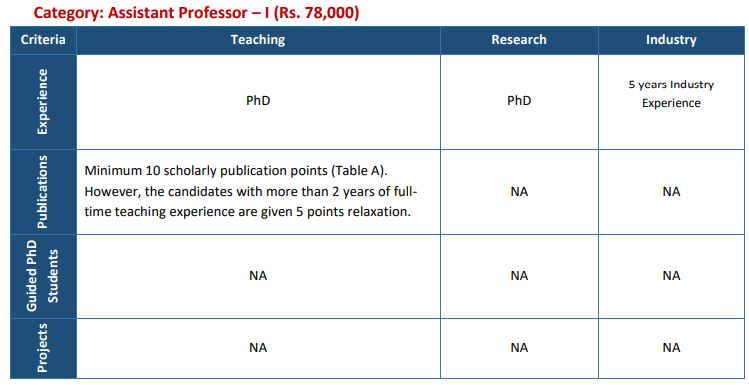 Job/Position Description-
Summary of Basic Salary (Entry Pay) and Minimum Annual Compensation
| | | |
| --- | --- | --- |
| Position | Basic Salary (INR) | Minimum Annual Compensation (INR) |
| Professor | 1,75,000 | 30,47,286 |
| Associate Professor | 1,50,000 | 26,21,083 |
| Assistant Professor -III | 1,10,000 | 19,38,678 |
| Assistant Professor –II | 92,000 | 16,38,075 |
| Assistant Professor -I | 78,000 | 14,02,474 |
| Lecturer (Contractual) | 71,500 (consolidated) | 8,58,000 (consolidated) |
Note: The above compensation is based on DA @ 17%.
The Institute believes in providing opportunities to high performers by enriching and enlarging their jobs thereby fostering the advancement of its employees and enhancing the upward mobility of its employees.
This policy is based on the recognition that in the course of meeting the Institute's objectives, the duties and functions of an employee may change in complexity and responsibility during their career progression.
Promotions therefore, are based on status changes that involve increasing responsibility levels.
The added benefits of promotion serve as an incentive for better work performance, enhance morale and create a sense of individual achievement and recognition.
Shortlisting Criteria
The following criteria will determine selection:
Experience: Post PhD experience/Total experience
Publications: No of publications and IF/TIF
PhD Students guided: No. of students
Projects: No. of sponsored R&D projects; Value of projects
Patents: No. of patents
How to Apply-
For more details and to apply online, please visit: www.thapar.edu >>Faculty Openings. Applications received through ONLINE mode will only be considered for shortlisting.
DO NOT send the application by email.
Last Date for Apply– 06 June 2022
Find or Post Research Project PositionS – Researchersjob Board
See Also: Motivation Letter for PhD, Postdoc, and Other Research Positions
Whitesmoke Grammar Checker Online – Improve Your Research Writing Skill – Alternative to Grammarly
How to write a literature review: Tips, Format, and Significance
Research Proposal How to Write: Detail Guide and Template