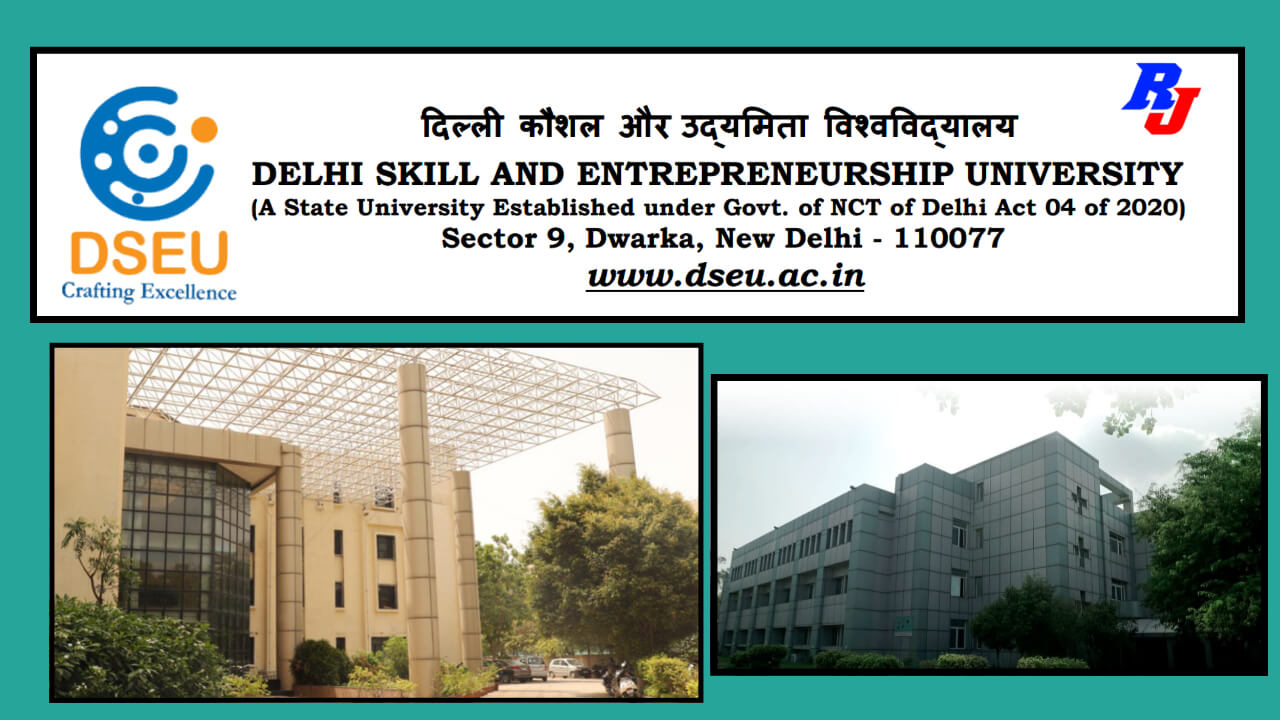 Designation/Position- Guest Faculty on Short Term
Delhi Skill and Entrepreneurship University, Delhi, India invites application for Guest Faculty on Short Term from eligible and interested candidates
About- The Delhi Skill and Entrepreneurship University (DSEU) has been established through an Act of the Legislative Assembly of the National Capital Territory of Delhi, namely the "Delhi Skill and Entrepreneurship University Act, 2019 (DELHI ACT 04 OF 2020)" to provide quality education in applied sciences and skill education. The University came into existence on 15 August 2020 vide Notification dated 14.08.2020.
Research/Job Area-
Name of the Courses
Appreciation of Art and Culture in Interiors
Interior Construction – II
Basic Electrical & Electronics Engineering
Analog Electronics – 2
Basic Electronics
Applied Mechanics
Basic Interior Design
Architectural Design -II
Construction Material -1
Automobile materials and material science
Drafting and Rendering in Interiors
Automotive Components Drawing
Drawing And Study Of Objects
Automotive Engine System -I
Ed I (Architectural Drawing I)
Basic Surveying
Engineering Mechanics
Basics of Electrical and Electronics Engineering
Epilation and Depilation
Biochemistry & Clinical Pathology
Fundamentals of Hair Care
Building Basic Electrical Construction-2
Fundamentals of Skin care
Building Material and Construction Technology – II
Furnishings and fittings
Climatology
Furniture Design
Computer Aided Drawing and Drafting
Human Anatomy and Physiology
Computer Application in Architecture-II
Introduction to Nutrition
Computer Organization
IT Skills & Technology
Data Structure Using C
Life Drawing
Digital Electronics
Materials and Finishing techniques
Display Design – II
Pharmaceutical Chemistry
Electric Circuit
Pharmacognosy
Electrical And Electronic Measurement
Sketching
Electrical Machines-I
Electrical Workshop-II
Electronic Instruments and Troubleshooting
Engineering Materials and Metallurgy
Engineering Mechanics
Facial Treatment
Fundamental of Mechatronics
Furniture Design- III
Hair cutting
Hair dressing and styling
Hydraulics
Interior Services
Machine Drawing -1 and CAD Drafting
Manufacturing Technology
Material Technology and Heat Treatment
Mechanics of Materials
Metal Forming Techniques
Network Analysis and Transmission Lines
Operating System
Pcb Design & Fabrication
Pharmacotherapeutics
Production Technology-III
Strength of Materials
Surveying
Theory Of Advertising -I
Thermal Engineering-1
Polymer Materials and properties
Location- Delhi Skill and Entrepreneurship University, Delhi, India
Eligibility/Qualification–
The applicant must have the requisite educational qualification and experience:
Bachelors in the relevant field with at least 60 percent marks and 8 years of teaching/industry experience (with at least 5 years at supervisory level)1
Or
Masters level in the relevant field with at least 60 percent marks and 5 years of teaching/industry experience2 Or
PhD in the relevant field.
Or
Prime Minister Research Fellow
B. Those applying with only teaching experience must have:
Taught the subjects (they are applying for) at a reputed institution/University for two or more years.
Received good to excellent feedback in the courses taught by them (will be asked to provide proof of feedback received)
The applicant must be committed to the experiential method of learning and teaching. Evidence of the same may be expected to be furnished by the applicant.
C. For those applying with industry experience
The applicant must have worked for at least three years in the field related to the course subject
The applicant must have demonstrated exceptional skill in at least one area related to the course
1Relevant experience before the degree would also be counted towards experience. Degrees obtained only from UGC and AICTE recognized colleges will be accepted. Degrees obtained from renowned foreign institutions will also be accepted.
Desirable:
Taught in NAAC accredited institutions or the institutes ranked in top 100 in NIRF rankings.
Preference will be given to the candidates staying in Delhi/NCR
Job/Position Description-
The applications shall be considered for any academic semester based on the actual requirements.
The responsibilities of empanelled faculty involve: (i) design (ii) delivery and (iii) assessment of courses which includes invigilation
An honorarium of 37,500/- INR (No separate Traveling Allowance will be paid) per credit will be paid to the faculty. Each credit is counted as, on an average 22 hours of student contact (the number of contact hours per credit may vary depending on whether the course is only theory, both theory and practice, and only practice).
The faculty will be responsible for (i) design of the classroom content (ii) delivery of the lectures and practical and (iii) continuous assessment required in the course including mid-semester and end-semester examinations. The amount would be disbursed only after the assessment of the students is finalized by the faculty and submitted to the office after successful completion of the course certified by program anchors/Hod/Campus director.
The classes may be conducted both at University Campus and Industrial premises as per requirement of the course. Also, the classes may be partly online and partly face-to-face.
How to Apply-
Candidates are requested to apply on the following google form link latest by 8th July 2022, 5pm: https://forms.gle/rjZjB9t9c89fCmPW8
For any queries- please write to acad-recruitment@dseu.ac.in
Last Date for Apply– 08 July 2022
You can get our Regular updates on Telegram also
Find or Post Research Project PositionS – Researchersjob Board
See Also: Motivation Letter for PhD, Postdoc, and Other Research Positions
Whitesmoke Grammar Checker Online – Improve Your Research Writing Skill – Alternative to Grammarly
How to write a literature review: Tips, Format, and Significance
Research Proposal How to Write: Detail Guide and Template