Designation/Position- Guest Faculty Post at NIT
NIT Kurukshetra, India, invites applications for Guest Faculty post at NIT Kurukshetra from eligible and interested candidates
About- National Institute of Technology Kurukshetra is a public engineering institute in Kurukshetra. In December 2008, it was accredited by the Institute of National Importance. It is one of the 30 National Institutes of Technology established and administered by the Government of India. Guest Faculty at NIT Kurukshetra
Research/Job Area-  Department of Civil Engineering
More Opportunities:
Teaching Jobs in India: Various Faculty Positions in top Indian Institutes
Location- Kurukshetra
Eligibility/Qualification–
The qualification for Guest Faculty shall be the same as for the post of Assistant Professor regular basis, i.e., First class both at UG and PG level (60% or 6.5/10 CGPA) with Ph.D. in relevant branch/discipline. case of non-availability of the required number of Ph.D. degree candidates, candidates with M. Tech./PG Degrees may be considered.
Job/Position Description-
The Department of Civil Engineering requires 14 Guest Faculty to meet out the teaching load requirement ofundergraduate and postgraduate classes during the upcoming semester. Honorarium shall be paid to the Guest Faculty for academic assignments including lectures, tutorials, lab classes, drawing classes, seminars etc. and exam related evaluation work.
Honorarium shall be admissible @Rs. 1500/- per contact hour plus 10% extra for examination-related evaluation work subject to the maximum amount of honorarium of Rs. 70,900/- per month for candidates with a Ph.D. degree; and Rs. 57,700/- per month for candidates with M.Tech./PG degree.Lab classes, drawing classes, seminars etc.of 02 contact hours duration shall be treated as 01 contact hour for honorarium/remuneration
How to Apply-
Interested candidates may submit their application in the prescribed application form (attached herewith) alongwith self-attested copies of certificates and mark sheets either by post or in person in the department office on or before 23.12.2022 upto 5.00 pm. Additionally, the candidates are also required to fill out the Google Form available on the link below:
https://forms.gle/SVtVQUtJyDz5CY9G9
Postal Address (for hard copy submission either by post or in person)
Head, Department of Civil Engineering, National Institute of Technology, Kurukshetra (Haryana) 136 119
The interviews offline mode of the shortlisted candidates will be tentatively conducted on 30.12.2022, 10.00 am onwards, in the Department. The list of provisionally eligible/shortlisted candidates will be uploaded on the Institute Website by 28.12.2022 evening alongwith notifying the exact date and time of the interview.
Last Date for Apply– 23 December 2022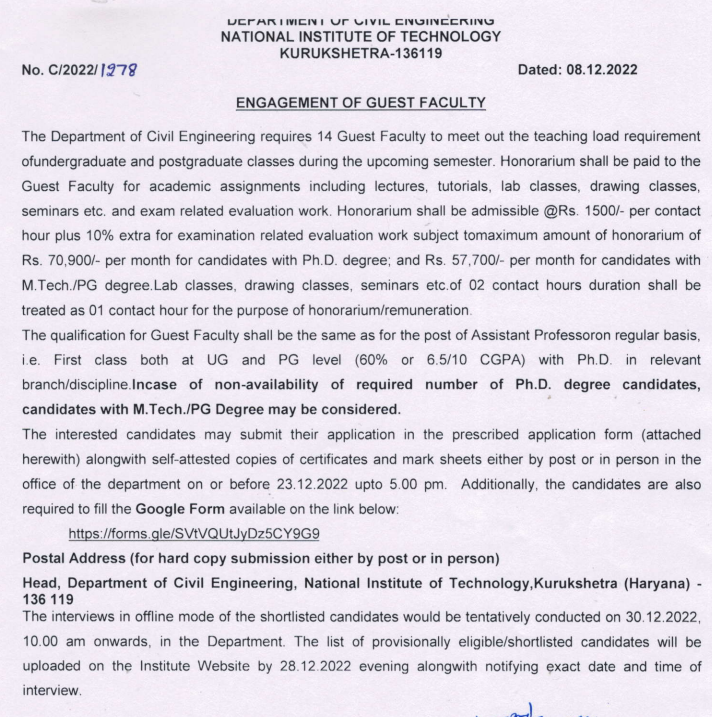 Find or Post Research Project PositionS – Researchersjob Board