Designation/Position- Postdoctoral Fellow Post at IIT
IIT Gandhinagar, Gujarat, India invites applications for Postdoctoral Fellow Post at IIT from eligible and interested candidates
About- Indian Institute of Technology Gandhinagar is a public engineering institution located in Gandhinagar, Gujarat, India. It has been declared to be an Institute of National Importance by the Government of India.
Research/Job Area- Mechanics/Mechanical/Civil/Aerospace Engineering or any allied area
Location- IIT Gandhinagar, Gujarat
Eligibility-
A PhD in Mechanics/Mechanical/Civil/Aerospace Engineering or any allied area with specialization in solid mechanics or structures is required. Candidates who have submitted their dissertation are also eligible to apply. A good candidate will have, in addition to the aforementioned qualifications, good communication and writing skills, and a working knowledge of MATLAB/Python (any suitable programming language)/Abaqus. An ideal candidate will also be independent minded, and capable of driving research into uncharted territory.
How Can You Increase Your Citations for a Research Paper: Research Tip
Job/Position Description-
Call for postdoctoral positions in material modelling and solid mechanics
Applications are invited from motivated and qualified candidates for two postdoctoral positions in the material modelling and solid mechanics.
Job Description: A successful candidate will conduct research along the broad theme of constitutive modelling of materials. The scope of the research includes, but is not limited to, developing constitutive models for novel materials, studying progressive damage in materials using continuum damage mechanics, and analyzing crack propagation using diffused crack approaches. The position is ideally suited for applicants with a background in solid mechanics, and a strong interest in theoretical and numerical implementation work.
Duration: One-year appointment initially, will be extended for another year based on performance.
Remuneration: 50,000 INR per month + HRA (if on-campus accommodation is unavailable).
Funding agency: IIT Gandhinagar
How to Apply-
Interested candidates must apply online with a CV. Applications sent through email will not be considered.
Mode of selection: Short-listed candidates will be called for an online interview.
Deadline: September 5, 2023 Contact: For any queries regarding the position, contact Harini Subramanian at harini.subramanian@iitgn.ac.in. Applications will continue to be screened until a suitable candidate is selected.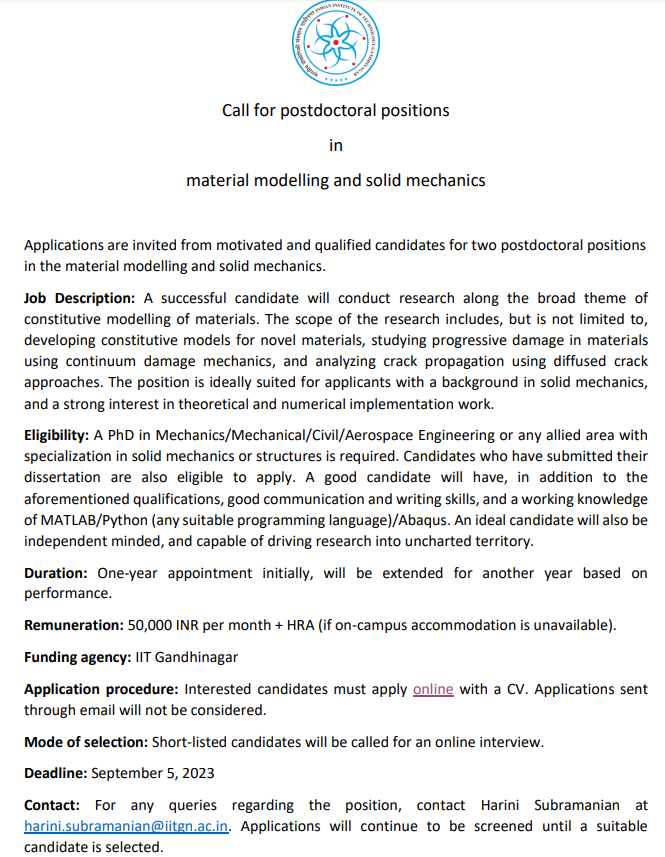 Last Date for Apply– 05 September 2023
Join Our Discussion Forum – Keep your view, share knowledge/opportunity and ask your questions