Postdoctoral Scholar at University of California: The Shah Lab at the University of California, Davis is seeking a highly motivated Postdoctoral Scholar to study the role of virus-host protein interactions in Zika virus replication and pathogenesis. The successful candidate will be responsible for NIH-funded research using integrative approaches such as proteomics/biochemistry, cell-based replication assays, and animal models.
Designation: Postdoctoral Scholar
Research Area: Zika Virus Replication and Pathogenesis
Location: University of California, Davis
Eligibility/Qualification:
Candidates must hold a PhD in virology, microbiology, or closely related fields by the start date
Candidates must have lead-author publication(s) in virology
Strong communication skills and the ability to work both independently and as part of a collaborative team is required
Prior experience in mouse infection models is required
Preferred Qualifications:
Experience with flavivirus biology, biochemistry, neurodevelopment, RNAi or CRISPR screening is a plus
Job Description:
Assessing the impact of mutations in host and viral proteins on Zika virus replication and pathogenesis in vivo
Establishing a 96-well screening platform for host factors impact on Zika virus replication using RNAI or CRISPRI
How to Apply:
To apply, please email a single PDF containing a cover letter and CV with the contact information for three referees to [email protected]
Last Date for Apply: Until Position Filled
Note: The University of California is an Equal Opportunity/Affirmative Action Employer. All qualified applicants will receive consideration for employment without regard to race, color, religion, sex, sexual orientation, gender identity, national origin, disability, age or protected veteran status. UC Davis is a smoke & tobacco-free campus. If you need accommodation due to a disability, please contact the recruiting department.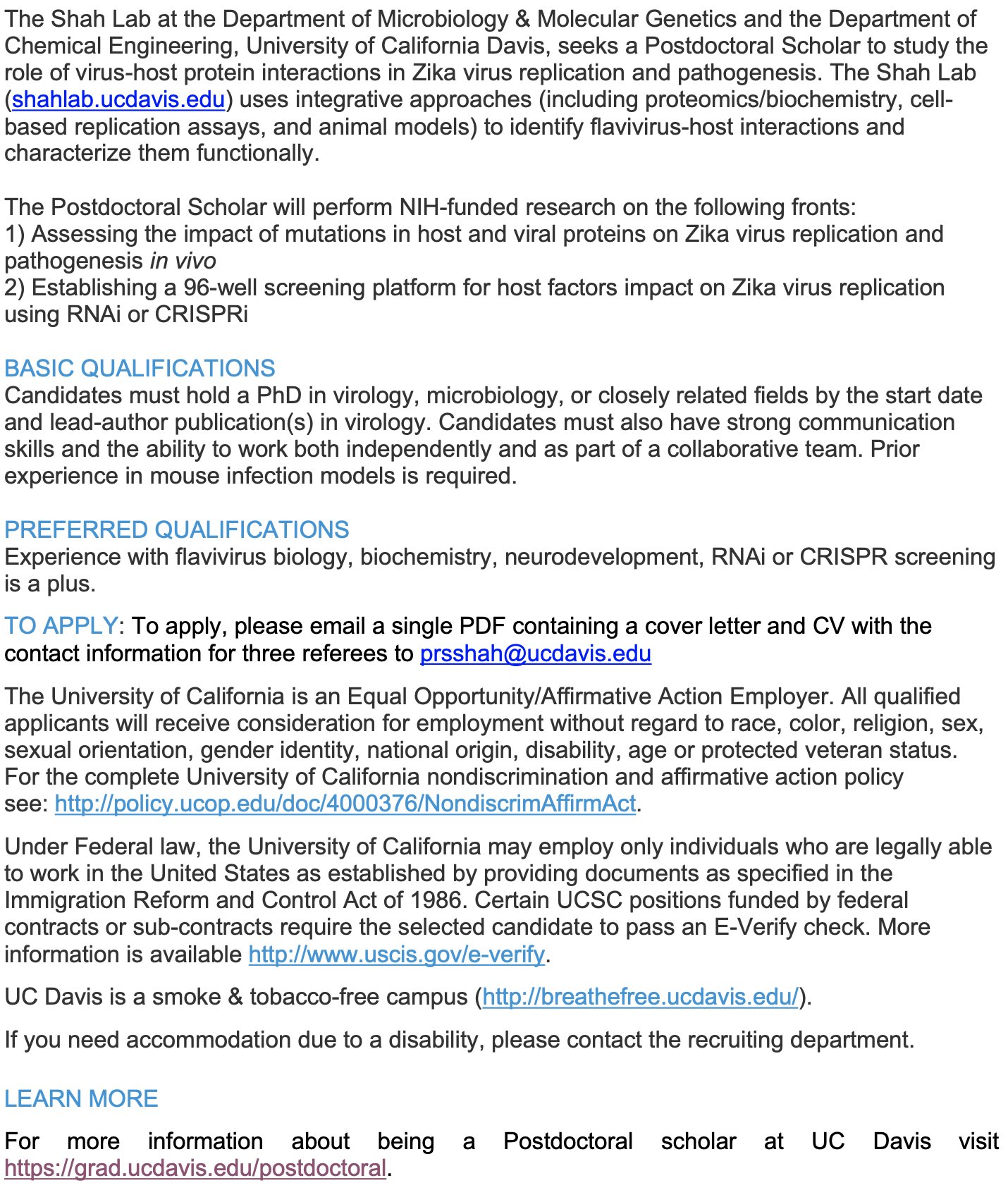 12 Postdoctoral Researcher Positions in Systems and Synthetic Biology at the…
Post-Doctoral Fellow Position in UAE, Khalifa University