Designation/Position- Research Associate at IIT Guwahati
IIT Guwahati, India invites application for Research Associate at IIT Guwahati from eligible and interested candidates
About- Indian Institute of Technology Guwahati is a public technical and research university established by the Government of India, located in Guwahati, in the state of Assam in India. It is the sixth Indian Institute of Technology established in India. Research Associate at IIT Guwahati
Research/Job Area- Computer Science / Electrical and Electronics Engineering
Location- IIT Guwahati, India
More Opportunity:-
Various Research Positions – 12 October 2021: Researchersjob- Updated
Project Scientist Position at G.B.Pant University, Uttarakhand, India
Eligibility/Qualification–
Ph.D. (candidates with thesis submitted may also apply) in Computer Science / Electrical and Electronics Engineering from premier Institute (like IIT, ISI, IISc, IIIT, NIT or equivalent) with decent publications in premier conferences or journals like IEEE or ACM. Transactions and strong knowledge on Deep Learning and associated programing (Pytorch, Tensor flow etc.) is desirable.
Research exposure in computer vision, and data hiding is an advantage.
Job/Position Description-
Applications are invited for an online interview for a Research Associate -I (Contractual for 11 months) position in the project entitled, "Design of a framework to resist image-based adversarial attacks on deep learning models" at the Department of Computer Science and Engineering, IIT Guwahati. The details are given below:
No. of vacancies: One (1)
Date of Interview: 10 November 2021 (Wednesday)
Time: 10 AM onwards
Venue: Online Mode (Google Meet/Skype)
Last date of application: 3 November 2021 (Wednesday)
Recommended Pay package: Total: Rs. 55,770/- (Rs. 47,000/- + HRA: Rs. 7520/- + Medical: Rs. 1250/-)
Term of appointment: 11 months
How to Apply-
Candidates possessing the requisite qualification and experience may apply via e-mail to arijit@iitg.ac.in along with an application letter and a CV detailing all educational qualifications, experience, GATE score (if applicable), publication details, transcripts and grade sheets, contact address, phone number, Gmail/Skype id etc. The subject line of the e-mail should be "Application for the post of Research Associate".
Candidates are requested to arrange for at least one reference letter, which will give additional advantage. Referees should email the letters directly to arijit@iitg.ac.in by 3 November 2021.
Selection procedure: The shortlisted candidates will be intimated through an e-mail to appear for an online interview with the details of the Google Meet/Skype Link. Selection will be based on the performance of the candidate in the online interview, reference letters and submitted credentials.
For any clarification, please contact:
Dr. Arijit Sur (Principal Investigator)
Email: arijit@iitg.ac.in, Phone: 9678000387 Website: https://www.iitg.ac.in/arijit/
https://www.iitg.ac.in/cseweb/mmlab/
Last Date for Apply– 03 November 2021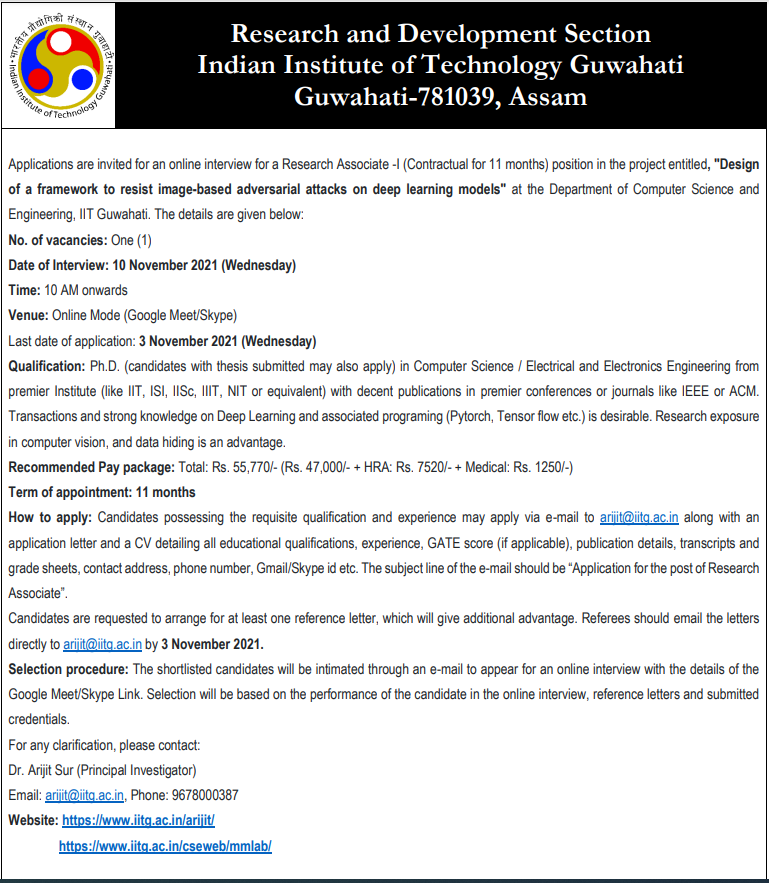 Join Our Discussion Forum – Keep your view, share knowledge/opportunity and ask your questions