Research Associate (RA) Position in ICGEB, New Delhi, India
Designation/Position- Research Associate (RA) Positions
Cellular Immunology Group, ICGEB, New Delhi, India invites applications for Research Associate (RA) Positions from eligible and interested candidates
About- Established under UNIDO in 1983, the ICGEB is a unique, autonomous, Intergovernmental Organisation, with biotech labs in Italy, India, and South Africa. Research Associate (RA) Positions
Research/Job Area- Life Sciences
Location- ICGEB, New Delhi, India
Eligibility/Qualification–
Educational qualifications: PhD in any field of life sciences.
Requirements: Experience in molecular cloning, protein cloning, expression and purification in prokaryotic and eukaryotic systems, making stably transfected eukaryotic cell lines, FACS/sorting, immunofluorescence, co-IP, Gateway cloning, ChlP, Gel-shift and super-shift assays will be desirable. The RA is expected to independently carry the designated work and should be capable of troubleshooting, amenable to work in a large group and should be highly dedicated and sincere. Experience in small animal handling/experimentation and working inside BSL3 lab will also be considered favourably.
Or, demonstrable extensive computational work, including Next Gen Sequencing analysis, RNAseq and CHIP Seq analysis as well as command on computational skills including C/C++/Python will be considered favorably.
Job/Position Description- 
Research Associate (RA): Applications are invited for the position of Research Associate in the Cellular Immunology Group, ICGEB, New Delhi. The position is temporary, with an initial tenure of one year, which can be extended to the maximal duration of the project, year on basis, subject to annual assessment
How to Apply- 
Interested Candidates are requested to send their CV to the following email,
dhirai@icqeb.res.inl clearly marking in the subject line whether the application is for SRF position or RA.
Shortlisted candidates will be asked to appear for an interview.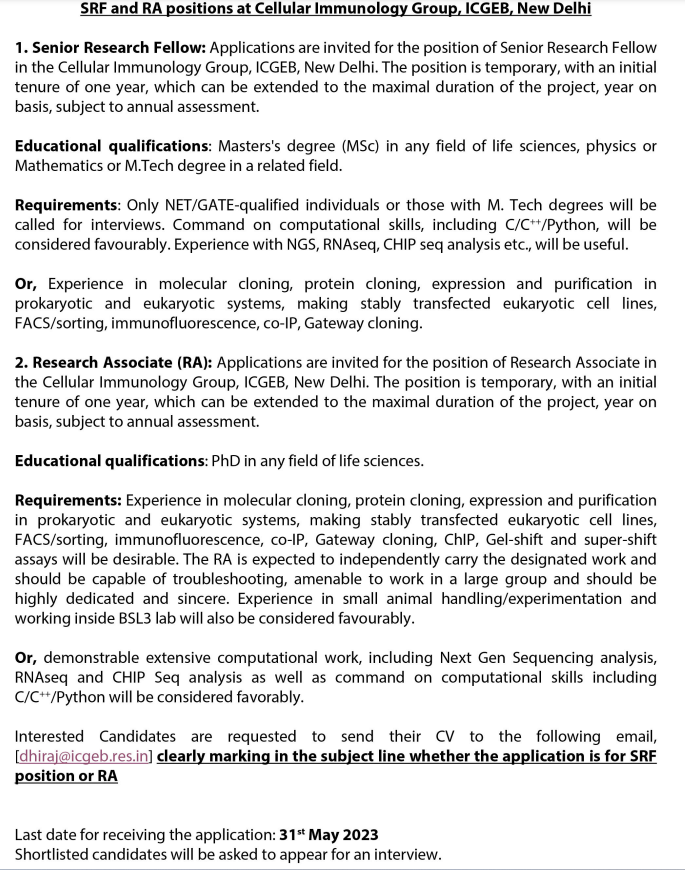 Last Date for Apply– 31 May 2023
Skype Interview Tips and Tricks – Best Practices in the Video interview
Join Our Discussion Forum – Keep your view, share knowledge/opportunity and ask your questions