Research Associate (RA) Position in ICGEB, New Delhi, India
Designation/Position- Research Associate (RA) Positions
Cellular Immunology Group, ICGEB, New Delhi, India invites application for Research Associate (RA) Positions from eligible and interested candidates
About- Established under UNIDO in 1983, the ICGEB is a unique, autonomous, Intergovernmental Organisation, with biotech labs in Italy, India, and South Africa. Research Associate (RA) Positions
Research/Job Area- Life Sciences
Location- ICGEB, New Delhi, India
Eligibility/Qualification–
Ph.D (Degree awarded) in Life sciences with experience in animal studies including animal handling, experimental design, histopathology and data analysis is essential.
Hands-on experience in cell culture, flowcytometry, and fluorescence microscopy is desirable, but not mandatory.
Job/Position Description-
Research Associate (RA-I) Position in Drug Discovery for Atherosclerosis.
Membrane Protein Biology Group, ICGEB, New Delhi
Project Title: "Preclinical evaluation of novel inhibitors for cardiovascular therapy, targeting oxidized low density lipoprotein receptor (LOX-1)"
Funding Agency: ICMR, Govt. of India
Fellowship and Duration: Rs. 58,280 /- per month (HRA included). The project is funded for 3 years only. Initially,this position is available for the first six months and can be further extended based on the performance.
The project involves screening of small molecules using cell-based assays, toxicity profiling in vitro and in vivo and anti-atherogenic activity using small animal models of atherosclerosis.
How to Apply-
Please fill out the following google form:
https://forms.gle/EmrtJa247J4pJLvJ6
It is mandatory to upload CV (less than 3 pages) elaborating your research experience in detail, a cover letter (one page), and complete contact details of three academic referees (name, affiliation, e-mail and phone numbers). Please do not attach/send open reference letters. Candidates shortlisted for interview will be asked to arrange for confidential reference letters before the interview.
Those who do not have internet facilities can post hard copy of the application to: Membrane Protein Biology Group, ICGEB, Aruna Asaf Ali Marg, New Delhi-110067.
Last date to Apply: 25th March 2022.
Tentative online/offline interview dates: 29-31 March 2022
Note: Position will be open till filled.
For queries, write to: [email protected]
Last Date for Apply– 25 March 2022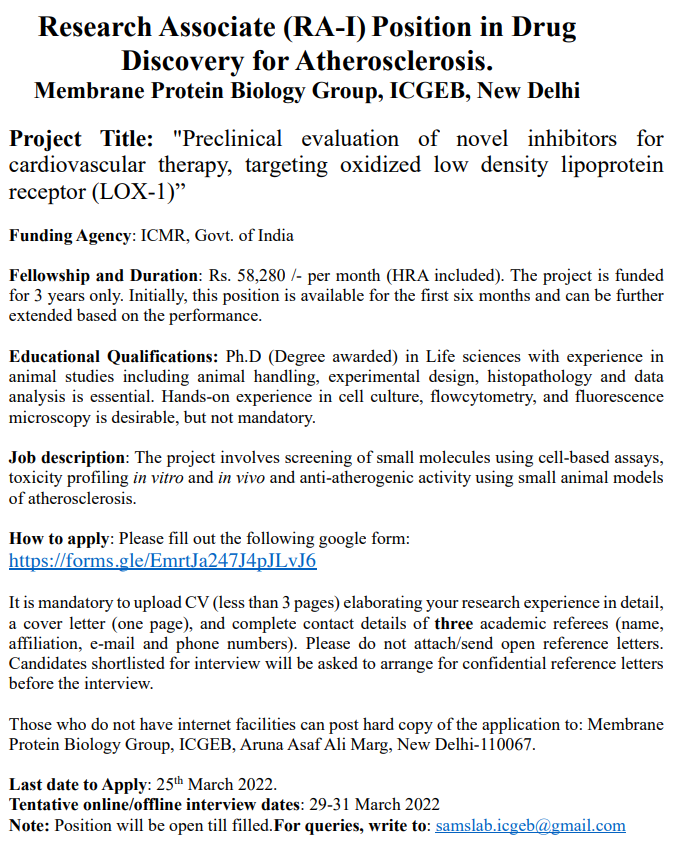 Skype Interview Tips and Tricks – Best Practices in the Video interview
Join Our Discussion Forum – Keep your view, share knowledge/opportunity and ask your questions