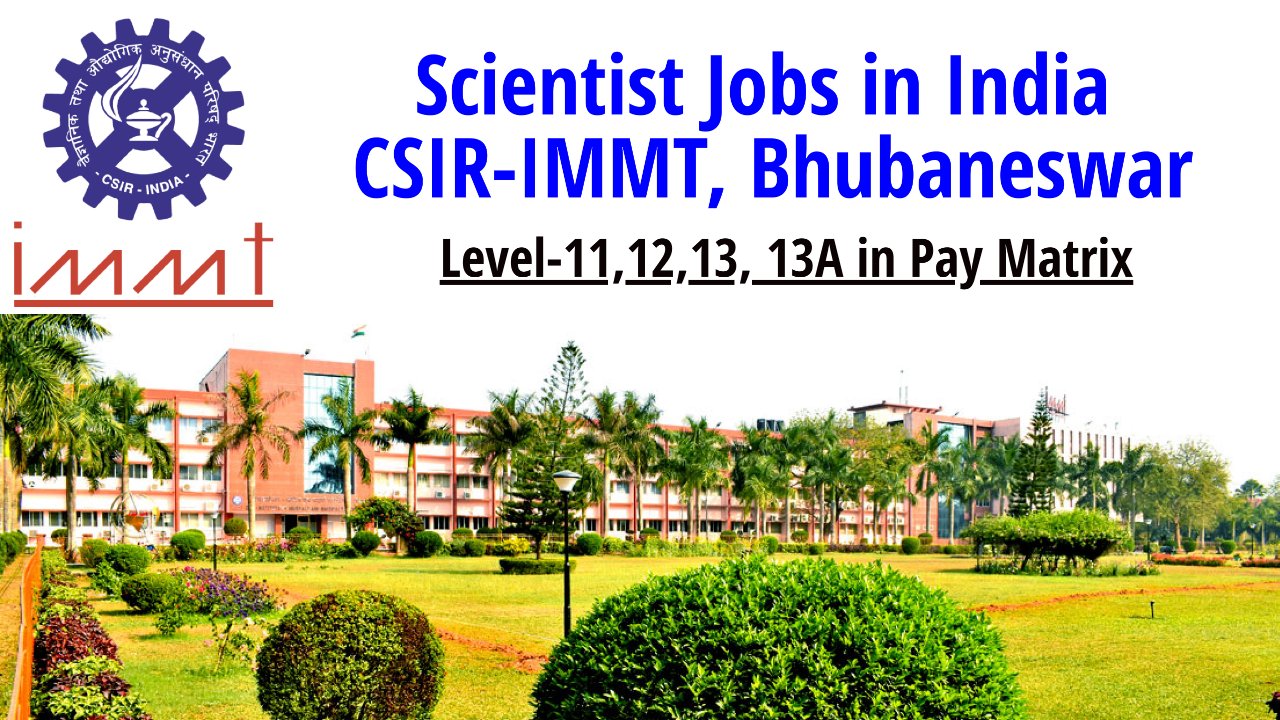 Designation/Position- Scientist Jobs in India – CSIR-IMMT
CSIR-Institute of Minerals & Materials Technology (CSIR-IMMT), Bhubaneswar invites application for Scientist Jobs in India – CSIR-IMMT from eligible and interested candidates
About- CSIR-Institute of Minerals & Materials Technology (CSIR-IMMT), Bhubaneswar, is a premier national institute of the Council of Scientific and Industrial Research (CSIR) engaged in multidisciplinary R&D for sustainable development of mineral and material resources. Scientist Jobs in India – CSIR-IMMT
Research/Job Area- Various
More Opportunities:

Various Research Positions – 25 May 2021: Researchersjob- Updated
Assistant Professor Grade-II Position at NIT Arunachal Pradesh, India
Faculty Positions in DMIMS, Wardha, Maharashtra, India, Total Post=32
Faculty Position (Regular) in NIT, Tadepalligudem, Andhra Pradesh, India
Location- CSIR-Institute of Minerals & Materials Technology (CSIR-IMMT), Bhubaneswar, india
Eligibility/Qualification–
Post Details
Pay
Qualification & Experience
#
(4201) Scientist, UR,
Age Limit: 32, No. of Posts: 1
Level-11, 67700-208700
Total Emoluments: Rs. 94,253/-
EQ: M.E./M.Tech. (or equivalent e.g., Integrated M.Tech., Dual degree B.Tech. & M.Tech.) in Mineral Engg./ Metallurgical Engg./ Material Science & Engg./ Materials Engg./ Chemical Engg. with B.E./B.Tech. (or equivalent) in Mineral Engg./ Metallurgical Engg./ Material Science & Engg./ Materials Engg./ Chemical Engg. OR Ph.D. (submitted) in Mineral Engg./ Metallurgical Engg. / Material Science & Engg./ Materials Engg./ Chemical Engg. with B.E./B.Tech. (or equivalent) in Mineral Engg./ Metallurgical Engg. / Material Science & Engg./ Materials Engg./ Chemical Engg.
DQ: M.E./M.Tech. and B.E./B.Tech. with higher percentage of marks/ CGPA/ CPI etc. in the subject as mentioned in EQ / Ph.D. in Mineral Engg./ Metallurgical Engg. / Material Science & Engg. / Materials Engg. / Chemical Engg. and B.E./B.Tech. with higher percentage of marks/CGPA/CPI etc. in the subject already mentioned in EQ. GATE qualification for those having M.E./M.Tech. (or equivalent) / Direct Ph.D. degrees after finishing B.E./B.Tech. with higher percentage of marks/ CGPA/CPI etc. from Indian Universities.
Details
(4202) Scientist, SC,
Age Limit: 32, No. of Posts: 1
Level-11, 67700-208700
Total Emoluments: Rs. 94,253/-
EQ: M.E./M.Tech. (or equivalent e.g., Integrated M.Tech., Dual degree B.Tech. & M.Tech.) in Mineral Engg./ Metallurgical Engg./ Material Science & Engg./ Materials Engg./ Chemical Engg. with B.E./B.Tech. (or equivalent) in Mineral Engg./ Metallurgical Engg./ Material Science & Engg./ Materials Engg./ Chemical Engg. OR Ph.D. (submitted) in Mineral Engg./ Metallurgical Engg. / Material Science & Engg./ Materials Engg./ Chemical Engg. with B.E./B.Tech. (or equivalent) in Mineral Engg./ Metallurgical Engg. / Material Science & Engg./ Materials Engg./ Chemical Engg.
DQ: M.E./M.Tech. and B.E./B.Tech. with higher percentage of marks/ CGPA/ CPI etc. in the subject as mentioned in EQ / Ph.D. in Mineral Engg./ Metallurgical Engg. / Material Science & Engg. / Materials Engg. / Chemical Engg. and B.E./B.Tech. with higher percentage of marks/CGPA/CPI etc. in the subject already mentioned in EQ. GATE qualification for those having M.E./M.Tech. (or equivalent) / Direct Ph.D. degrees after finishing B.E./B.Tech. with higher percentage of marks/ CGPA/CPI etc. from Indian Universities.
Details
(4203) Scientist, ST,
Age Limit: 32, No. of Posts: 1
Level-11, 67700-208700
Total Emoluments: Rs. 94,253/-
EQ: M.E./M.Tech. (or equivalent e.g., Integrated M.Tech., Dual degree B.Tech. & M.Tech.) in Chemical Engg./ Metallurgical Engg. / Material Science & Engg./ Materials Engg. with B.E./B.Tech. (or equivalent) in Chemical Engg./ Mechanical Engg./Metallurgical Engg./ Material Science & Engg./ Materials Engg. OR Ph.D. (submitted) in Chem. Engg./ Metallurgical Engg. / Material Science & Engg./Materials Engg. with B.E./B.Tech. (or equivalent) in Chemical Engg./ Mechanical Engg./Metallurgical Engg./ Material Science & Engg./ Materials Engg.
DQ: M.E./M.Tech. and B.E./B.Tech. with higher percentage of marks/ CGPA/CPI etc. in the subject as mentioned in EQ / Ph.D. in Chem. Engg./ Metallurgical Engg. / Material Science & Engg./ Materials Engg. and B.E./B.Tech. with higher percentage of marks/CGPA/CPI etc. in the subject already mentioned in EQ. GATE qualification for those having M.E./M.Tech. (or equivalent) / Direct Ph.D. degrees after finishing B.E./B.Tech. with higher percentage of marks/ CGPA/ CPI etc. from Indian Universities.
Details
(4204) Scientist, EWS,
Age Limit: 32, No. of Posts: 1
Level-11, 67700-208700
Total Emoluments: Rs. 94,253/-
EQ: M.E./M.Tech. (or equivalent e.g., Integrated M.Tech., Dual degree B.Tech. & M.Tech.) in Chemical Engg./ Metallurgical Engg. / Material Science & Engg./ Materials Engg. with B.E./B.Tech. (or equivalent) in Chemical Engg./ Mechanical Engg./Metallurgical Engg./ Material Science & Engg./ Materials Engg. OR Ph.D. (submitted) in Chem. Engg./ Metallurgical Engg. / Material Science & Engg./Materials Engg. with B.E./B.Tech. (or equivalent) in Chemical Engg./ Mechanical Engg./Metallurgical Engg./ Material Science & Engg./ Materials Engg.
DQ: M.E./M.Tech. and B.E./B.Tech. with higher percentage of marks/ CGPA/CPI etc. in the subject as mentioned in EQ / Ph.D. in Chem. Engg./ Metallurgical Engg. / Material Science & Engg./ Materials Engg. and B.E./B.Tech. with higher percentage of marks/CGPA/CPI etc. in the subject already mentioned in EQ. GATE qualification for those having M.E./M.Tech. (or equivalent) / Direct Ph.D. degrees after finishing B.E./B.Tech. with higher percentage of marks/ CGPA/ CPI etc. from Indian Universities.
Details
(4205) Scientist, OBC,
Age Limit: 32, No. of Posts: 1
Level-11, 67700-208700
Total Emoluments: Rs. 94,253/-
EQ: M.E./M.Tech. (or equivalent e.g., Integrated M.Tech., Dual degree B.Tech. & M.Tech.) in Metallurgical Engg./ Materials Science & Engg./ Materials Engg./ Ceramic Engg. with B.E./B.Tech. (or equivalent) in Metallurgical Engg./ Materials Science & Engg./ Ceramic Engg./ Mechanical Engg./ Materials Engg./ Chemical Engg. OR Ph.D. (submitted) in Metallurgical Engg./ Materials Science & Engg./ Materials Engg./ Ceramic Engg. with B.E./B.Tech. (or equivalent) in Metallurgical Engg. / Materials Science & Engg./ Ceramic Engg./ Mechanical Engg./ Materials Engg./ Chemical Engg.
DQ: M.E./M.Tech. and B.E./B.Tech. with higher percentage of marks/ CGPA/CPI etc. in the subject as mentioned in EQ / Ph.D. in Metallurgical Engg./ Materials Science & Engg./ Materials Engg./ Ceramic Engg. and B.E./B.Tech. with higher percentage of marks/CGPA/CPI etc. in the subject already mentioned in EQ. GATE qualification for those having M.E./M.Tech. (or equivalent) / Direct Ph.D. degrees after finishing B.E./B.Tech. with higher percentage of marks/ CGPA/ CPI etc. from Indian Universities.
Details
(4206) Scientist, UR,
Age Limit: 32, No. of Posts: 1
Level-11, 67700-208700
Total Emoluments: Rs. 94,253/-
EQ: M.E./M.Tech. (or equivalent e.g., Integrated M.Tech., Dual degree B.Tech. & M.Tech.) in Chemical Engg./ Metallurgical Engg./ Material Science & Engg./ Materials Engg. with B.E./ B.Tech. (or equivalent) in Chemical / Metallurgical / Material Science & Engg./ Materials Engg. / Ceramic Engg. /Mineral Engg. OR Ph.D. (submitted) in Chemical / Metallurgical/Material Science & Engg./ Materials Engg. with B.E./B.Tech. (or equivalent) in Chemical / Metallurgical / Material Science & Engg./ Materials Engg. / Ceramic Engg. /Mineral Engg.
DQ: M.E./M.Tech. and B.E./B. Tech. with higher percentage of marks/ CGPA/CPI etc. in the subject as mentioned in EQ / Ph.D. in Chemical Engg./ Metallurgical Engg. / Material Science & Engg./ Materials Engg. and B.E./B.Tech. with higher percentage of marks/CGPA/CPI etc. in the subject already mentioned in EQ. GATE qualification for those having M.E./M.Tech. (or equivalent) / Direct Ph.D. degrees after finishing B.E./B.Tech. with higher percentage of marks/ CGPA/ CPI etc. from Indian Universities.
Details
(4207) Scientist, UR,
Age Limit: 32, No. of Posts: 1
Level-11, 67700-208700
Total Emoluments: Rs. 94,253/-
EQ: M.E./M.Tech. (or equivalent e.g., Integrated M.Tech. Dual degree B.Tech. & M.Tech.) in Environmental Engg. / Biochemical Engg./ Biotechnology with B.E./B.Tech. (or equivalent) in Chemical Engg./Biochemical Engg./ Biotechnology / Civil Engg./ Environmental Engg. OR Ph.D. (submitted) in Environmental Engg./Biochemical Engg./Biotechnology with B.E./B.Tech. (or equivalent) in Chemical Engg. / Biochemical Engg. / Biotechnology / Civil Engg./ Environmental Engg.
DQ: M.E./M.Tech. and B.E./B.Tech. with higher percentage of marks/ CGPA/CPI etc. in the subject as mentioned in EQ / Ph.D. in Environmental Engg. / Biochemical Engg. / Bio-technology and B.E./B.Tech. with higher percentage of marks/ CGPA/CPI etc. in the subject already mentioned in EQ. GATE qualification for those having M.E./M.Tech. (or equivalent) / Direct Ph.D. degrees after finishing B.E./B.Tech. with higher percentage of marks/ CGPA/CPI etc. from Indian Universities.
Details
(4208) Scientist, UR,
Age Limit: 32, No. of Posts: 1
Level-11, 67700-208700
Total Emoluments: Rs. 94,253/-
EQ: M.E./M.Tech. (or equivalent e.g., Integrated M.Tech., Dual degree B.Tech. & M.Tech.) in Computer Science / Information Technology with MCA / M.Sc. (Computer Science/ Information Technology) OR M.E./M.Tech. (or equivalent) in Computer Science / Information Technology with B.E./B.Tech. (or equivalent) in Computer Science & Engg./ Electrical Engg. / Electronics Engg./ Instrumentation Engg. OR Ph.D. (submitted) in Computer Science/ Information Technology with MCA / M.Sc. (Computer Science/ Information Technology) OR Ph.D. (submitted) in Computer Science/ Information Technology with B.E./B.Tech. (or equivalent) in Computer Science & Engg./ Electrical Engg. / Electronics Engg./ Instrumentation Engg.
DQ: M.E./M.Tech. and B.E./B.Tech. with higher percentage of marks/ CGPA/CPI etc. in the subject as mentioned in EQ / Ph.D. in Computer Science/ Information Technology and B.E./B.Tech. with higher percentage of marks/ CGPA/CPI etc. in the subject already mentioned in EQ. GATE qualification for those having M.E./M.Tech. (or equivalent) / Direct Ph.D. degrees after finishing B.E./B.Tech. with higher percentage of marks/ CGPA/CPI etc. from Indian Universities.
Details
(4209) Scientist, OBC,
Age Limit: 32, No. of Posts: 1
Level-11, 67700-208700
Total Emoluments: Rs. 94,253/-
EQ: M.E./M.Tech. (or equivalent) e.g., Integrated M.Tech., Dual degree B.Tech. & M.Tech.) in Mechanical Engg./ Fuel Engg./ Chemical Engg. with B.E./B.Tech. (or equivalent) in Mechanical Engg./Fuel Engg./ Chemical Engg. OR Ph.D. (submitted) in Mechanical Engg./ Fuel Engg./ Chemical Engg., with B.E./B.Tech. (or equivalent) in Mechanical Engg./Fuel Engg./ Chemical Engg.
DQ: M.E./M.Tech. and B.E./B.Tech. with higher percentage of marks/ CGPA/CPI etc. in the subject as mentioned in EQ / Ph.D. in Mechanical Engg./Fuel Engg./ Chemical Engg. and B.E./B.Tech. with higher percentage of marks/ CGPA/CPI etc. in the subject already mentioned in EQ. GATE qualification for those having direct Ph.D. after B.E./B.Tech. with higher percentage of marks/CGPA/CPI etc. in relevant subject. GATE qualification for those having M.E./M.Tech. (or equivalent).
Details
(4210) Scientist, UR,
Age Limit: 32, No. of Posts: 1
Level-11, 67700-208700
Total Emoluments: Rs. 94,253/-
EQ: Ph.D. (submitted) in Geology/Applied Geology after M.Sc./M.Sc. Tech./M.Tech. in Geology/ Applied Geology.
DQ: M.Tech./M.Sc./M.Sc. Tech. with higher percentage of marks/ CGPA/CPI etc. in the subject as mentioned in EQ / Ph.D. in Mineralogy/ Petrology/ Coal Petrology / Ore Geology / Geochemistry and M.Sc./M.Sc. Tech./M.Tech. with higher percentage of marks/CGPA/CPI etc. in subject as mentioned in EQ. GATE / UGC / CSIR-NET qualification or DST-INSPIRE Fellowship for those with degrees from Indian Universities.
Details
(4301) Senior Scientist, UR,
Age Limit: 37, No. of Posts: 1
Level-12, 78800-209200
Total Emoluments: Rs. 1,09,016/-
EQ: M.E./M.Tech. (or equivalent e.g., Integrated M.Tech., Dual degree B.Tech. & M.Tech.) in Metallurgical Engg. / Material Science & Engg. / Materials Engg. with B.E./B.Tech. (or equivalent) in Metallurgical Engg./ Material Science & Engg./ Materials Engg./ Mechanical Engg. / Chemical Engg. and 3 years experience in the relevant area after M.E. / M.Tech. (or equivalent). OR Ph.D. in Metallurgical Engg./ Material Sc. & Engg./ Material Engg. with B.E./B.Tech. (or equivalent) in Metallurgical Engg./ Material Science & Engg./ Materials Engg./ Mechanical Engg. / Chemical Engg.
DQ: For M.E./M.Tech.: B.E./B.Tech. and M.E./M.Tech. with higher percentage of marks/CGPA/CPI etc. in the subject as mentioned in EQ. GATE qualification for those having M.E./M.Tech. (or equivalent) / Direct Ph.D. degrees after finishing B.E./B.Tech. with higher percentage of marks/ CGPA/CPI etc. from Indian Universities. Ph.D. thesis topic related to Hydro & Electro-metallurgy after finishing B.E./B.Tech. with higher percentage of marks/ CGPA/CPI etc. in the subject as mentioned in EQ / after finishing M.E./M.Tech. and B.E./B.Tech. with higher percentage of marks/CGPA/CPI etc. in the subject area as mentioned in EQ.
Details
(4302) Senior Scientist, UR,
Age Limit: 37, No. of Posts: 1
Level-12, 78800-209200
Total Emoluments: Rs. 1,09,016/-
EQ: M.E./M.Tech. (or equivalent e.g., Integrated M.Tech., Dual degree B.Tech. & M.Tech.) in Metallurgical Engg./ Materials Science & Engg./Ceramic Engg. with B.E./B.Tech. (or equivalent) in Metallurgical Engg. / Materials Science & Engg./ Ceramic Engg. / Materials Engg. / Mechanical Engg. and 3 years experience in the relevant area after M.E./M.Tech. (or equivalent). OR Ph.D. in Metallurgical Engg./ Materials Science & Engg./ Materials Engg./ Ceramic Engg. with B.E./B.Tech. (or equivalent) in Metallurgical Engg. / Materials Science & Engg./ Ceramic Engg. / Materials Engg. / Mechanical Engg. and 3 years experience in the relevant area after M.E./M.Tech. (or equivalent).
DQ: M.E./M.Tech. and B.E./B.Tech. with higher percentage of marks/ CGPA/CPI etc. in the subject as mentioned in EQ / Ph.D. in Metallurgical Engg./ Materials Science & Engg./ Materials Engg./ Ceramic Engg. after finishing B.E./B.Tech. with higher percentage of marks/ CGPA/CPI etc. in the subject mentioned in EQ / after finishing M.E./M.Tech. and B.E./B.Tech. with higher percentage of marks/ CGPA/CPI etc. in the subject area mentioned in EQ. GATE qualification for those having M.E./M.Tech. (or equivalent) / Direct Ph.D. degrees after finishing B.E./B.Tech. with higher percentage of marks/ CGPA/CPI etc. from Indian Universities. Ph.D. thesis topic related to the area of job requirement.
Details
(4401) Principal Scientist, UR,
Age Limit: 45, No. of Posts: 1
Level-13, 123100-215900
Total Emoluments: Rs. 1,67,935/-
EQ: Ph.D. in Chemical/ Metallurgical/ Materials Science & Engg./ Materials Engg./ Mechanical Engg. with B.E./B.Tech. (or equivalent) in Chemical/ Metallurgical / Mineral Engg./ Material Science & Engg./ Materials Engg./ Mechanical Engg. and 3 years experience in the relevant area after Ph.D.
DQ: Experience in modeling and simulation of industrial scale chemical/ metallurgical/ mineral processing units/ similar units. Handled project in the relevant area independently.
Details
(4402) Principal Scientist, UR,
Age Limit: 45, No. of Posts: 1
Level-13, 123100-215900
Total Emoluments: Rs. 1,67,935/-
EQ: Ph.D. in Chemical/ Metallurgical/ Materials Science & Engg./ Materials Engg./ Mechanical Engg. with B.E./B.Tech. (or equivalent) in Chemical/ Metallurgical / Mineral Engg./ Material Science & Engg./ Materials Engg./ Mechanical Engg. and 3 years experience in the relevant area after Ph.D.
DQ: Ph.D. with M.E./M.Tech./ M.Sc.(Engg.) after B.E./B.Tech. with higher percentage of marks/ CGPA/ CPI etc. after satisfying EQ.
Details
(4501) Senior Principal Scientist, UR,
Age Limit: 50, No. of Posts: 1
Level-13A, 131100-216600
Total Emoluments: Rs. 1,78,575/-
EQ: Ph.D. in Metallurgical Engg./ Materials Science and Engg./ Materials Engg. with B.E./B.Tech. (or equivalent e.g., Integrated M.Tech., Dual degree B.Tech. & M.Tech.) in Metallurgical Engg./ Materials Science and Engg./ Materials Engg. and 6 years experience in the relevant area after Ph.D.
DQ: Experience in the area of extractive metallurgy/ Mechanical Metallurgy. Handled project in the relevant area independently.
Details
The Desirable Qualification (DQ) as mentioned above, due weightage will be given to the candidates having relevant publications, patents and involved in Product Development/Technology Innovation/ Technology dissemination within the mandate relevant to the post/area. Ph.D. will also be preferred. Selected Scientists are expected to take active role in pursuing translational research and institutional program.
The applicant must be a citizen of India.
The upper age limit is relaxable up to 05 years for SC/ST and 03 years for OBC as per Government of India orders in force only in those cases where the posts are reserved for respective categories, on production of relevant certificate in the prescribed format signed by the specified authority at the time of interview.
Job/Position Description-
The institute offers exciting career opportunities in a wide range of areas from mineral processing to materials engineering. It has expertise in conducting technology-oriented programs in minerals engineering, metal extraction, material development, process engineering and related environment & waste management for industrial and societal development.
Online applications are invited from bonafide eligible Indian citizens having excellent academic record, motivation, aptitude, domain knowledge, specified experience and interest in Product Development, Technology Innovation and Translational Research
| | | | | |
| --- | --- | --- | --- | --- |
| Name of Post | No. of Posts with reservation status | Level in Pay Matrix | Total Emoluments | **Upper Age Limit not exceeding (as on the last date of online application) |
| Scientist | Total-10 (UR-05, SC-01 (Backlog), ST-01, OBC-02 & EWS-01) | Level-11 ₹.67700-208700 | ₹.94,253/- | 32 years |
| Senior Scientist | UR-02 | Level-12 ₹.78800-209200 | ₹.1,09,016/- | 37 years |
| Principal Scientist | UR-02 | Level-13 ₹.123100-215900 | ₹.1,67,935/- | 45 years |
| Sr. Principal Scientist | UR-01 | Level-13A ₹.131100-216600 | ₹.1,78,575/- | 50 years |
A non-refundable application fee of `.100/- (Rupees One hundred only) as applicable is required to be paid by the candidates through SB Collect. Candidates belonging to SC/ST/PWD categories, women candidates and CSIR employees/abroad candidates need not pay any application fee.
Procedure for ONLINE payment of Application Fees: Candidates are to log on to the State Bank Collect web page (www.onlinesbi.com/sbicollect) then click-
State of Corporate / Institution = Odisha
Type of Corporate / Institution = Govt. Department
Govt. Department Name = IMMT
Purpose of Payment = Application fee
Related Department = Administration
Budget head = <R06713>
Remarks = Mention Post Code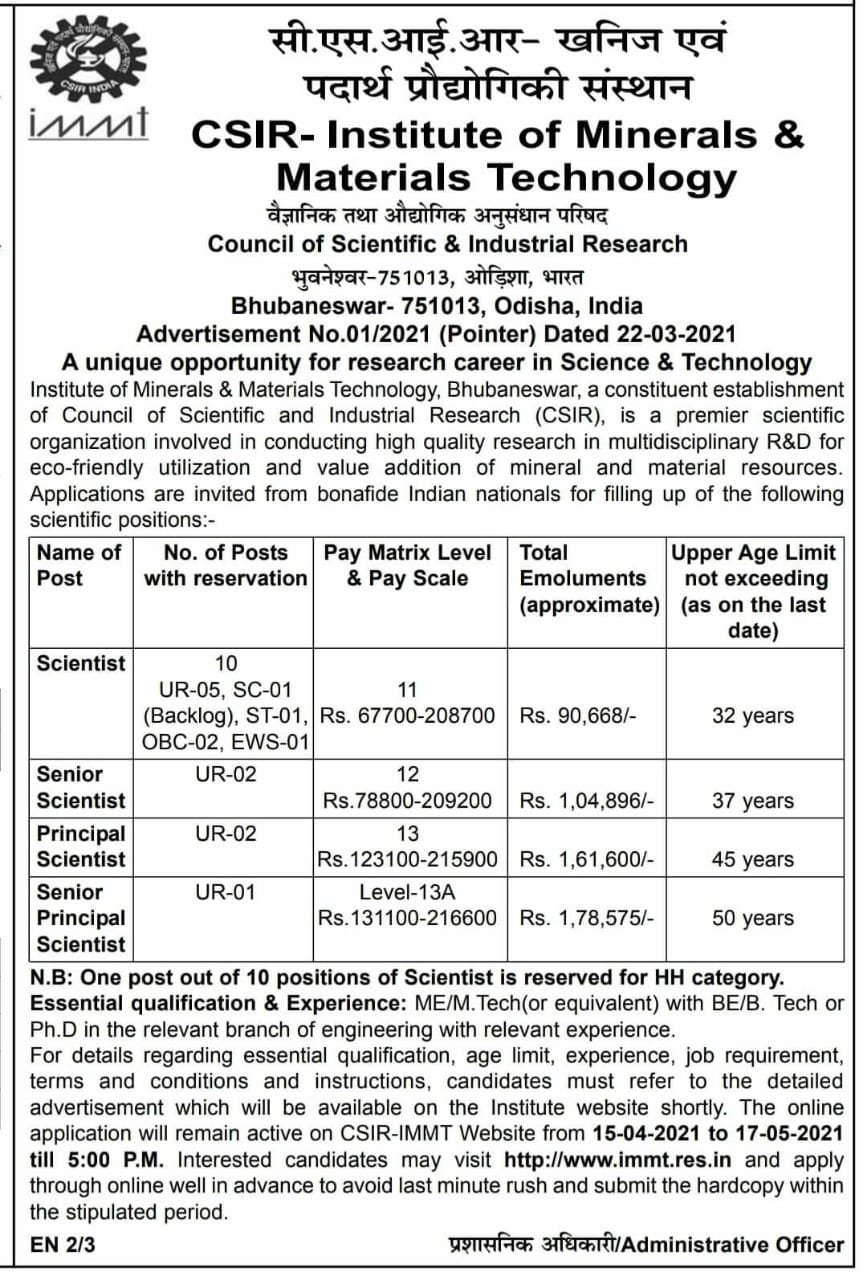 How to Apply-
Eligible candidates are required to apply ONLINE through the website of (www.immt.res.in). No other mode of application will be considered. The link for ONLINE APPLICATION will be activated on the website of CSIR-IMMT, (www.immt.res.in) as per the schedule given on top of the first page of this advertisement.
Candidates should keep a copy of the application print-out and payment details, if any, for their record. Print-out of Application and payment details will not be available after the last date for submission of application.
Candidates are to furnish the E-receipt SB Collect Reference No. ________, date _________ amount__________ while filling the online application form after successful e-payment through SB Collect.
The following details must be filled up on back side of the SB Collect e-receipt generated after online payment of fee (i) Candidate's Name, (ii) Candidate's Category, (iii) Online Application No., (iv) Post Code Applied for.
Only a single application will be entertained from one candidate for one post code. If a candidate wishes to apply for another post code, then the candidate must submit separate online application form for each post code, with separate application fee paid through SB Collect for each post code. Application without fee shall be rejected out rightly without any notice.
The printout of ONLINE APPLICATION duly signed, along with self-attested copies of certificates of educational qualifications, mark sheets, experience certificates, print-out of publications, documentary proof in support of date of birth, community/category certificate (SC/ST/OBC/EWS/PWD etc.), if applicable and e-receipt of the application fee paid through SB
Collect in an envelope superscribed as, "Application for the Post of __________, Post Code No.___________ & Advt. No.___________ may be sent at the following address so as to reach on or before the last date indicated above for receipt of HARD COPY of application. The last date given above will be the same for the candidates belonging to the far-flung areas.
The Controller of Administration
CSIR-Institute of Minerals & Materials Technology
Near Pathani Samanta Planetarium
Acharya Vihar Square
Post: IMMT (Formerly, RRL) Bhubaneswar-751013,
Dist: Khorda, (Odisha), India.
Last Date for Apply– 31 July 2021
Keeping in view the imposition of lockdown/ shutdown in various parts of the country due to COVID-19 pandemic, the last date for submission of online application is extended upto 31.05.2021 (5:00 P.M.) and the last date for receipt of hard copy of application by
post is extended upto 31.07.2021.
There is no other change in the terms and conditions of the advertisement.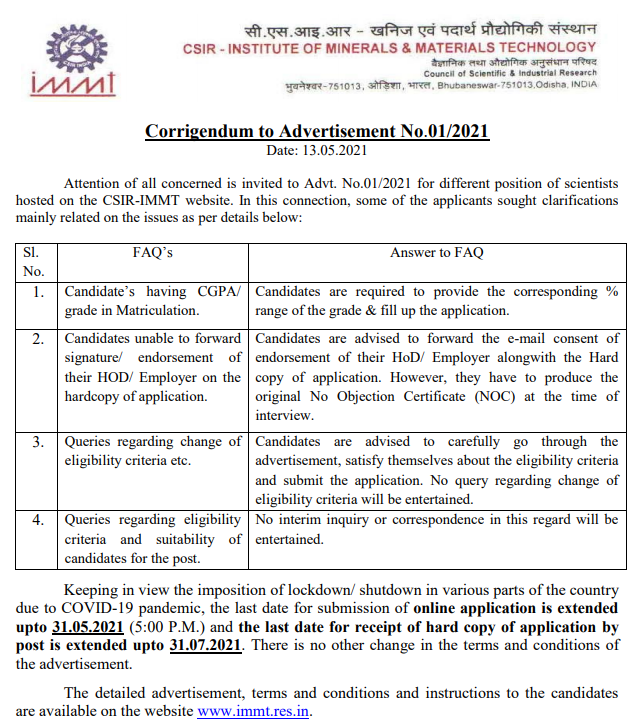 You can get our Regular updates on Telegram also
Find or Post Research Project PositionS – Researchersjob Board
See Also: Motivation Letter for PhD, Postdoc, and Other Research Positions
Whitesmoke Grammar Checker Online – Improve Your Research Writing Skill – Alternative to Grammarly
How to write a literature review: Tips, Format, and Significance
Research Proposal How to Write: Detail Guide and Template