Designation/Position- Women Scientists Scheme (WOS)
DST, India invites application for Women Scientists Scheme (WOS) from eligible and interested candidates
About- Women constitute an important section of the workforce. However, in the present situation a large number of well-qualified women scientists have been left out of the S&T activities due to various circumstances. The problems faced are several but significantly, most often the "break-in-career" arises out of motherhood and family responsibilities. The options for revival of their profession are meager in current system due to restriction in age and qualification/experience criterion. The "Women Scientists Scheme-A (WOS-A)" for research in basic and applied sciences has been evolved in this context, by the Department of Science and Technology (DST) for providing opportunities to women scientists and technologists between the age group of 27-57 years who desire to return to mainstream science and work as bench-level scientists. Through this endeavour of the Department, a concerted effort would be made to give women a strong foothold into the scientific profession, help them re-enter into the mainstream and provide a launch pad for further forays into the field of science and technology.
Research/Job Area- Scientific Disciplines: (1) Physical and Mathematical Sciences [PMS] (2) Chemical Sciences [CS] (3) Life Sciences [LS] (4) Earth and Atmospheric Sciences [EAS] (5) Engineering & Technology [ET].
Location- India
Eligibility/Qualification–
Employment: Candidates in regular employment are not eligible for WISE-PDF. However, women scientists who are temporarily employed in research or academics may apply in the scheme but they have to leave their earlier assignment if WISE-PDF project is approved. The position of research staff in any project, Post-Doctoral Fellow, Research Associate, etc. will be considered as temporary assignment.
Age: The minimum age to apply is 27 years and maximum is 60 years. Women scientists, less than 27 years of age are NOT eligible.
Educational Qualification:
Women Scientists having Ph.D. in Basic/ Applied Science or equivalent degree like MD, MS, MDS, etc. are eligible for WISE-PDF.
Break in Career: Break in career is not mandatory to apply in WISE-PDF, however, women who have break are also encouraged to apply in this programme.
Job/Position Description- 
The Department of Science and Technology (DST) is implementing a dedicated umbrella scheme "Women in Science and Engineering-KIRAN (WISE-KIRAN)" with aim to support women from all walks of life in the domain of Science & Technology. The Department has re-structured one of the flagship programme "Women Scientists Scheme" and come up with a new programme "WISE Post-Doctoral Fellowship (WISE-PDF)" that aims to provide opportunity to women scientists and technologists between the age group of 27-60 years who want to continue the research as bench-level scientists in basic and applied sciences.
Financial Support: The Programme provides fellowship of the applicant @Rs. 55,000/- per month, Research Grant of Rs. 2.0 Lakh per year and cost of small equipment (up to a maximum of Rs. 3.0 Lakh) along with Institutional overhead charges and House Rent Allowances as per DST norms.
Project Duration:  3 years (maximum)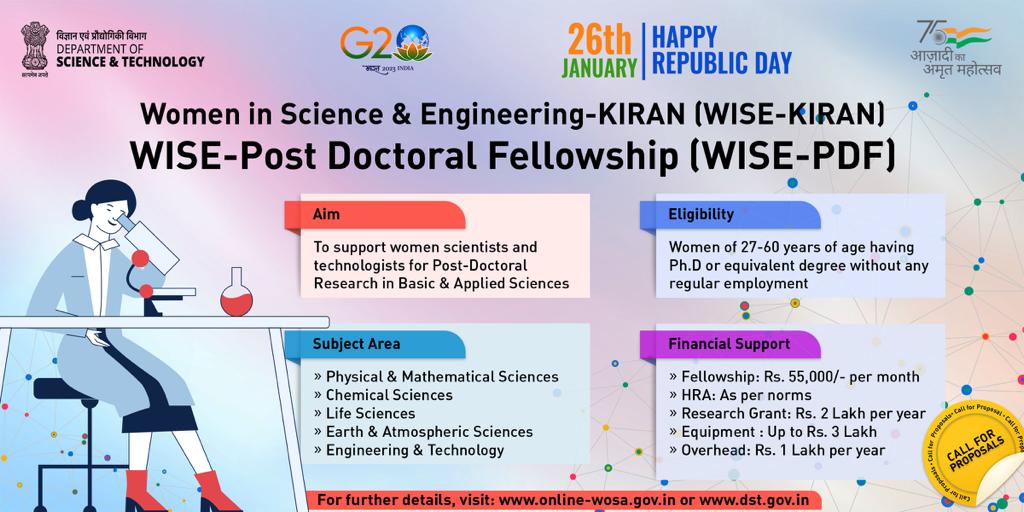 How to Apply- 
Eligible and interested candidates can apply online.
Instructions for Proposal Submission
Candidates who wish to apply in WOS-A need to register themselves at online portal with their active e-mail ID.
An auto generated mail will be received by applicant with ID and link to create password.
After login in 'wosa portal, candidates may submit full Project Proposal under WOS-A.
Project Proposal Document (PPD) includes online submission and uploading files.
| | | |
| --- | --- | --- |
| Sl. No. | Document Details | File Type |
| 1 | Project Proposal Document | PDF |
| 2 | Project Proposal Document | DOC/DOCX |
| 3 | Biodata of PI (Signed) | PDF |
| 4 | Mentor's Biodata (Signed) | PDF |
| 5 | Caste Certificate (If SC/ST/OBC/PH) | PDF |
| 6 | DOB certificate (10th class passed only) | PDF |
| 7 | Photograph of PI | PNG |
| 8 | Signature of PI | PNG |
| 9 | Highest Degree | Pdf |
| 10 | House Rent Allowance (if Eligible) | PDF |
The formats of all the PPDs are available at home page of portal under 'Formats' for ready reference of candidates.
The file size should not exceed 2MB.
It would be useful to first prepare uploading files which enable applicant to submit proposal in smooth and time bound manner.
Before submission preview your full proposal to make sure that everything is correct and in order. You will not be allowed to edit the contents after submission.
You need to click on "Final Submit" button for final submission of proposal.
Your proposal will remain save with your login ID and it may be saved in system and also can be printed.
There is no need to submit hard copy of proposal to DST.
Last Date for Apply– Throughout the Year
You can get our Regular updates on Telegram also
Find or Post Research Project PositionS – Researchersjob Board
See Also: Motivation Letter for PhD, Postdoc, and Other Research Positions
Whitesmoke Grammar Checker Online – Improve Your Research Writing Skill – Alternative to Grammarly
How to write a literature review: Tips, Format, and Significance
Research Proposal How to Write: Detail Guide and Template