Assistant Professor Grade-I & Grade-II Position in IIT Mandi, HP, India
Designation/Position- Faculty Recruitment
Indian Institute of Technology (IIT) Mandi, India, invites applications for Assistant Professor Grade-I & Grade-II from eligible and interested candidates. 
About-  IIT Mandi is the first IIT in the Himalayas. IIT Mandi's 530-acre campus is located on the banks of River Uhl, a tributary of the River Beas, 18 km away from the historic town of Mandi in Himachal Pradesh. Surrounded by forested hills far from the hustle and bustle of cities and highways, this scenic campus provides an excellent environment for the highest quality academic pursuits – research, teaching, and learning. Assistant Professor Grade-I & Grade-II
IIT Mandi is inviting online applications for faculty positions at the level of Assistant Professor Grade-I & Grade-II and Associate Professor in the School of Biosciences and Bioengineering (SBB). Candidates with expertise in experimental and theoretical/computational bioengineering are encouraged to apply. The positions are open for various research areas, including biomechanics, bioinstrumentation, biodevices, bioprocessing technology/engineering, quantum biology, computational biology, synthetic biology, artificial intelligence, machine learning, and big data analytics in biosciences. Exceptional candidates with achievements in related areas are also encouraged to apply.
Designation: Assistant Professor (Grade-I & Grade-II) and Associate Professor
Research Area: Biomechanics, Bioinstrumentation and Biodevices, Bioprocessing Technology/Engineering, Quantum Biology, Computational Biology, Synthetic Biology, Artificial Intelligence, Machine Learning, and Big Data Analytics in Biosciences
Location: Indian Institute of Technology (IIT) Mandi, Himachal Pradesh
Eligibility/Qualification:
A Ph.D. degree is necessary for a faculty position at IIT Mandi.
Candidates who have recently submitted their Ph.D. thesis or are close to completing their Ph.D. degree may apply for the position of Assistant Professor Grade-II.
Applicants should have a passion for teaching, exceptional motivation, and an established record of high-quality research.
Female candidates and reserved candidates are strongly encouraged to apply.
Job Description:
Foster high-quality teaching and conduct research in the designated research areas.
Collaborate with faculty members from other areas of engineering, basic sciences, humanities, and social sciences, promoting an interdisciplinary culture.
Assist in developing innovative research areas and programs in Biosciences and Bioengineering.
Conduct research on socially-relevant technologies for the Himalayan region, leveraging IIT Mandi's unique location in the Himalayas.
Contribute to the growth and reputation of IIT Mandi's Biosciences and Bioengineering program.
How to Apply: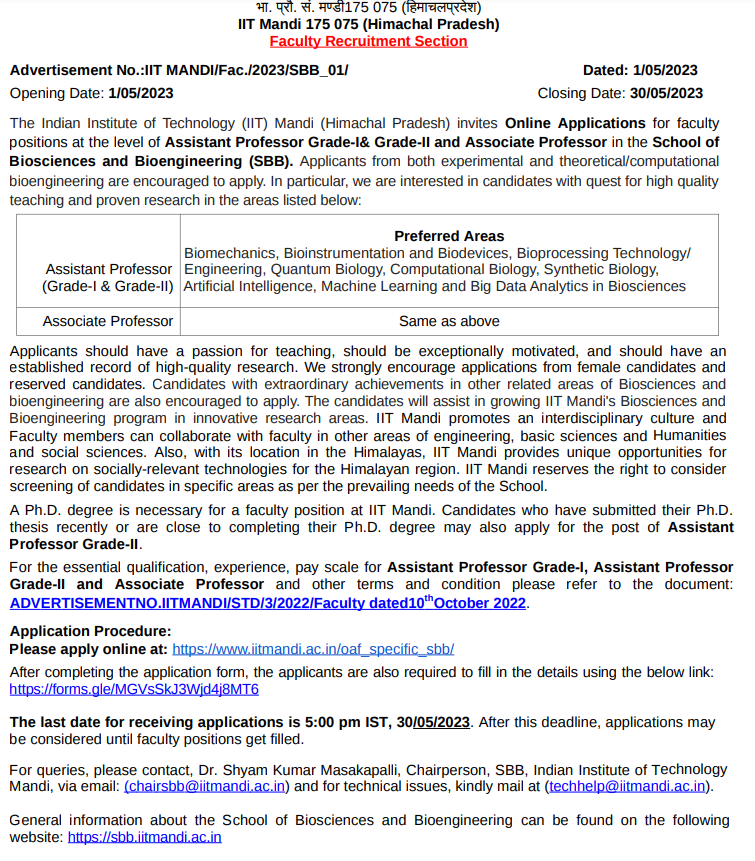 Last Date for Apply: 5:00 pm IST, 30 May 2023. Applications received after this deadline may be considered until faculty positions are filled.
For any queries, please contact Dr. Shyam Kumar Masakapalli, Chairperson, School of Biosciences and Bioengineering, Indian Institute of Technology Mandi, via email at chairsbb@iitmandi.ac.in. For technical issues, kindly reach out to techhelp@iitmandi.ac.in.
For more information about the School of Biosciences and Bioengineering, please visit our website: https://sbb.iitmandi.ac.in
How to write an attractive research proposal?
How to Write an Effective Cover Letter – Prepare Yourself
6 golden tips for finding successful postdoctoral opportunities
Some Effective Tool to Improve Your Research Writing Skill