Designation/Position- Google Summer of Code Internship
Google Summer of Code invites application for Google Summer of Code Internship(PhD Students) for eligible and interested candidates
About- Google Summer of Code Internship is a global program focused on bringing more student developers into open source software development. Students work with an open source organization on a 10 week programming project during their break from school. Since its inception in 2005, the program has brought together 16,000+ student participants and 13,000 mentors from over 118 countries worldwide. Google Summer of Code has produced 38,000,000+ lines of code for 715 open source organizations.
Study level- PhD programs, Undergraduate programs – Student developers (18 years old and over) from around the world
Location- Summer of Code, worldwide
Eligibility/Qualification–
Must be at least 18 years old at time of registration.
Must be enrolled in or accepted into a post secondary academic program including (but not necessarily limited to) colleges, universities, masters programs, PhD programs, undergraduate programs, licensed coding schools as of the GSoC Student Acceptance Date (May 17, 2021). Or graduation from a post secondary program between December 1, 2020 and May 17, 2021.
Must be eligible to work in their country of residence during duration of program.
Must be a resident of a country not currently embargoed by the United States.
Job/Position Description-
Spend your summer break writing code and learning about open source development while earning a stipend! Accepted students work with a mentor and become a part of the open source community. Many become lifetime open source developers! Google Summer of Code is open to students, age 18 and older enrolled in a post secondary academic program in most countries.
How to Apply-
https://summerofcode.withgoogle.com/org-signup/
Last Date for Apply– from 30 March to 14 April 2021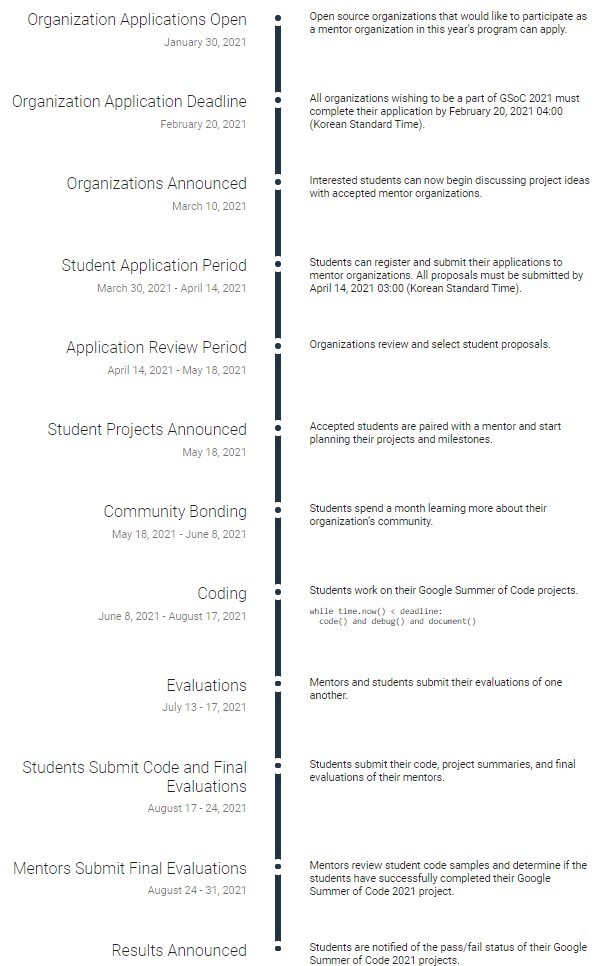 More Opportunities:-
International Climate Fellowship – Alexander von Humboldt Foundation
Post-doctoral Fellow (PDF) Position at IIT Gandhinagar- Apply by 15 February​…
Project Postdoctoral Fellow at IIT Kanpur: Apply by 15 February 2021