Designation/Position- Post-doctoral Fellow (PDF) Position at IIT
IIT Gandhinagar, India, invites applications for Post-doctoral Fellow (PDF) Position at IIT from eligible and interested candidates
About- Indian Institute of Technology Gandhinagar is a public engineering institution in Gandhinagar, Gujarat, India. It has been declared to be an Institute of National Importance by the Government of India. Post-doctoral Fellow (PDF) Position at IIT
Research/Job Area- Chemistry
Location- Gandhinagar
Eligibility/Qualification–
PhD in Chemistry with experience in synthesis of metal-ligand complex, porphyrins and related macrocycles and their characterization from reputed institutes with good publication record. Candidates who have submitted their thesis are equally eligible.
Job/Position Description- 
Postdoctoral Fellow Position in Synthesis of Catalysts for Electrochemical
Energy Conversion
A one-year Postdoctoral Fellow position with Dr. Biswajit Mondal, Discipline of Chemistry, is available with a possibility of extension based on candidate's performance in the first year. The candidate is expected to carry out research in catalyst synthesis for electrochemical energy conversion.
Job Description: The candidate will be required to design and synthesis catalysts for electrochemical energy conversion. The candidate will work in the area of electrocatalytic small molecule activation and its mechanism. The candidate will have the opportunity to learn modern electroanalytical techniques. The candidate is expected to be able to work independently and mentor PhD students.  
Remuneration: 50,000 INR + 10,000 INR HRA, No HRA will be paid if campus housing is availed.
How to Apply- 
Candidates must send their application through email to Dr. Biswajit Mondal (mondal.biswajit@iitgn.ac.in) with the following documents in a single pdf file as an attachment:
Current CV with list of publications
A one-page summary of previous research experience
A one-page write up on research plan
Name and address of two potential referees 
The application screening process will be open till 23.02.2023. 
In case of any queries, please write to: mondal.biswajit@iitgn.ac.in
Last Date for Apply– 23 February 2023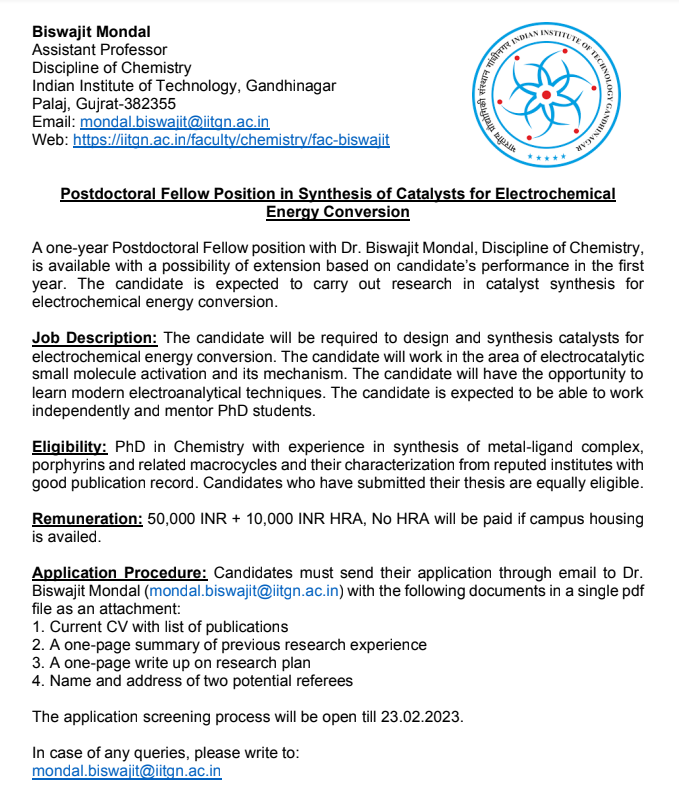 You can get our Regular updates on Telegram also
Join Our Discussion Forum – Keep your view, share knowledge/opportunity and ask your questions