Research Associate-I Position at IACS, Jadavpur, Kolkata, India
Designation/Position- Research Associate-I Position at IACS
Indian Association for The Cultivationof Science, Jadavpur, Kolkata, India invites applications for Research Associate-I Position at IACS from eligible and interested candidates.
About- The Indian Association for the Cultivation of Science (IACS) is a society registered under Act XXI of 1860 and the corresponding State Act viz. the West Bengal State Registration Act 1961, with its headquarters at 2A & 2B, Raja S. C. Mallick Road, Calcutta – 700 032, West Bengal, India. It has a Governing Council with a number of members elected or nominated and the Registrar as its Non-Member Secretary. The Council has the functions, duties, and power as envisaged in the Memorandum and Bye-Laws and as per the provisions of the relevant Act.
Research/Job Area- Chemistry
Location- Indian Association for The Cultivation Of Science, Jadavpur, Kolkata, India
Skype Interview Tips and Tricks – Best Practices in the Video interview
Teaching Jobs in India: Various Faculty Positions in top Indian Institutes
Eligibility/Qualification–
Good academic record and publications with the career status as thesis colloquium completed/thesis submitted/Ph.D. Degree obtained. Expertise in Experimental Inorganic Chemistry preferably having experience in solution chemistry and spectroscopy will be preferred. Candidates who have completed thesis colloquium/submitted Ph.D. thesis but did not obtain Ph. D. degree will be considered for the post of SRF (bridging fellow) and will be upgraded to RA-I once they get provisional Ph.D. degree.
Nationality: Applicant should be an Indian citizen.
Job/Position Description-
Applications are invited for an interview to be held on October 10, 2023 in Indian Association for the Cultivation of Science for the post of one RA-I/Bridging fellow in the School of Materials Sciences.
Fellowship: As per rules of IACS.
Tenure: Initially for six months and may be extended for another six months.
How to Apply-
The interested candidates may attend the interview with a complete resume (mentioning email address) sent to Professor Sugata Ray of School of Materials Science (mssr@iacs.res.in).
For further details, candidates may contact:
Professor Sugata Ray
School of Materials Sciences E-mail: mssr@iacs.res.in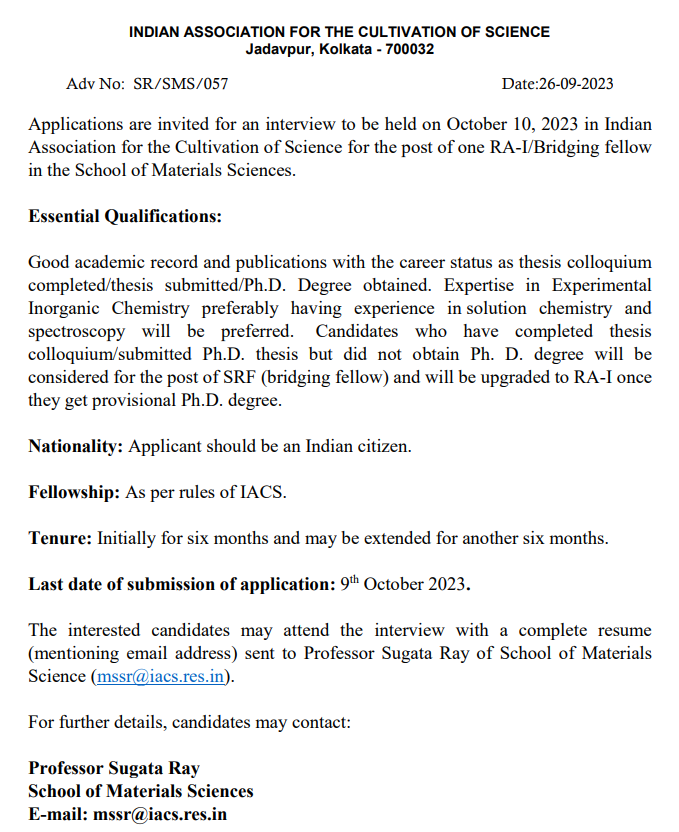 Last Date for Apply– 09 October 2023
Join Our Discussion Forum – Keep your view, share knowledge/opportunity and ask your questions