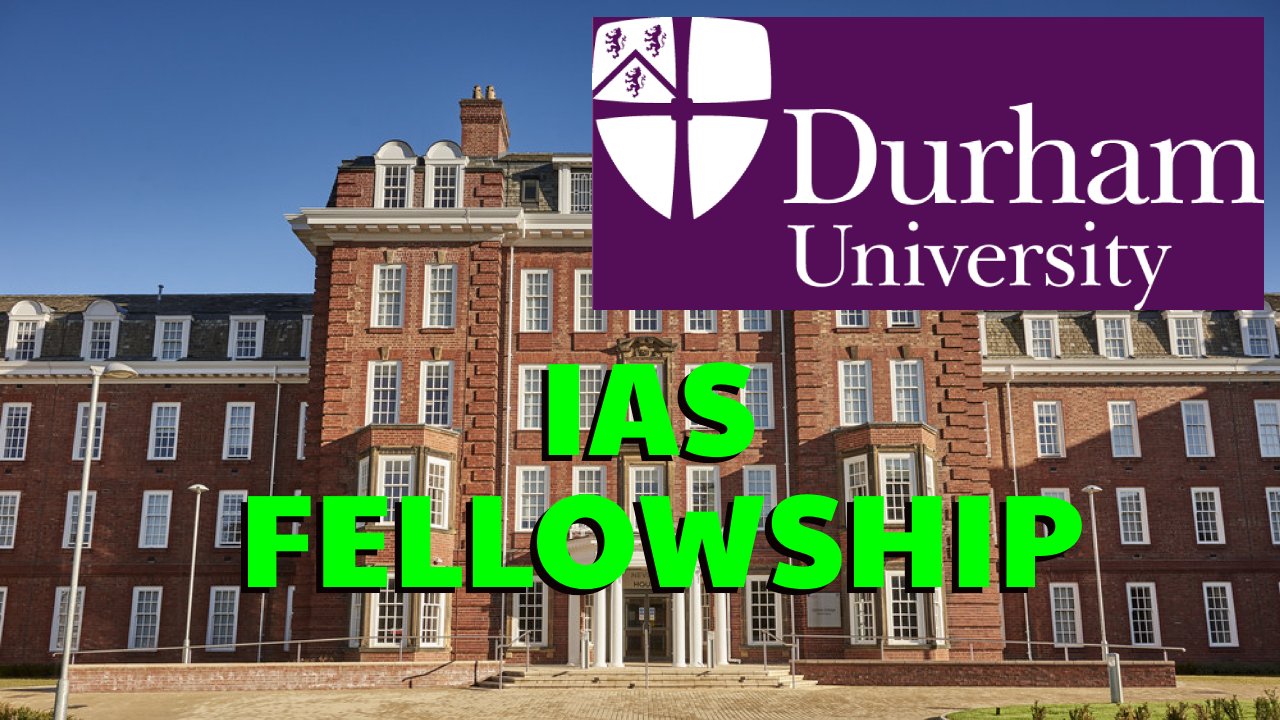 Designation/Position- IAS Fellowship 2022-23
The Institute of Advanced Study, Durham University, UK invites application for IAS Fellowship 2022-23 from eligible and interested candidates
About- The Institute of Advanced Study (IAS) was launched in October 2006 to mark the 175th anniversary of the foundation of Durham University. The IAS provides a unique intellectual and physical environment for scholarship and interdisciplinary research across the disciplinary spectrum, promoting open and imaginative exchanges of knowledge across disciplinary boundaries. It offers foundational support to adventurous and interdisciplinary research initiatives, and to the potential for these to illuminate disciplinary perspectives. It brings into this environment leading international researchers and assists their collaborative engagement with Durham's academic community. It communicates the outcomes of this collaborative research, and the University's leadership in this area, to national and international networks, and to policy and decision-makers. IAS Fellowship 2022-23
Research/Job Area- Any disciplinary area(s)
More Opportunities:
Various Research Positions – 06 April 2021: Researchersjob- Updated
Post Doctoral Fellowships in Japan by Matsumae International Foundation
NOMIS Fellowship Program for Postdoctoral Researchers at IST Austria
Location- Durham University, UK
Eligibility/Qualification–
Applicants of any nationality are eligible to apply in line with Durham University's equality and diversity policies. The IAS particularly welcomes applications from individuals from under-represented groups. Preference will be given to nominations and applicants from outside the UK. (https://www.dur.ac.uk/equality.diversity/positiveworking/policies/eanddpolicy/)
Applicants from any disciplinary area(s) are eligible to apply.
Applicants may come from an academic or non-academic background (e.g. public intellectuals, artists, writers, film makers, journalists, policy makers, politicians);
Applicants must meet the criteria for the IAS Distinguished Fellowship scheme. They must have a well-established or strongly emerging international reputation and a substantial publication record (or equivalent achievements); they must have made major contributions to their field; and they must be able to provide substantial evidence of research leadership and/or public impact. They are expected to have played a significant role in shaping their discipline or field through their outputs, achievements and indicators of esteem, and they should also be able to offer experience in leading or participating directly in interdisciplinary research.
Applicants must submit a complete application as described in the Application Procedures. Incomplete applications will not be accepted or considered;
Applicants must agree to the conditions of the IAS Fellowships as described in the Further Particulars.
Previous recipients of an IAS Fellowship are ineligible to apply.
Job/Position Description-
An IAS Fellowship provides recipients with the opportunity to develop their ideas and collaborations in a thriving community of researchers, and through engagement with the University's Departments, Institutes and Colleges.
All Fellows will be provided with office space. Each will be welcomed into a Durham College where they will be offered accommodation (in a one bedroom flat, or similar), and membership of the College's Senior Common Room.
The IAS will cover the costs associated with the Fellow travelling to Durham from their home institution (one return fare – economy class), and will provide all Fellows with an honorarium (£3,000 for three months; pro-rata for a shorter stay).
Fellows from Universities who provide study leave are expected to make use of this to take up Fellowships. Academics whose institutions do not make such provision are eligible to apply for teaching buy-out costs of up to £8,000 (for the three month period or pro rata for shorter stays). Similarly, practitioners who will experience a loss of income as a result of accepting an IAS Fellowship are eligible to apply for a contribution towards their salary/earnings of the same amount (up to £8,000).
How to Apply-
The following application materials are required by the deadline 5pm 25 June 2021 GMT:
A letter of application;
A Curriculum Vitae/Resume;
A Fellowship proposal;
Two references from suitably qualified referees. These must be requested by the applicant, and submitted by the deadline by the referee (not the applicant). They must be from colleagues external to the applicant's own institution, and to Durham University.
A peer review request from the Durham colleague(s) with whom they hope to collaborate.
The closing date for applications to the IAS Fellowship scheme for 2022/23 is 5pm GMT 25 June 2021. Applications must be emailed/ to the IAS Manager at ias.manager@durham.ac.uk no later than this date/time. No applications lacking any of the required material will be considered.
Email: ias.manager@durham.ac.uk
Tel: +44(0)191 3344686
Fax: +44(0)191 3344699
Last Date for Apply– 25 June 2021 5pm GMT
You can get our Regular updates on Telegram also
Find or Post Research Project PositionS – Researchersjob Board
See Also: Motivation Letter for PhD, Postdoc, and Other Research Positions
Whitesmoke Grammar Checker Online – Improve Your Research Writing Skill – Alternative to Grammarly
How to write a literature review: Tips, Format, and Significance
Research Proposal How to Write: Detail Guide and Template