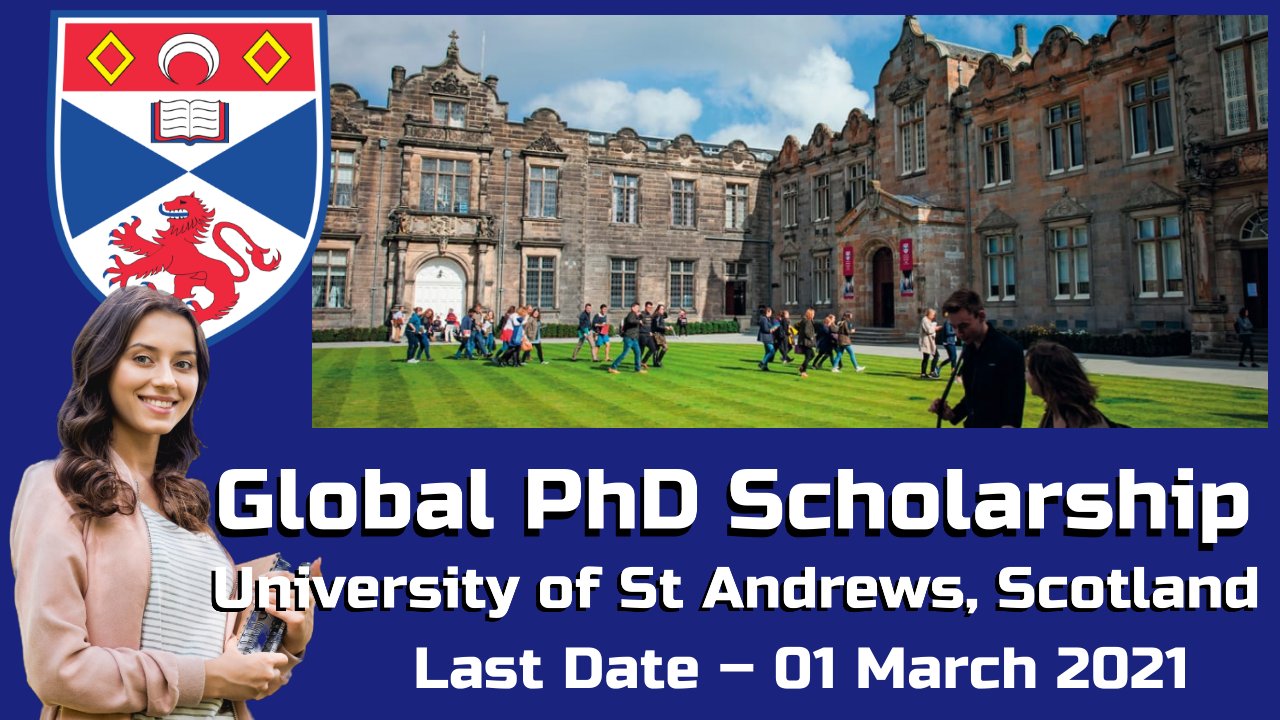 Designation/Position- Global PhD Scholarship
The University of St Andrews, Scotland invites application for Global PhD Scholarship for eligible and interested candidates
About- As a doctoral student at the University of St Andrews you will be part of a growing, vibrant, and intellectually stimulating postgraduate community. St Andrews is one of the leading research-intensive universities in the world and offers a postgraduate experience of remarkable richness. St Leonard's Postgraduate College is at the heart of the postgraduate community of St Andrews. The College supports all postgraduates and aims to provide opportunities for postgraduates to come together, socially and intellectually, and make new connections. Global PhD Scholarship is also available.
St Leonard's Postgraduate College works closely with the Postgraduate Society which is one of the most active societies within the Students' Association. All doctoral students are automatically welcomed into the Postgraduate Society when they join the University. In addition to the research training that doctoral students complete in their home School, doctoral students at St Andrews have access to GRADskills – a free, comprehensive training programme to support their academic, professional, and personal development.
Study level- Postgraduate Research (Doctoral)
Location- The University of St Andrews, Scotland
Eligibility/Qualification–
Geographical criteria– No restrictions
Domicile for fee status– No restrictions.
Level of study -Postgraduate Research (Doctoral)
Year of entry– 2021-2022 academic year. The student can start their degree in August 2021, September 2021, October 2021, or January 2022
Schools– School of Mathematics and Statistics
Additional criteria– Applicants must not already (i) hold a doctoral degree; or (ii) be matriculated for a doctoral degree at the University of St Andrews or another institution.
Job/Position Description-
Duration of award
Up to 3.5 years. The student will be expected to spend approximately half of the award term at the University of St Andrews and half at the University of Oslo. The successful candidate will be expected to have completed the doctorate degree by the end of the award term. The award term excludes the continuation period and any extension periods.
Value of award
The award covers full tuition fees for the period of time spent at the University of St Andrews. For this period, the student will also receive a stipend payable at the standard UK Research council rate (the 2021-22 annual rate is £15,560).
For the period spent at the University of Oslo the student will receive a full fee award and salary.
Tuition or maintenance award
Tuition and maintenance.
How to Apply-
Apply for admission as a doctoral student – please see the advice on applying for research degree programmes. Please indicate in your application that you wish to be considered for this Global St Andrews scholarship (reference De Moortel).
Please contact us should you have any questions regarding the scholarship: pgscholarships@st-andrews.ac.uk
Last Date for Apply– 1 March 2021
More Opportunities:-