Is a resume the same as Curriculum Vitae or CV? The answer is No, they're not the same, but we can say they are similar.
Each is utilized for different kinds of applications. It is better to understand which one is used for what purpose and what things are needed to include for the excellence this job application needs.
Curriculum Vitae vs. Resume, which one should you use and where? What are the differences between both? In this article, we're going to discuss with you every one of that and much more.
We clarify the distinctions between a curriculum vitae (Curriculum Vitae) and resume to know the most effective use. What is a curriculum vitae, what is a resume, when to use each, what to include, and suggestions for writing both?
Definition: Curriculum Vitae vs. Resume
What is a Resume?
Resumes represent a one or two-page file that applicants tailor for each job application. A great Resume favors an employer to interview you.
What Is a Curriculum Vitae?
CV or Curriculum Vitae implies 'course of life' in Latin. Resumes are short. However, a CV can cross five or more pages, giving a comprehensive description of the applicant's professional records, scholastic success, honors, publications, as well as extra.
A curriculum vitae (CV) gives a summary of your experience and abilities. Usually, CVs for entry-level prospects are more prolonged than resumes. CVs for mid-level candidates who have accumulated various publications tend to run a lot longer. CVs include comprehensive info on your scholastic accomplishments, including mentor experience, degrees, research, awards, publications, presentations, and various other accomplishments.
CVs are lengthier than resumes and include even more info, particularly about your scholastic and study backgrounds.
What to Include in Your CV – Curriculum Vitae
Your CV should incorporate your name, contact details, education, abilities, as well as experience.
Along with the basics, a Curriculum Vitae consists of research and teaching experience, publications, grants and fellowships, expert organizations awards, and other info pertinent to the position you are getting. Begin by making a listing of all your background info, and then create it into categories.
Also Read- How to write a literature review: Tips, Format, and Significance
What Is a Resume?
The French word Résumé implies 'summary.' A resume, without a doubt, summarizes the candidate's professional background and accomplishments. They are short and consist of all relevant skills and credentials that reveal a candidate's suitability for a particular frame.
Job candidates often fine-tune the layout to match the particular requirements of a function. For example, they might restructure their resume to change the focus either on specialist or academic success.
A resume summarizes your education, work history, qualifications, and various other achievements and abilities. There are additional optional sections that a resume consists of, for honest and a professional summary declaration. Resumes are one of the most typical documents requested from candidates in job applications.
A resume needs to be as concise as feasible. Normally, a resume is one page long, although occasionally, it can be as long as two pages.
Resumes usually consist of bulleted listings to keep information concise.
Resumes are available in a few types, consisting of succeeding functional and also mix layouts. Select a design that finest fits the sort of job you are looking for.
CV vs. Resume: What's the Difference?
CVs and resumes are expert documents that can get your interviews, yet they're not completely the same. We'll clarify the differences between a Curriculum Vitae and a resume.
A resume is a one to a two-page long document offering important facts regarding your professional experience, educational background, as well as skills. A CV (Curriculum Vitae) is a much longer record that reports your profession's entire program. 
A resume is utilized for job search, a Curriculum Vitae for academic purposes.
So you can judge which one is most accurate for your job application.
The most considerable distinctions between a resume and a curriculum vitae (CV) are length, content, and what sort of work each is utilized to make an application for.
Although both are used to obtain a professional opportunity, they are not compatible.
Curriculum Vitae is similar to a resume, and it's not the same. Their significance and body typically vary throughout nations. 
CVs have no length limitation; resumes are commonly one to two pages long.
A CV details the prospect's academic occupation; a resume summarizes abilities and work experience.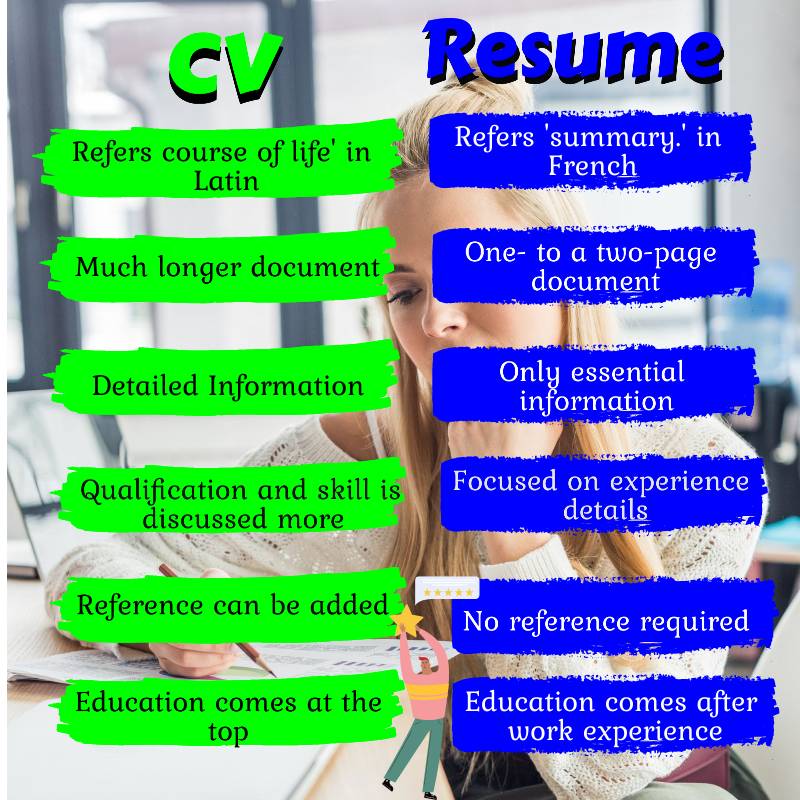 Helpful Article- How to Write a Research Paper : Step-by-Step Guide | Researchersjob
When to Use a Curriculum Vitae OR a Resume
If you're looking for a teaching or research position at a university, use a Curriculum Vitae. The employing board will need to refer to your educational records as feasible before making a decision. The most efficient means to deliver this information is with a Curriculum Vitae.
For any other positions (within a university or elsewhere), your education is less important, so you need to utilize a resume.
Generally, an employer will mention clearly whether a CV or a resume is required. Generally, you would certainly utilize them in complying with circumstances.
A CV is commonly needed when applying for global, academic, scientific, or research study positions. For instance, the college will need a CV to highlight academic experience.
A resume is a recommended style to apply for most jobs. Unless the application regulations particularly request a Curriculum Vitae, you'll need an upgraded resume for your job search.
Related –9 Important Tips to Publish Your Work in Journal with High Impact Factor
Can I use a resume instead of a Curriculum Vitae?
Curriculum Vitae vs. resume to– which one should I choose? When applying for a position, ensure careful review of the job application guidelines to identify if you require a resume or a CV. When you do not have particular instructions, follow the patterns of the nation you're in.
To summarize:
In the U.S., a resume is more typical, while CVs are used for academic purposes.
A resume is a lot more common, while CVs are utilized for academic employment.
In Europe, the U.K., and Ireland, the term CV is prevalent. However, it describes a shorter file. For academic objectives, people use the supposed CVs, which include their full career history.
In other nations, like Australia, prospects utilize words CV and resume interchangeably to define the same record, which briefly states the prospect's most essential professional details.
What to consist of on a Curriculum Vitae
Commonly, you'll include your career records as well as your education, awards, individual honors, grants or scholarships, research knowledge or academic jobs, as well as publications in your CV.
You might likewise consist of specialist recommendations, coursework, fieldwork, summaries of argumentation, and a personal profile that provides your pertinent skills and attributes.
Write an Email to Professor: Complete Dos and Don'ts Discussion
Content as well as Order of a CV.
Your CV's web content must show up in reverse-chronological order by section, starting with education and academic achievements followed by professional experience. Group this info right into groups with subheads for simple reading.
Groups, in order of appearance:
Name and get in touch with information.
Education (levels held, where they were earned, plus a recap of your academic history– a much more in-depth account than what you would include on a resume, including your areas of emphasis and academic achievements).
Teaching experience.
Research study experience.
Work experience (appropriate job-related skills and accomplishments for every position).
Content as well as Order of a Resume.
Your resume's content needs to appear in reverse-chronological order, starting with your recent position, complied with by past work held. Normally, education and learning, and accomplishments, are last, yet you could wish to list your education initially if you're brand-new to the area. Remember that you do not require to include every one of your experiences, simply what's appropriate to the task or job course you seek.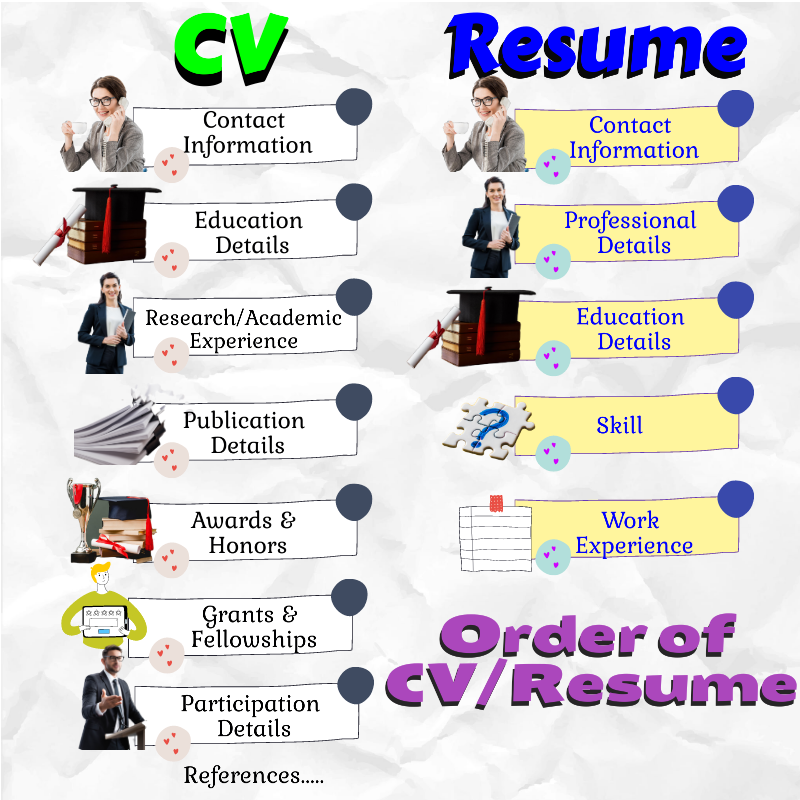 Areas your resume needs to include, in order:
Name as well as gain in touch with information.
Optional recap paragraph.
Education and learning (where you examined and degrees made).
Optional sections (e.g., certifications/licenses, armed forces experience, volunteer experience).
Size of a CV vs. a Resume.
Since a CV is an extensive chronicle of your professional life, it is generally a minimum of two pages long and commonly much more. There's no limit to the length– you will certainly want to make the record as long as it requires to catch your full education and occupational experience.
A resume is a one or two-page file, depending on the quantity of relevant job experience you have.
When to Use a Resume as well as CV.
(Similar to When to Use a Curriculum Vitae vs. a Resume)
When offered a possibility to select between a resume and Curriculum Vitae, several elements applicants must consider. Mainly, applicants need to consider what kind of job they are requesting.
Normally talking, resumes are most appropriate for non-academic occupations. For example, if a candidate is getting a task as an engineer or an administrative assistant, they would certainly be much better off sending a resume.
Comparatively, CVs are mostly used when getting grants, fellowships, or professors positions in government, academia, or industry. Normally, whenever research study work or training experience is thought useful, a CV must be sent.
CV vs. Resume: The Basics.
Diverse employers make use of the terms resume as well as Curriculum Vitae interchangeably. These employers want a sleek, exact and updated record that clarifies an applicant's employment history, educational background, achievements, and abilities. The document must be conveniently readable to ensure that a company or a supervisor can scan it for vital info.
Nonetheless, for some companies and jobs, the difference between CV and resume is an important one. For instance, if you're making an application for a job as an academic, you'll practically definitely be asked for a CV. Because instance, you can provide your publications (publications and posts), conference documents you've given, volumes you've modified, and other specialist achievements. You do not need to bother about keeping it to a single page.
The large distinction between a resume and a Curriculum Vitae is the size. A CV can be exhaustive. That implies your Curriculum Vitae can be as long as you require to detail your several accomplishments, honors, publications, as well as references. 
If you're going on the academic work demand, it's a good suggestion to utilize your college's occupation sources. You can get assistance on your CV style and tips on how to land an academic task.
If you're looking for a study placement that leans toward the literary, at a think tank, for example, you might also be requested for a CV or a CV-resume hybrid.
What a Resume and a Curriculum Vitae have in Common.
A resume and a Curriculum Vitae are alike in terms of giving professional information.
Whether you're submitting a resume or CV, there are specific functions that you need to include to optimize your chances of success. Your name and get in touch with information are the huge ones.
You might additionally wish to have the URL of your internet site, your Twitter/Linkedin/Google scholar profile takes care of, as well as any other locations online where a company can find you.
It's also an excellent suggestion to include particular skills and achievements, such as honors or awards you won, or pens of your achievements such as "enhanced sales by 30%.".
Hope we cover all related topic in this article👨🏽‍💻, if you have any query 👆 or suggestion, 🤝 please comment in the comment box below. Thank You and all the best.👍👍👍👍👍