Write an Email to Professor: Complete Dos and Don'ts Discussion

There is some necessary thing, which you should consider maximizing your chance of positive response. In this article, let's discuss how to Write an Email to your professor with some essential dos and don'ts.
Dos:
1. Choose your email subject title carefully –
How do you start an email to a professor?
A simple and straightforward line is better, so write a subject line in your email like "Application for Postdoc/Ph.D. Position" or "Your name: Postdoc application." And if you are applying under any funding program, then mention "Application for a Postdoc position: under Humboldt (example) program." Your clear subject line will clear what you are looking for, which increases your chance to make the initial step sooner.
2. Be polite and formal – If you are applying for a postdoc/research position, maintain politeness and formal words in the whole email.
How do you address a faculty in an email?
You can start with "Dear Sir" or "Respected Sir." Be polite doesn't mean creepy. So, in your email line, don't use overwhelming words like "I read your wonderful paper, and your work is tremendous." Your line should be balanced between simplicity and mannered.
Be sure to do the same in your email standard greetings include dear, hello, good morning, afternoon evening, followed by your recipient's name; this sets a polite, respectful tone for your message that sets you off on the right foot.
3. Keep attention to your email body – The body of an email is an essential aspect of your email. Since you'll be letting your reader (Professor) know why you're taking up part of their day, for this reason, be respectful of their time be clear and to the point in an email. You don't have to sound like a robot. It's best to say like a real person, but at the same time, you want to use easy-to-understand language.
If you beat around your point or speak confusingly in email, you're only going to slow down the messaging process. They'll have to email you back, asking what you meant, and you'll have to respond to them, and you have to wait for them to apply. It could turn into a huge mess. So avoid all of that by speaking clearly and to the point.
Also, remember when I said to respect your time, they don't need to be staring at your half an hour trying to decode the hidden message like it's a map to a national treasure
5. Mention your substantial part- In your email line, mention your expertise, accomplishment, experience, etc. related to your work. But your achievements should not look in any way that you did any Nobel Prize like a triumph.
6. Salutations- By sending an email to a professor for the position, appreciative at the end. You can say thank all best; I appreciate your time. However you want to word it, you can communicate it that way the point is that actually say something and then sign it off with your name. I know it might already be in your email address, or you might already appear in their context. But it's courteous and respectful to put it.
7. Follow up email – If the professor doesn't reply to your email than ping him back with follow up email. But remind him after 2-3 weeks of your first email.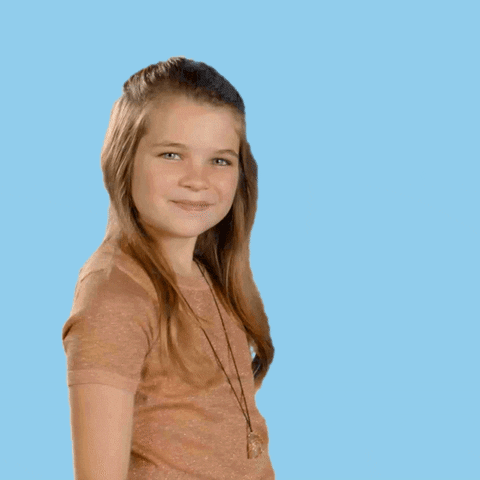 8. Last Option – After this, if you didn't get any response and you are desperate to work under that professor. Your previous recommendation is to send him a review/critique of some of his papers and mention with your experience what you can do or want to do. Send him simple mail that you desire to work under him and attach your review with the letter. You can express how skillful and depth knowledge you have. But be polite, mannered, and maintain the gap between all your emails.
Don'ts:
1. Don't send same email to your professor repeatedly. Maintain good gap between two mails.
2. If you get response from professor, answer him as fast as you can with full preparation.
3. Don't send the same email to many professors. This will give a terrible impression, and if they are from the same organization, then don't do this. With some modification, you can use it.
4. If you want to apply many labs to secure your position, my suggestion sends 5-10 emails to different labs and waits for a response.
5. You can start your email with the Prof's surname i.e. "Respected Prof. ABC ".
6. Do not hurry.
7. Do not annoy the professor with continuous email, sometimes they are busy with some work.
8. Don't write a big email to your professor, and also your writing should include everything smartly in ideally 3 paragraphs (4-10 lines).
9. Do not send them an email in the nighttime at their time zone or on holidays. In this case, your email may get buried under many emails. Send it during office hours, preferably 10-11 AM is best.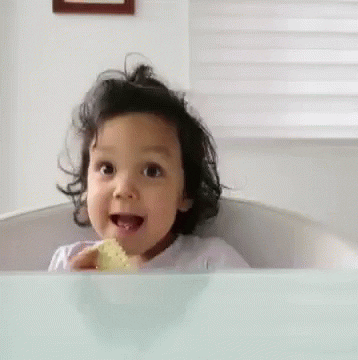 Common Mistakes before sending mail to professor-
After knowing these "Do's and Don'ts Discussion," you should also avoid some common mistakes. To keep attention to learn how to write an email, these will increase your chance for consideration.
Visit the professor's website – The first mistake is not to read the professor's website in its entirety. There is a lot of information on the professors' websites like- his interests, published articles, recent projects, and all you need to know about it. Remember that there is often a section on the professor's website on "future students" specific to you, and you should pay attention to it to write an email to a professor.
Don't use copy-paste email- The second mistake is to send general emails (copy-paste). You don't have to send available emails because professors receive dozens of emails a day like this. For your email to be noticed, you need to say why you are the right choice. A good way is to say why your research, articles, and resumes and interests are relevant to that professor's research.
To the point – The third mistake is to have a long text his can be easily fixed, and you must finally compile the text in 3 paragraphs and 250 words.
Focus on what he looks on – The fourth mistake is not wanting what you are looking for! Remember to email them asking them to become your tutor, so you have to say what term you want to start or study for a master's degree or a doctorate/postdoc. Also, be sure to say that if you received a scholarship from somewhere outside the university or applied for a scholarship.
Grammatical mistake- The fifth mistake, having a grammatical or spelling error to write an email to a professor. You shouldn't have any of these mistakes; read from the text several times if you can ask your friend to read to your email and correct possible errors.
Attach documents – The sixth mistake is not attaching a CV. We don't have enough time and space in the text of the email to explain all the details. That's why we need to attach a comprehensive CV to explain everything.
Related Article – 9 Important Tips to Publish Your Work in Journal with High Impact Factor
How do you write a follow up email to a professor?
Sample of Email to Professor :- Write an Email to Professor
Respected Professor Dr. XX(surname), Greetings!
I am (your name), and I have completed my Doctorate/Master/Bachelor Degree in" (Thesis Topic)" from XXXXX YYYYYY ZZZZZ (University name). (One line about University). (One line about your achievement).
I am interested in applying in '(Position name)' and pursuing my MS/Ph.D./Postdoc research under your supervision. I have briefly overviewed the projects being conducted in your laboratory. I also have read some of your publications. Your publication titled '(Give the name of publication)' is beneficial and relevant to my research area. Besides, (add, if you have any experience like postdoc, teaching kind). I understand that my area of interest matches your area of expertise.
I am attaching my resume (CV) for detailed information related to my academic record, skills, and interests. I believe that If given a chance, I can prove myself as a valuable addition to your laboratory through my firm dedication and hard work.
Waiting for your kind response. Have a nice day!
Best Regards:
Your Name
(Current Position)
How to Email a Professor: Email Structure
Subject: Subject line of your email should be click-worthy

Greetings – Professors have done years of hard work to get this position, so you must show them respect through polite manners.

Profile − The first paragraph of your email should address your identity clearly and concisely.

Make a connection – Always list your skills and experience only and understandably, consistent with the field of study of the targeted professor.

Closing line –Explain why you contacted the professor.

Test − Before sending an email to a teacher, check carefully, and have someone you trust check spelling and grammar.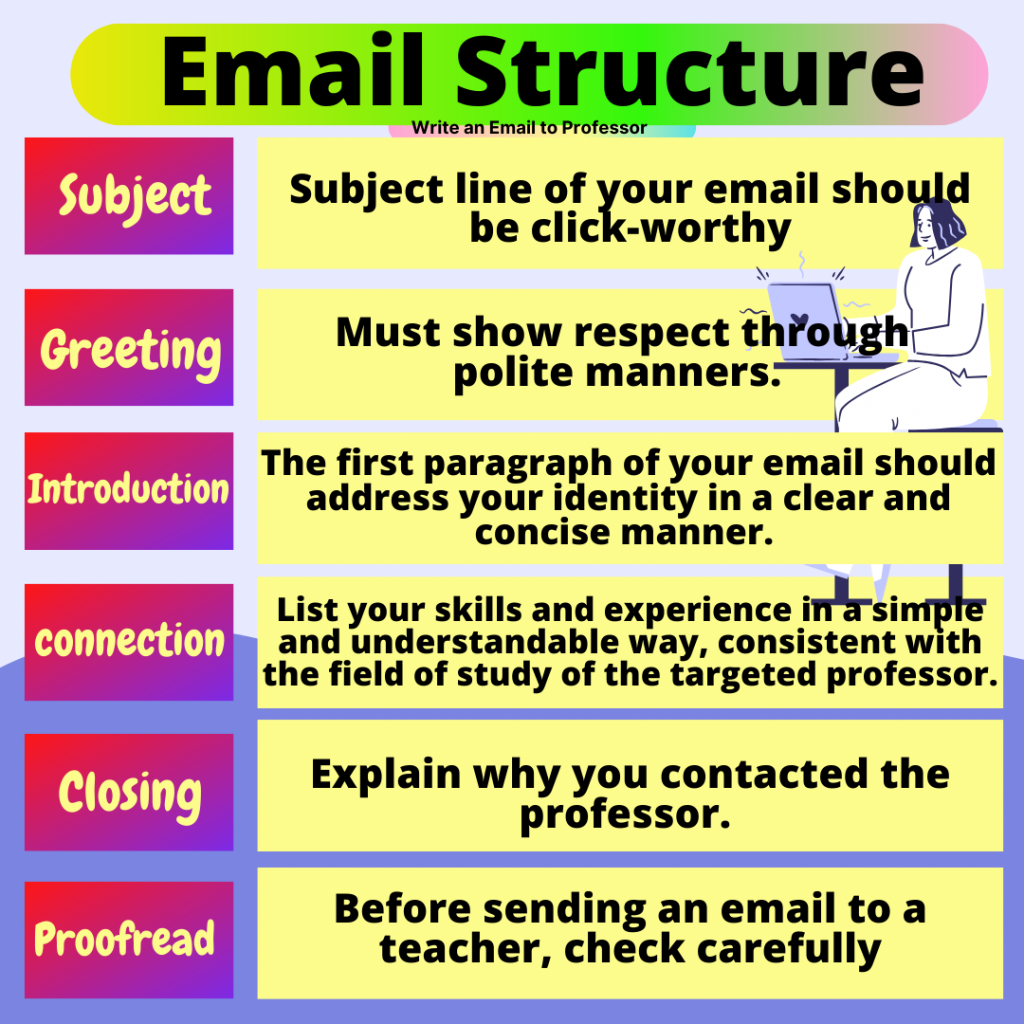 Now we discuss enough to approach a professor with an email to a professor for the position. If you learn these steps, then you can maximize your chance for a positive response. And if you are alert before than these step is not at all difficult for you. I hope this article will help you avoid making a mistake while writing an email to a professor.
If you would like to add any more points or have questions, be sure to ask in the comments; you can also suggest to me if you have any more issues or experience to add. I would very much like to read your experience, put them in the comments below.