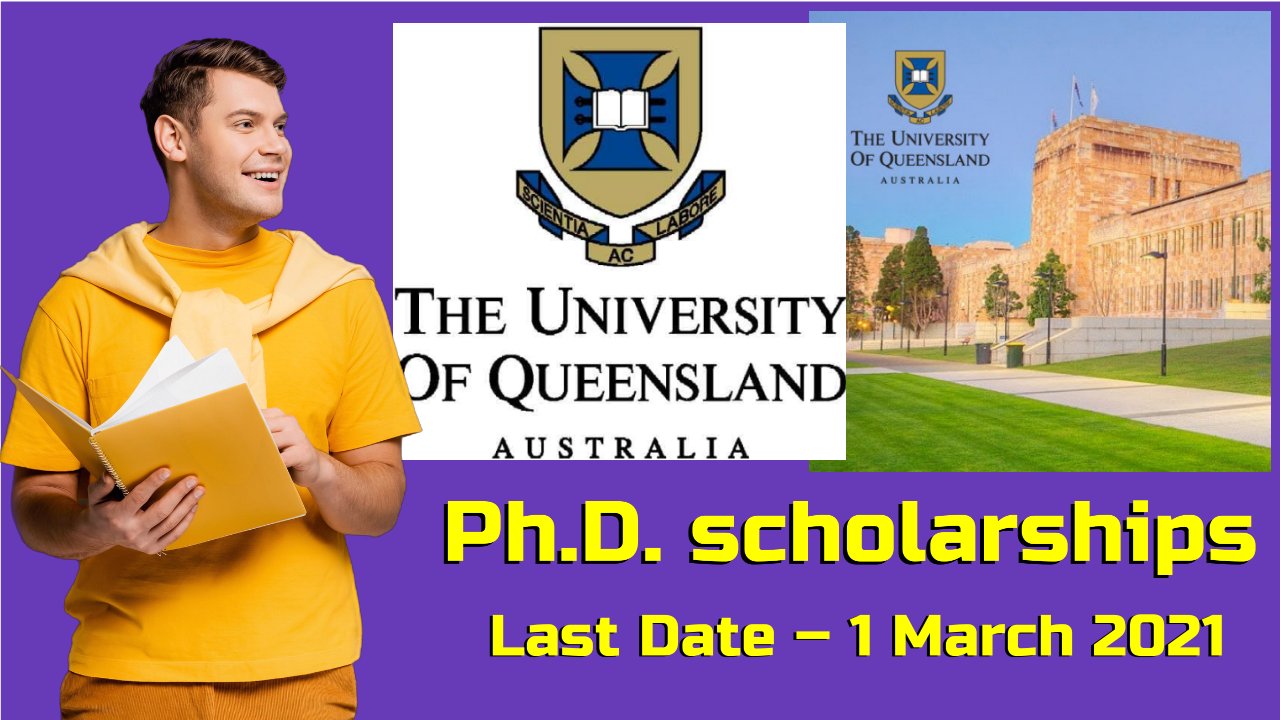 Designation/Position- Ph.D. Scholarships
The University of Queensland, Australia(international) invites application for Ph.D. Scholarships for eligible and interested candidates
About– PhD scholarships (PhD) is an internationally recognized graduate research program that will enable you to become an independent researcher. With the guidance of an advisory team, you will undertake a research project and produce an 80,000-word thesis and complete an oral examination. A PhD will take you 3 to 4 years to complete full time and is intended to develop advanced research skills and knowledge in your chosen field. Your research project will be developed with advice from your advisors and allow you to develop discipline and broader research skills and knowledge. Ph.D. Scholarships
The thesis is a substantial document that makes and original contribution to the field of research. You will need a strong academic background and you may need to submit a research proposal and other documents to support your application. About 1,000 PhD candidates join UQ each year researching a wide range of topics.
Study level- Engineering and computing
Location- The University of Queensland, Australia
Eligibility/Qualification–
Academic entry requirements
You have to prove you are prepared for PhD study. You do this by showing you:
have completed some research experience
have completed an approved university degree and
can meet the English language requirements.
Approved degrees
An approved degree needs to be:
in an area relevant to your proposed PhD project and
completed no more than 10 years ago.
You need one of the following approved degrees to apply for a PhD:
Master of Philosophy (or another research master's degree); or
Bachelor's degree from an approved university with at least honours class IIA or equivalent; or
Coursework master's degree with an overall grade point average of 5.65 on the 7-point UQ scale which includes relevant research experience, approved by the dean; or
Postgraduate degree (at least one year full-time or equivalent) with an overall grade point average of 5 on the 7-point UQ scale, together with demonstrated research experience equivalent to honours class IIA will be considered on a case-by-case basis; or
Bachelor's degree plus at least 2 years of relevant research experience, including research publications.
Job/Position Description-
Four PhD scholarships are available now within the School of Mechanical and Mining Engineering. The successful applicants will work on two Australian Research Council (ARC) funded Discovery Projects. One is one high entropy alloys and another is on additive manufacturing of metals.
The two PhD projects on high entropy alloys aim to design and develop a new and cost-effective high entropy alloy (HEA) or compositionally complex alloy (CCA) with superior mechanical properties and therefore enable the industry applications of this type of metallic materials. Big data analytics can be used to design the composition of the new alloys and additive manufacturing approach may be used to produce the CCAs. One project focuses on grain refinement to exploit effective grain refiners for the BCC matrix of the CCAs to refine the microstructure so that ductility and formability of the CCAs are improved. This objective can be achieved through re-design of alloy compositions based on the latest principles of grain refinement for cast metals (the edge-to-edge matching model and the interdependence model). Another project is to develop proper thermomechanical processes for the FCC matrix CCAs to produce high quality wrought alloys with superior mechanical properties. This thermomechanical process includes hot forming with focus on rolling or forging to be done in a Gleeble thermomechanical simulator, and heat treatment.
The two PhD projects on additive manufacturing (AM) are to develop practical and effective technologies to improve the AM processability of engineering materials that are currently hard to or even cannot be processed/fabricated via AM. Such materials include ceramics, most superalloys and copper alloys, the majority of tool and high ultrahigh strength steels, high strength aluminium alloys, and some titanium alloys. The development is based on the current understanding of factors that govern the quality of AM components and of the causes for low AM processability of these types of alloys. The most promising approach to improve the processability is grain refinement that can be achieved during solidification of the melt pools. Thus, the research is to exploit effective grain refiners for various materials produced through AM. One project focuses on ceramics, including MAX Phase materials, and another is on engineering alloys.
Upon successful completion of the PhD project, candidates will be trained to be experts on alloy design, high entropy alloys and additive manufacturing. In addition to gaining vast knowledge of materials science, candidates will also to be trained for advanced materials characterisations using the University's state-of-art facilities. Furthermore, high skills in writing scientific papers, reports and funding applications is another benefit the candidates will obtain from the research projects.
School of Mechanical and Mining Engineering
The University of Queensland's School of Mechanical and Mining Engineering (SoMME) maintains a world-class reputation and is at the cutting-edge of engineering education, research and expert consultation across the fields of mechanical, materials, mining, aerospace and mechatronic engineering. The School's reputation for research excellence attracts academia from around the world. Our diverse research programs address the evolving needs of industry and society, and contribute to economic and social development. The School's established research strengths in hypersonics, light metals, geothermal energy and mining technology, are complemented by continued growth in areas such as solar thermal, composites, steels, surface engineering, metals manufacturing and rock mechanics.
UQ has historical strengths in materials research and has been internationally recognised as one of the world's leading research institutions on metallic materials, particularly grain refinement in cast metals. UQ hosted the headquarters of the CAST CRC for 20 years since 1993 and was a key member in the ARC Centre of Excellence for Design in Light Metals. The AMPAM centre has provides a unique platform for both materials and manufacturing research. the SoMME and AMPAM at UQ has state-of-art Laser Metal Deposition (LMD) system (the Optomec LENS 450 Additive Manufacturing System) and, SLM Solution SLM 125 metal 3D printer and a unique plasma melting furnace. There are also a well-equipped mechanical testing laboratory and a metallographic laboratory within the SoMME. In addition, UQ also has a world class Centre for Electron Microscopy and Microanalysis (CMM), fully equipped with state-of-the-art electron microscopes, including TEMs and SEMs, sample preparation facilities, such as FIB (the newest in Australia) and PIPS, and X-ray diffraction systems, which are essential for the project.
| | |
| --- | --- |
| Enrolment status | New students |
| Student type | Domestic students, International students |
| Level of study | Higher Degree by Research |
| Study area | Engineering and Computing |
| HDR funding type | Living stipend scholarship, Top-up Scholarship |
| Scholarship value | $28,597 per annum (2021 rate), indexed annually. A top-up of $5,000 per annum for up to 3 years is also available. |
| Scholarship duration | Three years with the possibility of two 6-month extensions in approved circumstances |
| Number awarded | 4 |
| Opening date | 13 January 2021 |
| Closing date | 1 March 2021 |
How to Apply-
To apply for admission and PhD scholarships, follow this link. There is no separate application for scholarship because you will have the opportunity to request scholarship consideration on the application for admission.
Before submitting an application you should:
When you apply, please ensure that under the scholarships and collaborative study section you:
Select 'My higher degree is not collaborative'
Select 'I am applying for, or have been awarded a scholarship or sponsorship'.
Select 'Other', then 'Research Project Scholarship' and type in 'MANUFACTURING-ZHANG' in the 'Name of scholarship' field.
See an example of what you have to do
Learn more about applying for a higher degree by research at UQ
Last Date for Apply– 1 March 2021
More Opportunities
PhD Scholarship in Energy Storage at UNSW Sydney, Australia
Singapore Scholarship for International students 2021 : A*STAR Fellowship