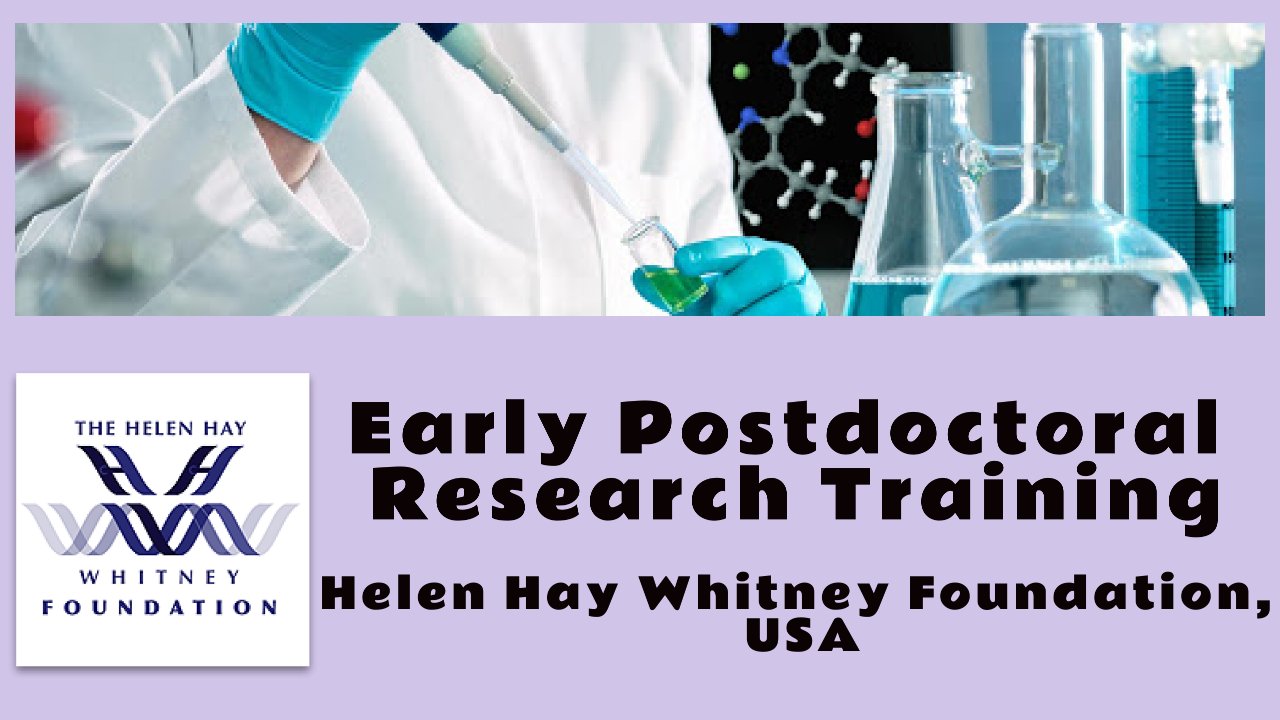 Postdoctoral Research 2021 in the USA, Helen Hay Whitney Foundation
Designation/Position-  Postdoctoral Research 2021 in the USA
Helen Hay Whitney Foundation, USA invites application for Postdoctoral Research 2021 in the USA from eligible and interested candidates
About- The Helen Hay Whitney Foundation supports early postdoctoral research training in all basic biomedical sciences. To attain its ultimate goal of increasing the number of imaginative, well-trained and dedicated medical scientists, the Foundation grants financial support of sufficient duration to help further the careers of young men and women engaged in biological or medical research. Postdoctoral Research 2019
Research/Job Area- Life Sciences , Medicine and Health Sciences
Location- Helen Hay Whitney Foundation, USA
Post Doctoral Fellowships in Japan by Matsumae International Foundation
PASIFIC Postdoctoral Fellowships Programme: Polish Academy of Sciences, Poland
Eligibility/Qualification–
Candidates who hold, or are in the final stages of obtaining a Ph.D., M.D., or equivalent degree and are seeking beginning postdoctoral training in basic biomedical research are eligible to apply for a fellowship.
The Foundation accepts applications from candidates who have no more than one year of postdoctoral research experience at the time of the deadline for submitting the application (June 15, 2021), and who have received a PhD (or D.Phil. or equivalent) degree no more than two years before the deadline, or an M.D. degree no more than three years before the deadline.
Fellowships may be awarded to US citizens planning to work in laboratories either in the US, Canada, or abroad and also to foreign citizens for research in laboratories in the US only. The research group expects that most applicants will reside in North America at the time of application. Foreign Students will need to obtain appropriate visa documentation, as required by US Immigration.
Applications from established scientists or advanced fellows will not be considered. The fellowships are for early postdoctoral training only. Clinical house-staff training does not count as "postdoctoral laboratory training."
The Foundation will not ordinarily consider applicants who plan tenure of the fellowship in the laboratory in which they have already received extensive predoctoral or postdoctoral training. The aim of the fellowship is to broaden postdoctoral training and experience, and a significant change of venue is advisable.
Since the number of available fellowships is limited, the Foundation does not make more than one award per year for training with a given supervisor. It also does not support more than two fellows per laboratory at one time.
The SAC will review no more than one application from a laboratory during each annual cycle. We will accept applications from different laboratories/supervisors at the same institution. Should we receive more than one, the Chair of the SAC will decide which of the applications appears most competitive and decline the other(s) administratively. We urge the heads of laboratories to make this choice for us, if at all possible.
The Foundation expects that fellowship training will be obtained in an academic setting. The selection of a commercial or industrial laboratory for the training experience is not acceptable.
Job/Position Description-
The Whitney Fellowship is for a period of three years, contingent on performance satisfactory to the Foundation's Scientific Advisory Committee. One and two-year fellowships are not considered.
You may activate your fellowship anytime from April 1, through September 1, 2022.
The current stipend and expense allowance is:
| | | |
| --- | --- | --- |
| | Stipend | Research Allowance |
| 1st year | $56,000 | $1,500 |
| 2nd year | $59,000 | $1,500 |
| 3rd year | $62,000 | $1,500 |
How to Apply-
Applications are to be filled out and submitted online at www.hhwf.org.
Applications must be received by The Helen Hay Whitney Foundation no later than 5:00 pm EST, June 3, 2021. Late applications will not be considered.
Last Date for Apply– 15 June 2021
How to write an attractive research proposal?
How to Write an Effective Cover Letter – Prepare Yourself
6 golden tips for finding successful postdoctoral opportunities
Some Effective Tool to Improve Your Research Writing Skill