Designation/Position- Research Associate II at IIT Delhi
IIT Delhi, India, invites applications for Research Associate II at IIT Delhi from eligible and interested candidates
About- Indian Institute of Technology Delhi is a public technical and research university in Hauz Khas, Delhi, India. It is one of the oldest Indian Institutes of Technology in India. Established in 1961. Applications from Indian nationals are invited for Project appointments under the following project. The appointment shall be on a contractual basis with consolidated pay, renewable yearly or upto the duration of the project. Research Associate II at IIT Delhi
Research/Job Area- Life science
Location- Delhi
Eligibility/Qualification–
1 . Ph.D. or equivalent degree with research experience in life science.
2. Candidate should have at least 3 published papers above impact factor
3. At least one paper as first author
4. Candidate should have 5 years research experience in tissue/cell culture, molecular biology, generating gene knock out/down cells by lenti virus, and confocal microscopy.
5. Expertise in confocal microscopy and generating gene knockout/down cells should be supported in the published papers.
Job/Position Description- 
Applications from Indian nationals are invited for Project Appointment under the following project. Appointment shall be on contractual basis with consolidated pay, renewable yearly or upto the duration of the project.
| | |
| --- | --- |
| Title of the Project | Understanding the mechanism of hemoglobin receptor recycling by Rab GTPases in Leishmania donovani RP04250G |
| Funding Agency | Science and Engineering Research Board SERB |
| Name of the Project Investigator | Prof. Amitabha Mukhopadhyay email id:amitabha@bioschool.iitd.ac.in |
| Deptt/.Centre | School of Biological Sciences |
| Duration of the Project | Up to:08/02/2025 |
| | |
| --- | --- |
| Post | Consolidated Pay-slab / Fellowship |
| Research Associate (1) | Rs 47,000/-p.m. plus HRA @ 24% |
How to Apply- 
The candidates who are interested to apply for the above post should download Form No. IRD/REC-4 from the IRD Website (http://ird.iitd.ac.in/rec) of IIT Delhi and submit the duly filled form with complete information regarding educational qualifications indicating percentage of marks/division, details of work experience etc. by e-mail with advertisement No. on the subject line to Prof. Amitabha Mukhopadhyay at his email id.amitabha@bioschool.iitd.ac.in
IIT Delhi reserves the right to fix higher criteria for short-listing eligible candidates from those satisfying advertised qualification and requirement of the project post and their name will be displayed on web link (http://ird.iitd.ac.in/shortlisted) along with the online interview details. Only short-listed candidates will be informed for online interview. In case any clarification is required on eligibility regarding the above post, the candidate may contact prof. Amitabha Mukhopadhyay at email id amitabha@bioschool.iitd.ac.in
Last Date for Apply– 16 March 2023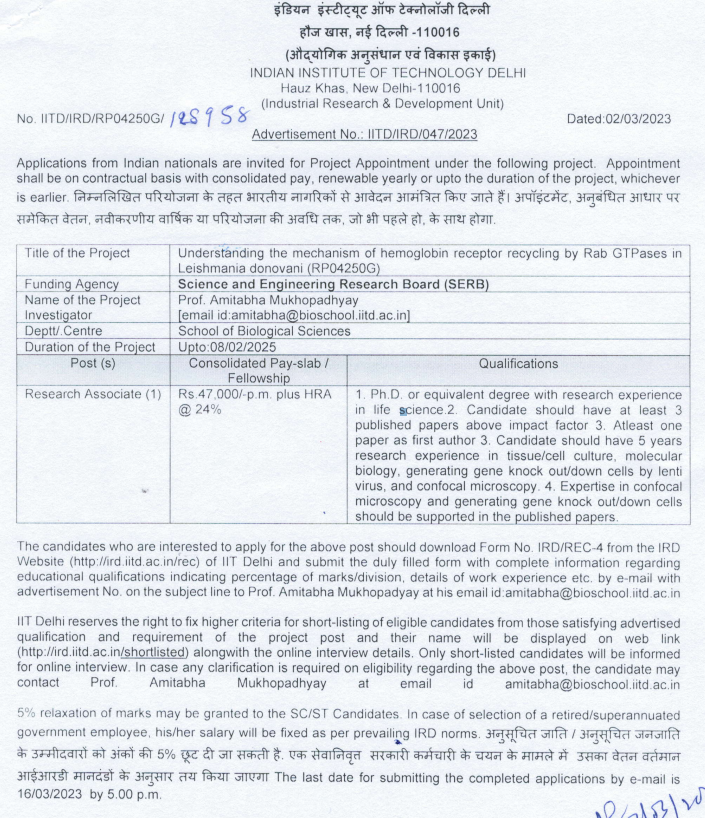 Find or Post Research Project PositionS – Researchersjob Board
Join Our Discussion Forum – Keep your view, share knowledge/opportunity and ask your questions