Scientist Position in CSIR-NGRI, Hyderabad, India, Total post = 19
Designation/Position- Scientist Position in CSIR
CSIR-National Geophysical Research Institute, Hyderabad, India invites application for Scientist Position in CSIR from eligible and interested candidates
About- The CSIR-National Geophysical Research Institute (CSIR-NGRI), Hyderabad, is a premier R&D Institute under the Council of Scientific and Industrial Research (CSIR), involved in multidisciplinary R&D programmes of both basic and applied nature across geo-scientific disciplines for economic, environmental and societal benefits for the people of India. The Institute is a Centre of Excellence carrying out multidisciplinary S ol i d earth s ciences research programs viz., Hydrocarbon and Mineral Exploration, Groundwater, Seismology and Natural Hazards, Geodynamics, Geochemistry and Geochronology, Earth Process Modeling etc.
Research/Job Area-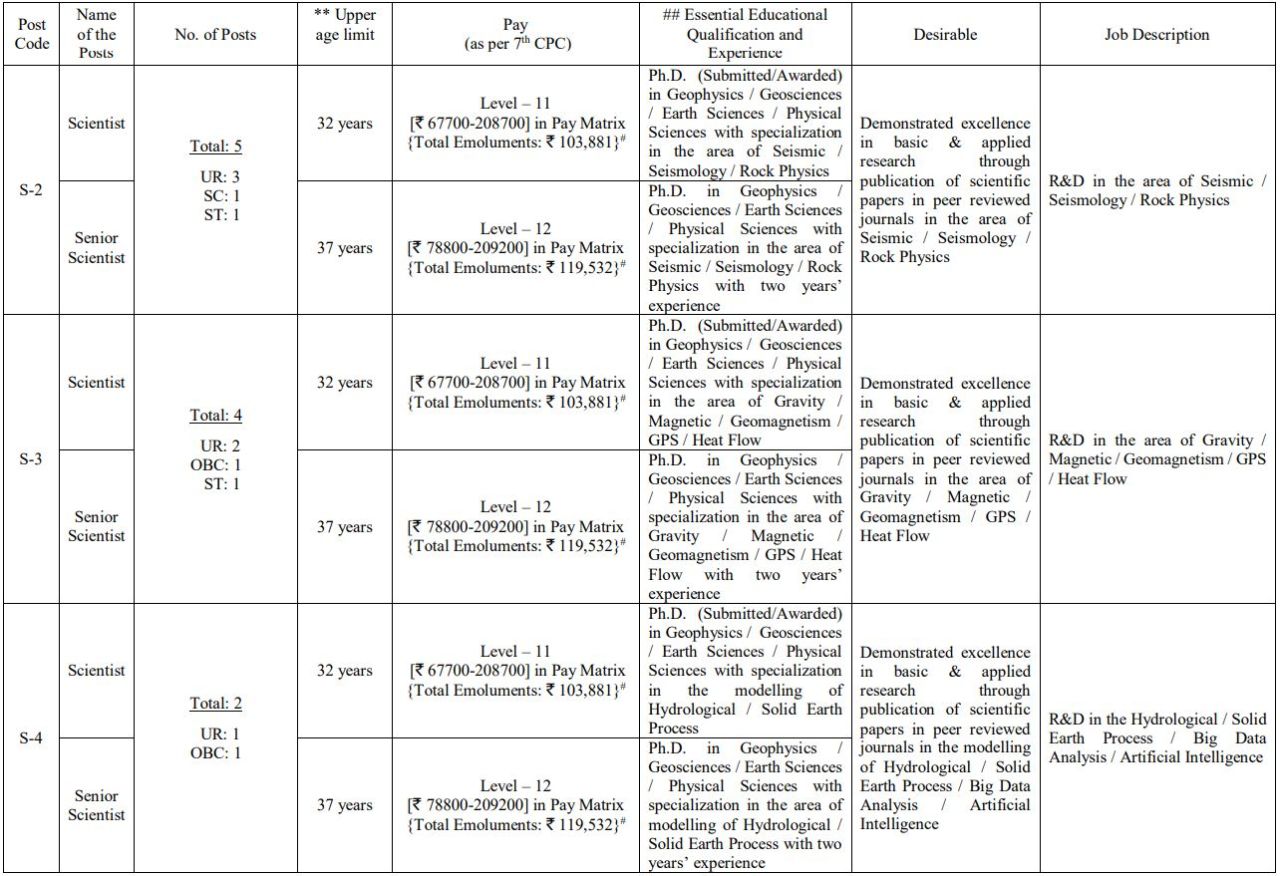 Location- CSIR-National Geophysical Research Institute, Hyderabad, India
Faculty Position 2019 in Delhi, University of Delhi- India
Faculty Recruitment – 2019 in NIT (National Institute of Technology) Trichy
Faculty Position in Pondicherry University (A Central University), India
Delhi University Recruitment 2019 in Sri Aurobindo College, India
Eligibility/Qualification–
Job/Position Description- Online applications are invited from enthusiastic, young Indian researchers having excellent academic record and proven scientific achievements along with requisite experience and a high degree of motivation and desire to take up research as a career in the field of solid earth sciences to fill up various scientific positions in CSIR – NGRI.
The Selection Committee may choose to place the candidate in any of the Levels (Level 11 or Level 12 of Pay Matrix) depending upon the performance of the candidate and subject to meeting the minimum eligibility criterion specified.
Only outstation candidates called and found eligible for interview will be paid to and fro single second class rail fare from the actual place of undertaking the journey or from the normal place of their residence whichever is nearer to Secunderabad / Hyderabad Railway Station or place of interview on production of Rail Tickets/Rail Ticket Numbers or any other proof of journey.
The upper age limit is relaxable upto 5 years for SC/ST and 3 years for OBC (Non Creamy Layer) as per Government orders in force only in those cases where the post are reserved for respective categories, on production of relevant certificate in the prescribed format signed by the specified authority at the time of interview (in original).
Application fee = 100/
How to Apply-
Eligible candidates are required to apply ONLINE .
Candidates desirous of applying for more than one Post Code should submit SEPARATE APPLICATION FOR EACH POST CODE.
Candidate is also required to upload scanned copy of his/her recent passport size colour photograph (20 -50 kb) and his / her scanned signature in black ink (10-20 kb) in 'jpg' format at the specified respective places for the same in the online application.
Candidates should keep a copy of the application print-out and payment details, if any, for their record.
Print-out of Application and payment details will not be available after 18:00 hr on 20-12-2019 (Friday).
Last Date for Apply– 20 December 2019
Click here to see details-
Postdoc Position in Denmark, Aarhus University