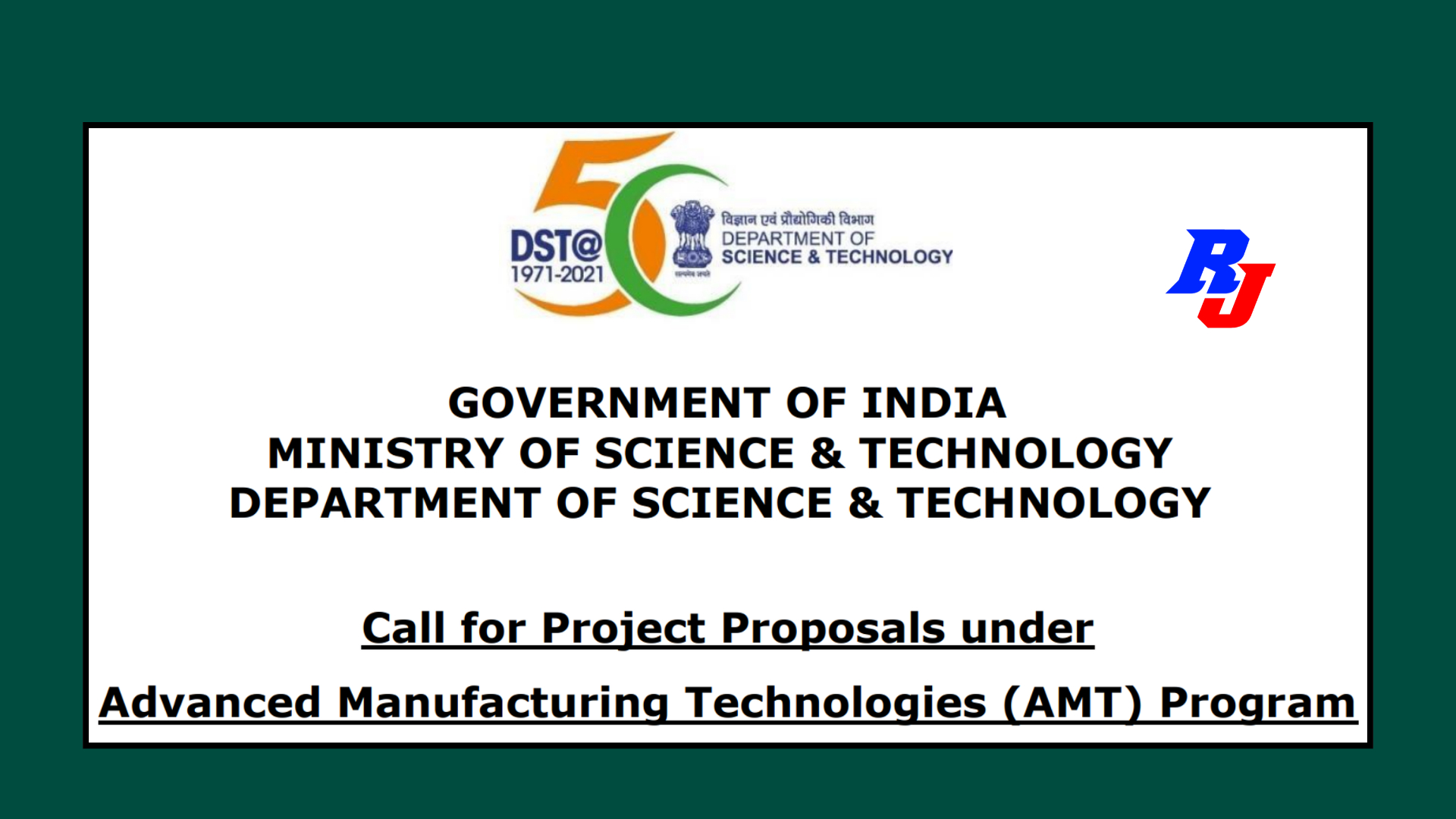 Designation/Position- Call for Project Proposals
DST, Govt. of India invites application for Call for Project Proposals under Advanced Manufacturing Technologies (AMT) Program from eligible and interested candidates
About- The Department of Science & Technology (DST) has initiated a technology development program named "Advanced Manufacturing Technologies (AMT)" during 2015 aligned with the Make in India mission. The scope of R & D efforts envisaged under the "Advanced Manufacturing Technologies" Program encompass the following:
Design and process innovations to overcome the limitations in conventional manufacturing technology
Improvements in materials and their processing for better properties and commercial scale production
Enhancement of productivity and better utilization of resources through ICT
"Industry 4.0" enablers such as additive manufacturing, near net shape manufacturing, assistive robotics and process automation, industrial IoT implementation, etc.
Research/Job Area-
Main themes of the call include (a) Manufacturing of nano materials, electronic grade materials, smart materials, and metamaterials (b) Novel surface coatings and surface texturing (c) Robotics and automation (d) Precision Manufacturing (e) Advanced forming and near net shape processing (f) New and innovative manufacturing processes such as molecular manufacturing.
More Opportunities:-
Eligibility/Qualification–
Scientists/ Engineers/ Technologists working in Universities and other Academic institutions; R&D institutions/ laboratories having adequate infrastructure and facilities to carry out R&D work can apply.
Job/Position Description-
Category 1: Feasibility projects with a max. funding support of Rs. 50 Lakh for 2 years' duration:
R & D proposals aiming to achieve Technology Readiness Levels (TRL) -3 /4 with emphasis on innovative concepts in the above thrust areas. The project proposals can be submitted by research institutes/academia, Proposals under this category will be evaluated on their innovation quotient. Proposals with clearly identified MSME/industry partners interested in the technology will get preference.
Category 2 and 3 proposals are expected to have a well-defined product or process target that will have direct relevance to the Indian Industry/MSME for technology absorption:
Category 2: R & D proposals targeting TRL 4 to 7, in the above-identified thrust areas with MSME/Industry participation in the form of 20% financial contribution (between cash and kind contribution, at least 10% cash contribution is mandatory).
Category 3: R & D proposals falling at TRL 8 or above, for scale-up and production, having industry partnership with at least 33% financial contribution. Funding for industry partner(s) in the form of a loan for their 33% contribution, with respect to R&D leading to commercialization, can be forwarded to Technology Development Board (TDB), DST if desired, for their consideration.
Category 4: Creation of Centers of Excellence to develop technologies in the following identified areas:
Electronic Grade Materials Manufacturing
Specialty Chemicals Manufacturing
Wear and Corrosion Resistant Coatings Technology
Smart Manufacturing Machines: Design and Fabrication
Proposals are invited for setting up Centers of Excellence (CoE), preferably in association with Institutes, Laboratories/Industry bodies. CoE should target capacity building in the chosen technology domain to fulfil the needs of the manufacturing sector.
How to Apply-
Proposals must be submitted using ONLINE portal (https://onlinedst.gov.in/) only by Scientists/ Engineers/Technologists working in universities and other academic institutions; R&D institutions/ laboratories having adequate infrastructure and facilities to carry out R&D work. Applicants should register as a PI in DST's Online Portal. Registered PIs may get an option of "submit proposal", under calls that are open. PIs may submit the proposal under the division of "Technology Development and Transfer" followed by the scheme of "Advanced Manufacturing Technologies".
PI should have relevant experience (patents, prototype, technology demonstration, etc).
The technology demonstration plan should be clearly spelled out with achievable milestones, timelines, justifiable budget requirement, and engagement with prospective technology transfer partners or technology transfer facilitating bodies. 4. Financial support will be provided only for temporary staff salaries (e.g., JRF, SRF, RA, PDF, etc.), equipment, consumables, domestic travel, and other miscellaneous items. No support will be provided towards basic infrastructure, buildings and International travel. Proposals should have participation of relevant Industry/stakeholder.
It is envisaged that the end product of development shall be transferred to industries/suitable stakeholders for technology implementation. Hence, project should be proposed with appropriate industry/suitable stakeholder participation, clearly stating the technical as well as financial terms of participation.
No financial support will be provided to industry. An endorsement letter from the participating industry/stakeholder with a detailed breakup of their contribution for the proposed project has to be submitted.
Fund support under non-recurring grant for the required equipment will be given only if the same or similar facility is not available in the PI's institution or nearby institutions. No major infrastructure will be funded.
A PI can submit only one proposal against this DST-AMT-2021 Call. Submission of more than one proposal from a PI would be liable for disqualification
It is desirable to have the contribution of the host institution/grantee institution for the capital cost of the project.
The quarterly deliverables should be clearly mentioned in the proposal in the form of a Gantt chart/ matrix.
Last Date for Apply– 15 October 2021
Find or Post Research Project PositionS – Researchersjob Board
Join Our Discussion Forum – Keep your view, share knowledge/opportunity and ask your questions