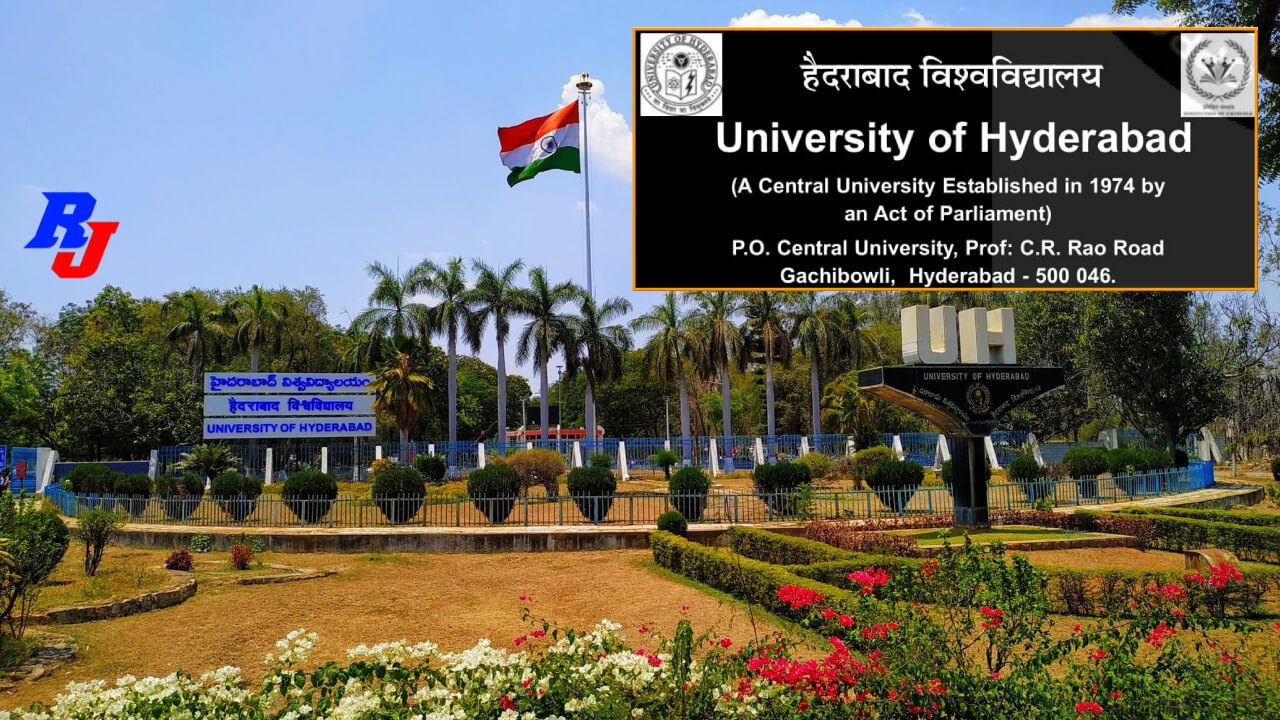 Faculty Positions in UoH, University of Hyderabad, India
Designation/Position- Faculty Positions in UoH
University of Hyderabad, India invites application for Faculty Positions in UoH from eligible and interested candidates
About- The University of Hyderabad (UoH) has been ranked fourth best among Universities in the country by the National Institutional Ranking Framework of MHRD for the year 2019. It was declared the Best Central University for the year 2015 and given the Visitor's Award by then Hon'ble President of India, Shri Pranab Mukherjee. UoH is in the top league of institutions with QS Global Rankings 600-650 (2019-20). It is among the top 100 fastest growing Universities under the age of 50. The ranking surveys by India Today, The Week, Careers360 (Outlook group), QS World Rankings, US News and Reports, URAP (University Ranking by Academic Performance)-(Middle East), U-Multirank (Germany), Nature Index, to name a few, have helped UoH to maintain a consistently high ranking in India in its research, publications, patents, student achievements, placements and outreach. Faculty Positions in UoH
Research/Job Area- Various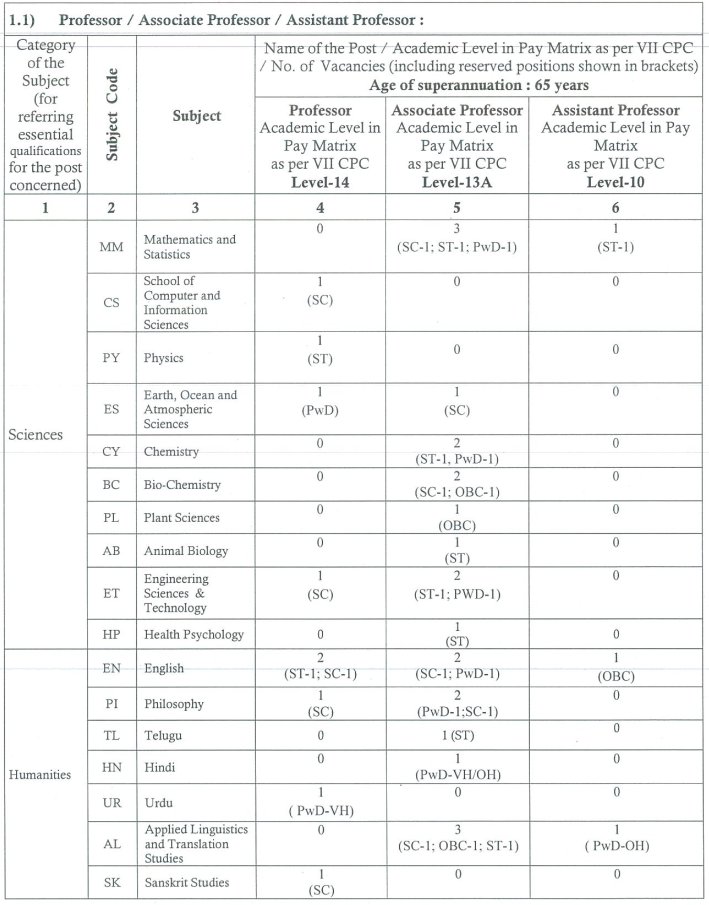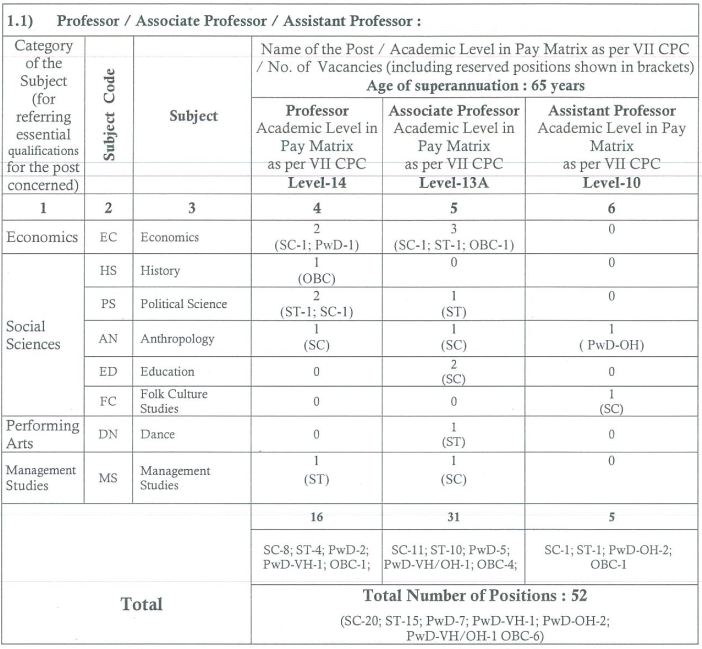 Location- University of Hyderabad, India
Eligibility/Qualification–
As per UGC regulation (See in detail notification).
The recruitment will be in accordance with the UGC Regulations 2018 and any specific guidelines issued by the UGC from time to time from the date issue of this employment notification.
The period spent by the candidate in acquiring MPhil / M. Tech. or PhD will not be counted as research experience.
Age of superannuation: 65 years for all the above positions.
Job/Position Description-
Employment Notification for Faculty_ Positions through Online (Advt. No. UH/Rectt./Teaching/2021-01 dated 25/10/2021)
| | |
| --- | --- |
| Teaching Positions | Total Positions |
| (Professors / Associate Professors / Assistant Professors) | 52 |
Academic Pay Level in the 7″ CPC Pay Matrix
Professor
Level — 14
Rs. 1,44,200/- to Rs. 2,18,200/-
Associate Professor
Level — 13A
Rs. 1,31,400/- to Rs. 2,17,100/-
Assistant Professor
Level — 10
Rs. 57,700/- to Rs. 1,82,400/-
How to Apply-
Apply online.
The University reserves the right to restrict the candidates to be called for interview to a reasonable number on the basis of qualifications and/or experience higher than the minimum prescribed.
Call letters to attend interview will be sent only to the short-listed candidates by Email.
No correspondence will be made with applicants who are not short-listed/called for interview.
Except the candidates shortlisted for the interview, no communication will be sent to the other applicants.
The list of shortlisted and not shortlisted candidates will be placed on the University website (https://uohyd.ac.in/careers-uoh/) for information of the applicants.
Mailing Address for forwarding Hardcopy of Application and Enclosures:
DEPUTY REGISTRAR (RECRUITMENT)
RECRUITMENT CELL
ROOM No:221, (First Floor), ADMNISTRATION BUILDING
UNIVERSITY OF HYDERABAD
PROF. C R RAO ROAD
GACHIBOWLI, HYDERABAD – 500 046 INDIA
Note:
(Hard copies of online applications will not be accepted in person)
For Contact- hr@uohyd.ac.in
Last Date for Apply– 31 December 2021
| | |
| --- | --- |
| Release of Employment Notification No. UH/Rectt./ Teaching/ 2021-01 dated 25/10/2021 | 25/10/2021 |
| The online application portal is available from | Will be notified shortly |
| Last date for submission of online application and payment of registration fee through the above portal | Will be notified shortly |
| Last date for receiving a hardcopy of the application alongwith all enclosures by speed post/courier: | 31/12/2021 |
How to write an attractive research proposal?
How to Write an Effective Cover Letter – Prepare Yourself
6 golden tips for finding successful postdoctoral opportunities
Should I Do postdoc : Pros and Cons – ResearchersJob
Some Effective Tool to Improve Your Research Writing Skill