Regular Faculty vacancy at the University Of Lucknow, UP, India
Designation/Position- Faculty vacancy
The University Of Lucknow, UP, India, invites applications for Faculty vacancy from eligible and interested candidates.
About- The idea of starting a University in Lucknow was first mooted by Raja Sir Mohammad Ali Mohammad Khan, Khan Bahadur, K.C.I. of Mahmudabad. A little later, Sir Harcourt Butler was appointed Lieutenant-Governor of the United Provinces. Select Committee recommended liberalizing the constitution of the various University bodies and including a Faculty of Commerce. The University of Lucknow Act, No. V of 1920 received the assent of the Lieutenant-Governor on November 1 and of the Governor-General on November 25, 1920.
Research/Job Area- Applied Science and Humanities/Engineering Mathematics
Location- Various Departments at the University Of Lucknow, Lucknow, UP, India
Eligibility/Qualification–
Essential Qualifications: The qualification will be per University norms with UGC-CSIR NET.
Job/Position Description-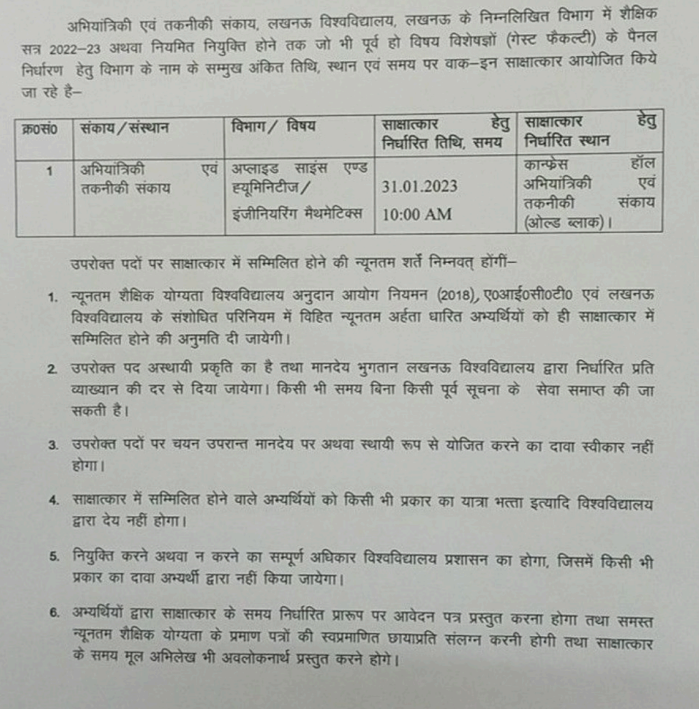 Walk-in-Interview for Guest Faculty/Subject Expert
Interview for a lecturer in the following department of Faculty of Engineering and Technical, University of Lucknow, Lucknow is to be conducted on the date, place and time of the subject interview (Gast Faculty):. 1.0.2023 22228 Av Faculty till.Engineering Mathematics | 0:00 5 (Old Block). Interviewees must have self-certified certificates of minimum educational qualification.
How to Apply-
Date and Venue of Interview: The interview will be held at Applied Science and Cannes Hall Technical Faculty Humanities, University of Lucknow, Lucknow.
Interested candidates are required to fill the application form given below and bring the following documents for the interview:
An application in format with passport size self-attested photograph.
All original documents regarding Academic Qualification & experience.
Self-attested photocopies of all attached documents along with application.
Note: No TA/DA or any allowances will be given for attending the interview.
Last Date for Apply– 31 January 2023
Join Our Discussion Forum – Keep your view, share knowledge/opportunity and ask your questions