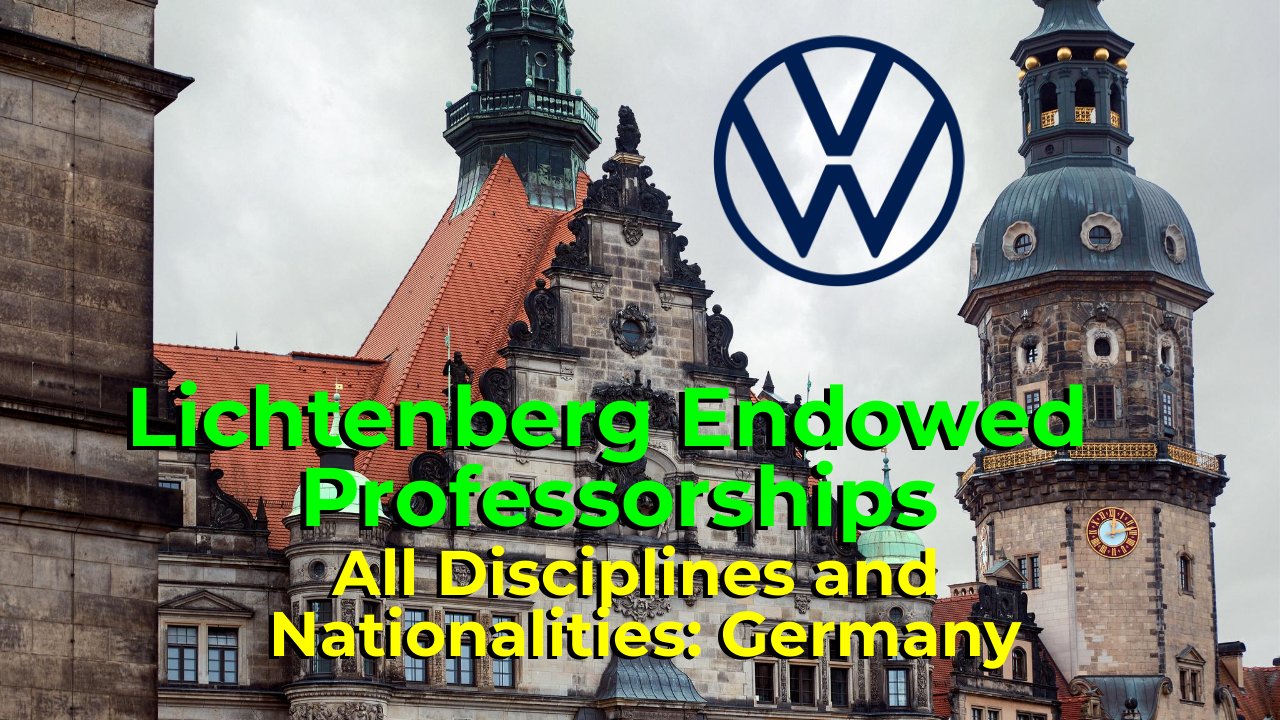 Designation/Position- Lichtenberg Endowed Professorships
The Volkswagen Foundation, Germany invites application for Lichtenberg Endowed Professorships from eligible and interested candidates
About- With the "Lichtenberg Endowed Professorships", the Stifterverband für die deutsche Wissenschaft and the Volkswagen Foundation seek to establish a new endowment funding instrument for universities in Germany. The idea is to help universities attract outstanding scholars and scientists from innovative, seminal and risk-prone fields of research. The initiative provides greater planning security for the host universities as well as for the holders of the professorship. Moreover, the initiative enables host universities to implement their innovation and structural policies more independently and dependably than ever before, and they are incentivized to step up their efforts to acquire external funds. At the same time, the initiative sends a signal for more civic engagement in the field of science. Lichtenberg Endowed Professorships
Research/Job Area- All Disciplines
More Opportunities: DEA Program at FMSH France: 3rd Call 2021 | Apply by…
HUJI-IITD Collaborative Project: Call for Proposals | Last Date: 16 April…
Swiss Research Initiative Fellowship 2021 in ETH Zurich and EPFL, Switzerland
MSCA Postdoctoral Fellowships (MSCA-PF) at University of Agder (UiA), Norway
Location- Germany
Eligibility/Qualification–
Eligible for funding are highly qualified researchers of all disciplines and nationalities who, together with the target university in Germany, are in international comparison among the leaders in their respective fields of research.
Job/Position Description-
Each professorship will be endowed with capital totaling at least five million euro. The Volkswagen Foundation and, if applicable, one of the Stifterverband's affiliated foundations each enter into a commitment for a starting capital of one million euro per professorship. Another three million euro must be guaranteed by the host university through fundraising.
How to Apply-
Please submit your application electronically via the Foundation's application portal (https://portal.volkswagenstiftung.de). Instructions can be found online. For technical reasons, the form "budget plan" has to be filled in; please enter the requested 2 million euro in the first line. Likewise, a runtime has to be specified. Here, please enter 5 years, since this is the period the Foundation will be accompanying the professorship.
The following information and documents (pdf files) are required:
 The Forms completed in the application portal with details of applicant (s), title, costs (2 million euro) and legal declaration.
 Attachments
 Cover letter
 Summary of objectives and substantiation for the overall concept; in German and English (max. one page for each)
 Proposal (not to exceed 25 pages applicant + 5 pages university), 12 pt, 1.5 spacing
The proposal on the side of the applicant should include the following details:
 Detailed description stating the thematic scope of the proposed professorship (substantiation of innovative aspects, also to take into account the status of international research, elucidation of methods and future perspectives pertaining to the research
area to be pursued)
 An elaborated concept for proposed research including work program and time schedule (for the first three to five years) and for teaching (including information on the time scale)
 Reasons for and description of the academic environment, including any existing collaborations, both at venue as well as national and international, details of the thematic areas represented by participating scholars
 Details of support received elsewhere (projects with titles, life span, amount of funding and funding institution), a delimitation concerning the application made to the Volkswagen Foundation where possible.
On the side of the university the following details are required:
 Innovation and structure-based concept
 The strategic concept of respective faculty and department
 Detailed strategic objectives and personnel planning for the next ten years
 Frame conditions and integration of the thematic focus of the new additional professorship
 Financing concept and details of sustainable provision of resources
 CVs and list of publications
 Applicant
 Professors of importance for embedding the professorship (one page each, if only one PDF file)
 Publications of the applicant (please upload separately)
 in the natural and engineering sciences and medicine: up to three of the most important publications
 in the humanities and social sciences: up to three examples of work, in case of monographs excerpts including table of contents (not to exceed 70 pages)
 Cost estimates (if possible just one pdf file)
Contact– Dr. Anja Fließ | T +49 (0)511 8381-374 | F +49 (0)511 8381-4374
Last Date for Apply– 01 September 2021
Closing date: Applications can be submitted at any time
You can get our Regular updates on Telegram also
Find or Post Research Project PositionS – Researchersjob Board
See Also: Motivation Letter for PhD, Postdoc, and Other Research Positions
Whitesmoke Grammar Checker Online – Improve Your Research Writing Skill – Alternative to Grammarly
How to write a literature review: Tips, Format, and Significance
Research Proposal How to Write: Detail Guide and Template