Post-doctoral Fellow position at IIT Gandhinagar, Gujarat, India
Designation/Position-  Post-doctoral Fellow position in IIT
IIT Gandhinagar, Gujarat, India, invites applications for the Post-doctoral Fellow position in IIT from eligible and interested candidates
About- IIT Gandhinagar was founded in 2008 and is located in Palaj, Gandhinagar, Gujarat, on the banks of river Sabarmati. IITGN is rated India's first 5-star GRIHA LD (Green) campus for minimizing the negative impact on the environment. The campus has been declared India's first 5-star for ensuring food safety and promoting healthy eating.
Research/Job Area- Civil Engineering, Mechanical Engineering, Aerospace Engineering, or related fields
Location-  IIT Gandhinagar, Gujarat, India
Research Proposal How to Write: Detail Guide and Template
Eligibility/Qualification–
PhD in Civil Engineering, Mechanical Engineering, Aerospace Engineering, or related fields with a focus on computational solid mechanics (candidates who have submitted their dissertation may also apply)
Job/Position Description- 
"HighPerformance Multiscale Topology Optimization Framework for Digital Manufacturing" in the research group of Prof. Tarun Gangwar (website).
Job Title: Post-Doctoral Fellow
Duration: 12 months extendable by another 12 months based on performance and availability of funds
Remuneration: INR 50,000 per month + HRA (if on-campus accommodation is not available)
Job Description: The successful candidate will work on the broad theme of multiscale topology optimization methods targeted for applications in additive manufacturing and digital construction. The scope of this work includes developing and implementing solution algorithms for pathdependent concurrent material and structure optimization methods of hierarchical structures. The prospective candidate must have a strong background in computational mechanics, finite element methods, and scientific computing. The current in-house computing framework is in Python/Julia; therefore, the candidate must have a working knowledge of Python/Julia. In addition, a good candidate is expected to have good communication and writing skills. 
How to Apply-
Candidates must send their applications with the following documents in a single PDF file via this Google Form:
Cover letter explaining your suitability for the position
Detailed Curriculum Vitae
Copy of your best publication 
This is a rolling advertisement until the positions are filled; however, applications received on or before April 15, 2023 (11:59 PM) will be considered on priority.
Google form link: https://forms.gle/bADtKQpngdgAdBGq5
Please contact Prof. Tarun Gangwar (tarun.gangwar@iitgn.ac.in) for any queries.
Last Date for Apply– 15 April 2023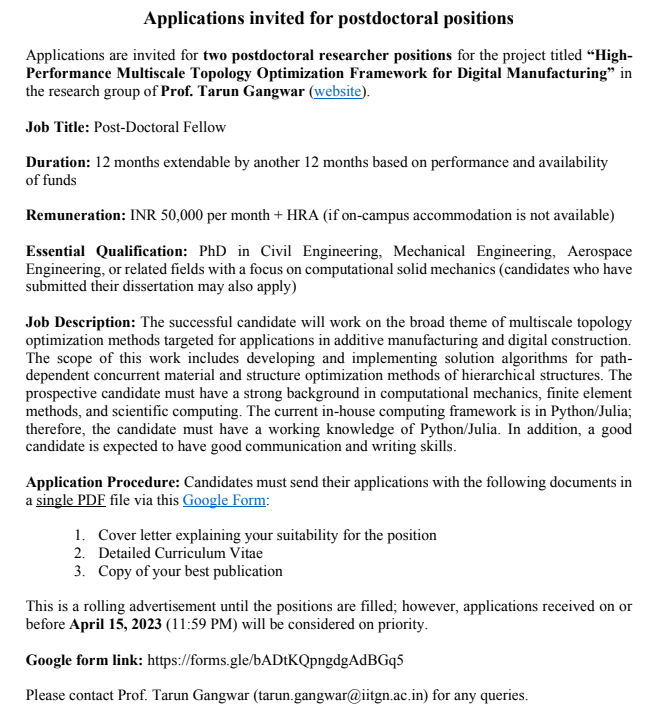 Join Our Discussion Forum – Keep your view, share knowledge/opportunity and ask your questions