Post-doctoral Fellow position at IIT Gandhinagar, Gujarat, India
Designation/Position- Post-doctoral Fellow position in IIT
IIT Gandhinagar, Gujarat, India, invites applications for the Post-doctoral Fellow position in IIT from eligible and interested candidates
About- IIT Gandhinagar was founded in 2008 and is located in Palaj, Gandhinagar, Gujarat, on the banks of river Sabarmati. IITGN is rated India's first 5-star GRIHA LD (Green) campus for minimizing the negative impact on the environment. The campus has been declared India's first 5-star for ensuring food safety and promoting healthy eating.
Research/Job Area- Electrical Engineering or equivalent
Location- IIT Gandhinagar, Gujarat, India
Research Proposal How to Write: Detail Guide and Template
Eligibility/Qualification–
Essential Qualification: Ph.D. in Electrical Engineering or equivalent
Preferred Skills: The prospective candidate is expected to have expertise in power systems, power electronics, renewable energy, and control systems. They are expected to be strongly interested in sustainability, net-zero transitions, implications of increased penetration of electric vehicle charging infrastructure, and renewable energy integration for grid stability.
As a postdoctoral researcher, the candidate is also expected to collaborate with other team members on long and short-term projects for a variety of organizations within India and worldwide. This project will take an interdisciplinary approach including both basic and applied research on cutting edge issues and applied decision support related to the risk and resilience of critical infrastructure systems.
Job/Position Description-
IIT Gandhinagar (IITGN) invites applications for the position of post-doctoral researcher in an ongoing project on : Understanding the implications of net-zero transitions in energy and mobility ecosystem for existing urban environs and upcoming smart-cities.
Job Title: Post-Doctoral Fellow
Duration: 12 months
Remuneration: 50,000 + 10,000 (HRA: If on-campus accommodation not available)
How to Apply-
Candidates must send their applications via the Google Form. This is a rolling advertisement until the position is filled however applications received on or before 25th November (11:59 PM) will be considered on priority.
Link: https://forms.gle/1C3kLdJHAP8G19SB7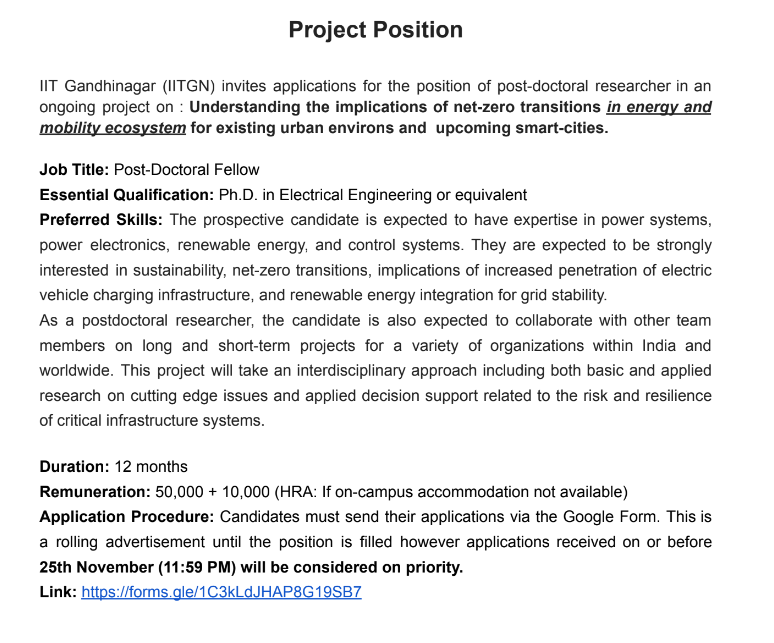 Last Date for Apply– 25 November 2023
Join Our Discussion Forum – Keep your view, share knowledge/opportunity and ask your questions