Designation/Position- Principal Scientist Position in SPRERI
Sardar Patel Renewable Energy Research Institute (SPRERI), Gujarat, India invites application for Principal Scientist Position in SPRERI from eligible and interested candidates
About- SPRERI is a non-profit autonomous organization registered as a Society under the Societies Registration Act 21 of 1860 and also as a Public Trust under the Bombay Public Trust Act 1950.It has been approved as a Research Association for the purpose of clause (ii) of subsection (1) of Section 35 of the Income Tax Act 1961 and is recognized as a Scientific and Industrial Research Organization (SIRO) by the Department of Science & Technology, Govt. of India. It is recognized by S.P. University, Vallabh Vidyanagar, Junagadh Agricultural University, Junagadh, Nirma University, Ahmadabad as a Centre for M.Tech and Ph.D. Research. Principal Scientist Position in Gujrat
Research/Job Area- Chemical/ Mechanical/ Environmental Engineering/ Renewable Energy or PhD in Biotechnology/Biochemistry/Enzymology/Microbiology
Location- Sardar Patel Renewable Energy Research Institute (SPRERI), Gujarat, India
Should I Do postdoc : Pros and Cons – ResearchersJob
Eligibility/Qualification–
PhD/M.Tech in Chemical/ Mechanical/ Environmental Engineering/ Renewable Energy or PhD in Biotechnology/Biochemistry/Enzymology/Microbiology with 7-8 years of rich experience in the field of liquid bio-fuels in R&D Institute or R&D division of any reputable industry on biomass energy/bio-fuel related technologies.
Should be able to convert concepts to technologies and able to take implementation projects.
Job/Position Description-
Advertisement Number: BCT/102021/06 – A
Position: Principal Scientist (Bio-chemical Conversion Technology Division)
Number of vacancy: 01
Specialization: In the area of liquid bio-fuels
1. Proven research experience in Bio-energy (liquid biofuel) with a significant contribution to R&D programmes as Principal Investigator with outstanding publications in reputed journals/books
2. Team leader with excellent teamwork and communication skills
3. Keep up with latest technology developments in Bio-energy
4. Able to define strategic planning, goals, and tactics to manage research activities of divisional projects
5. Ability to work with strict deadlines and budgets
6. Able to complete projects with due diligence to ensure projects meet all financial and technical requirements
7. Able to guide young scientists in research and innovation in the execution of various projects
Remuneration: Negotiable based on qualification and experience (8.0-10.0 lakhs p.a.)
How to Apply-
Interested candidate(s), who meet the above referred qualification and experience, may submit their applications in the prescribed proforma (download from www.spreri.org), along with their detailed bio-data including contact information of three references at career@spreri.org, indicating subject "BCT/102021/06-A – Application for Post of Principal Scientist- BCT Division
Last Date for Apply–11 December 2021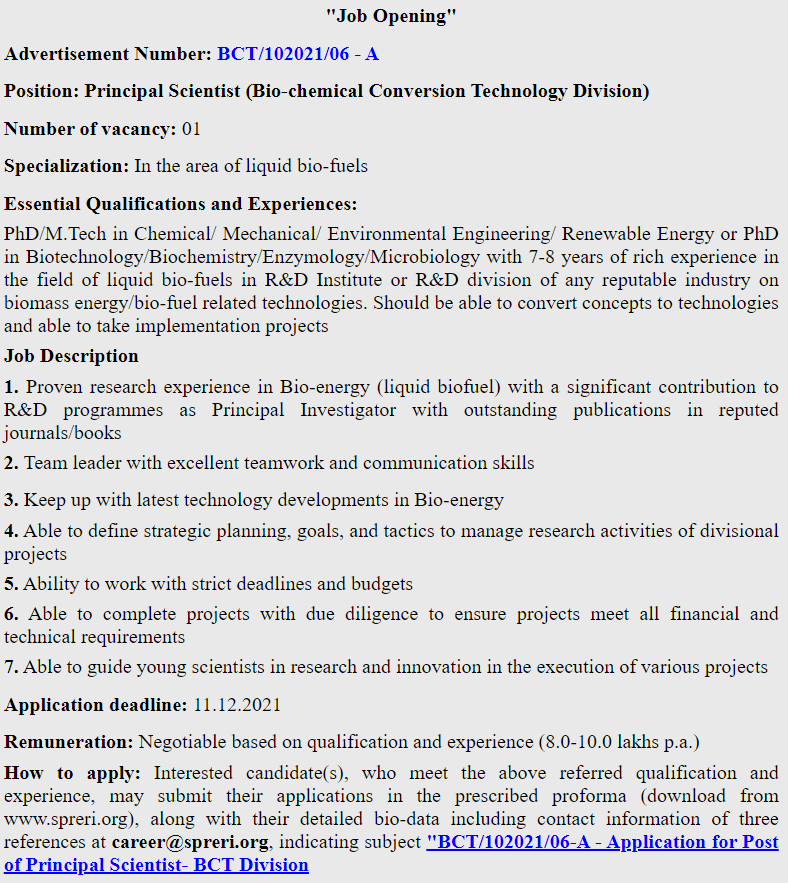 How to write an attractive research proposal?
How to Write an Effective Cover Letter – Prepare Yourself
6 golden tips for finding successful postdoctoral opportunities
Should I Do postdoc : Pros and Cons – ResearchersJob
Some Effective Tool to Improve Your Research Writing Skill