Research Associate-1 Position in IIT Jodhpur, Rajasthan
Designation/Position- Research Associate-1 Position in IIT
Indian Institute of Technology Jodhpur, India invites application for Research Associate-1 Position in IIT from eligible and interested candidates
About- Indian Institute of Technology Jodhpur was established in 2008, to foster technology education and research in India. The Institute is committed to technological thought and action to benefit the economic development of India. Scholarship in teaching and learning; Scholarship in research and creative accomplishments; and relevance to Industry are three driving forces for us at IIT Jodhpur. Research Associate-1 Position in IIT
Research/Job Area- In related area (electrochemical energy storage systems)
Location- Indian Institute of Technology Jodhpur
Teaching Jobs in India: Various Faculty Positions in top Indian Institutes
Eligibility/Qualification–
Minimum Qualification Experience and
Eligibility: Ph.D. or M. Tech with 2 year's experience.         
Desirable Qualification: Experience in energy store.
Maximum Age
 
40 Years
Job/Position Description- 
Applications are invited from the citizen of India for filling up the following temporary position in the Sponsored Project at this Institute. The position is purely temporary, initially for a period of 01 years, and same extendable but co-terminus with the duration of the project, on contractual basis with consolidated pay. The requisite qualification, experience and others details are given below:
Project No.
S/SERB/AD/200210109
Project Title
Center for Rechargeable Energy storage systems for Augmenting Transportation and Electrification (CREATE)
Name of the Project Investigator 
Dr. Ambesh Dixit
Duration for initial appointment
01 year
Name of the Post
 
Research Associate 
Post
 
01
Consolidate Pay
 
Rs. 50,000/-+HRA (As per funding agency norms) 
Brief description of Project
 
Design and development of A1 based electrochemical energy storage systems.  
Job Description
 
Research and Development work related to project
The post(s) is purely temporary and contractual for a period of 01 Year, and extension based on satisfactory performance, but co-terminus with the duration of the project.
How to Apply- 
The candidates possessing the requisite qualification and experience should apply through the ONLINE process up to 01 June 2023. The candidates are advised to send a soft copy of the application with all relevant documents to recruitment_rnd@iitj.ac.in (Please mention the advertisement number in the subject line of the email). No need to send a hard copy.
Last Date for Apply– 01 June 2023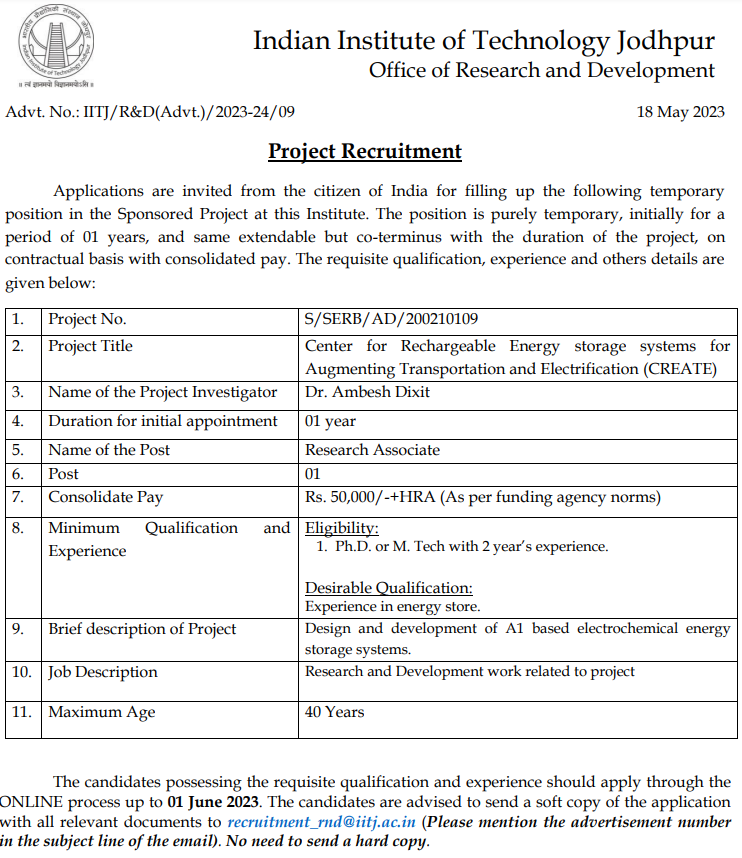 Find or Post Research Project PositionS – Researchersjob Board
Join Our Discussion Forum – Keep your view, share knowledge/opportunity and ask your questions