Faculty Position in Gujarat Technological University, India
Designation/Position- Faculty Position in Gujarat
Gujarat Technological University, Ahmadabad, India, invites application for Faculty Position in Gujarat from eligible and interested candidates
About- Gujarat Technological University is a premier academic and research institution which has driven new ways of thinking since its 2007 founding, established by the Government of Gujarat vide Gujarat Act No. 20 of 2007. Today, GTU is an intellectual destination that draws inspired scholars to its campus, keeping GTU at the nexus of ideas that challenge and change the world. Faculty Position in Gujarat
GTU is a State University with 486 affiliated colleges in its fold operating across the state of Gujarat through its FIVE zones at Ahmedabad, Gandhinagar, Vallabh Vidyanagar, Rajkot and Surat. The University caters to the fields of Engineering, Architecture, Management, Pharmacy and Computer Science. The University has about 4,00,000 students enrolled in a large number of Diploma, Under Graduate, Post Graduate programs along with the robust Doctoral program.
Research/Job Area-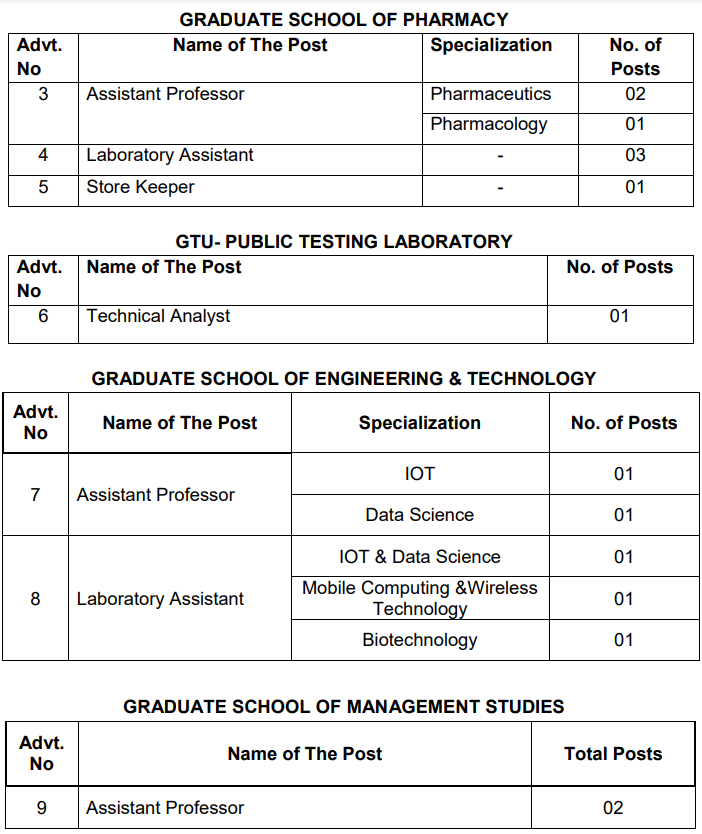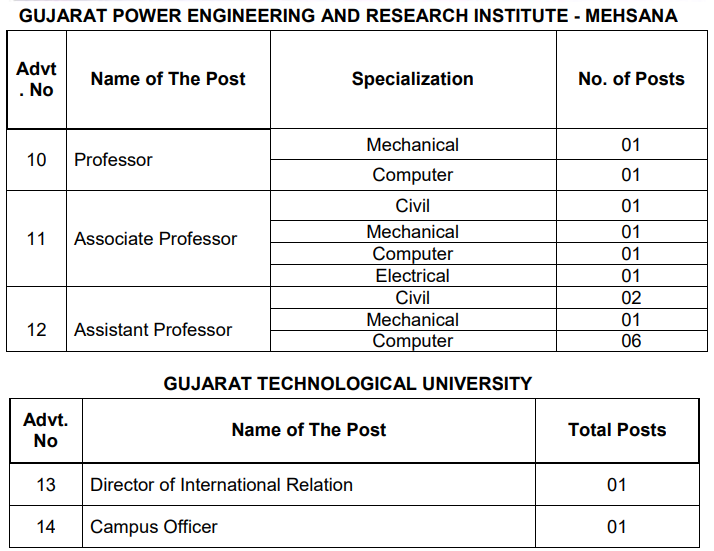 Location- Gujarat Technological University, Ahmedabad, India
Eligibility/Qualification–
Qualifications for the post of Professor, Associate Professor, Assistant Professor and Technical post is prescribed as in respective advertisement and also as per GTU Norms & AICTE & State Government Notifications.
The required qualifications/experience/age shall be considered as on closing date of online application.
Equivalence for Ph.D is based on publication of FIVE International journal papers, each journal having a cumulative impact index of not less than 2.0.
Job/Position Description-
SELECTION PROCESS
After the receipt of all the applications, the online application and submitted hard copy of application will be verified and only the hard copy application will be considered for further process of selection.
For the posts of Teaching and Non-Teaching Post, after scrutiny of applications, if the number of eligible candidates for interview is more, then the shortlisting will be done on the basis of higher experience. No correspondence will be entertained with the applicants who were not shortlisted to be called for interview. The final selection will be made on the basis of overall performance shown in the interview by the candidate. The marks of interview is 100.
Marks obtained in interview will be considered for the final selection.
How to Apply-
Visit the University website http://www.gtu.ac.in/Recruitment.aspx
Online Application Login Click to Open
Once the online application form is completely filled, submit it and get printout of the same and send it along with two photographs, self-attested copies of necessary certificates including in support of the evidence of Age, Educational Qualifications, Caste, Physical Disability, Experience, all supporting documents related to Academic Performance Indicators (if applicable), endorsement from the current employer (if applicable) and E-mail printout of fees paid etc. with the applications, and only through Speed post/Registered Post to The Registrar, Establishment Section, Gujarat Technological University, Nr. Vishwakarma Government Engineering College, Visat Three Roads, Sabarmati- Koba Highway Chandkheda, Ahmedabad – 382 424. It should reach on or before last date (i.e. Dt. 29.06.2021) up to 17:00 hours as prescribed for receiving the application. Applications received after the last date will stand rejected automatically.
Last Date for Apply– 29 June 2021
You can get our free updates on Telegram
How to write an attractive research proposal?
How to Write an Effective Cover Letter – Prepare Yourself
6 golden tips for finding successful postdoctoral opportunities
Should I Do postdoc : Pros and Cons – ResearchersJob
Some Effective Tool to Improve Your Research Writing Skill
Find or Post Research Project PositionS – Researchersjob Board