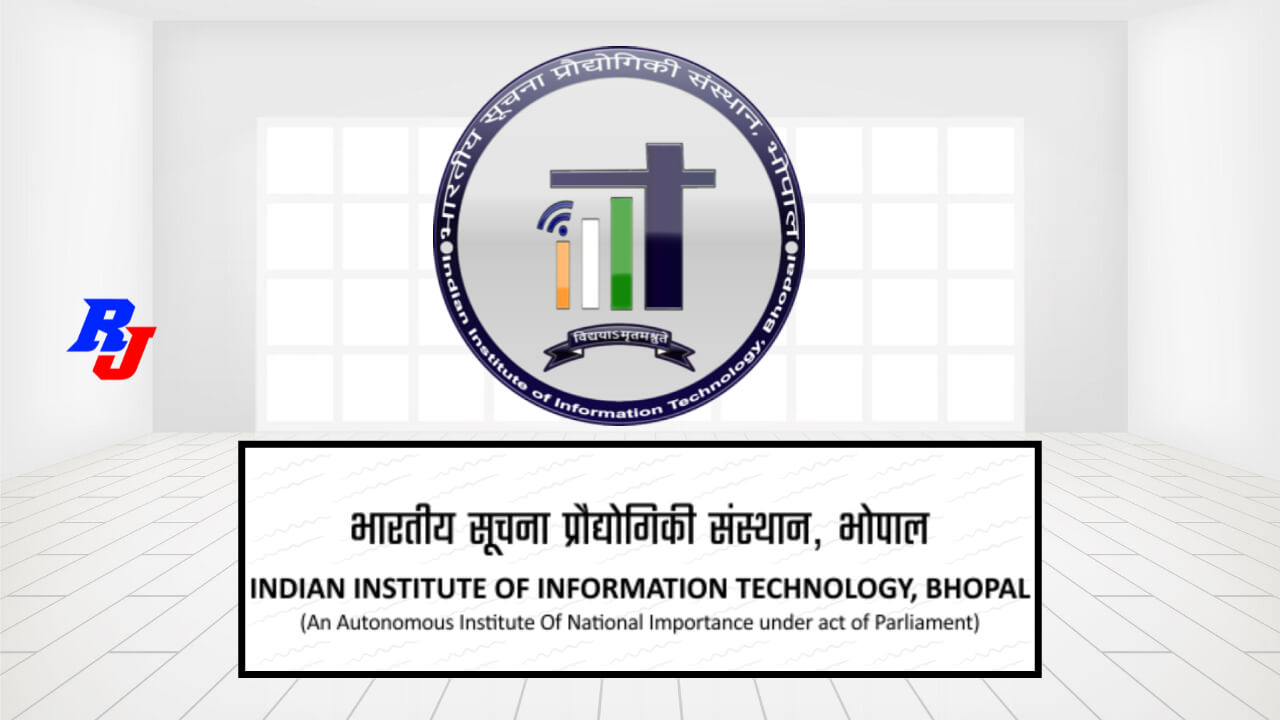 Regular Faculty Positions in IIIT Bhopal, MP, India
Designation/Position- Faculty Positions in IIIT Bhopal
IIIT- Bhopal, MP, India invites applications for Faculty Positions in IIIT Bhopal from eligible and interested candidates
About- Indian Institute of Information Technology Bhopal is an institute of national importance in Not-for-Profit Public Private Partnership (N-PPP) mode setup by the Ministry of Education, Government of India with Government of Madhya Pradesh and Rajiv Gandhi Proudyogiki Vishwavidyalaya (RGPV), Bhopal as industry Partner. The institute offers B.Tech. Programmes in CSE, IT and ECE.
Research/Job Area- Electronics and Communication Engineering, Computer Science Engineering, Information Technology and Physics, Mathematics
Eligible Specializations: The areas of specializations, inter alia, of various departments include the following, but not limited to, as given below:
| | | |
| --- | --- | --- |
| S. No | Name of the Department | Ph.D. Specialization |
| 1 | Computer Science / Information Technology | Algorithms and Theoretical Computer Science, Databases and Data Mining, High performance Computing, AI and Machine Learning, Computer and Network Security, Computer Networks, Software Engineering, System Engineering, Data Science |
| 2 | Electronics & Communication Engineering | Embedded Systems, Integrated Electronics, VLSI, Signal Processing, Image Processing, Optical Communication, Microwave Engineering, Wireless Communication, Antenna and Wave propagation, Artificial Intelligence, Electronics Instrumentation, Control Systems |
| 3 | Mathematics | Applied and Pure Mathematics |
| 4 | Physics | Experimental Condensed Matter Physics, Laser Spectroscopy and Optical Physics, Nuclear and Particle Physics and Theoretical Physics |
For All Engineering Departments, B.E./B.Tech. and M.E./M.Tech degree in the relevant discipline and for Mathematics and Physics B.Sc. and M.Sc. or BS and MS in relevant area.
Location- Indian Institute of Information Technology (IIIT), Bhopal, MP, India
Eligibility/Qualification–
Designation and pay Level as per 7th CPC
Essential Qualifications
Relevant Experience
Other essential requirements
Additional Desirable Requirement
Assistant Professor (Level 10) (Prerevised pay in PB-3, AGP Rs. 6000) (On Contract basis)
Ph.D.
None
None
One publication in an SCI journal.
Associate Professor Level-13A2 (Pre-revised pay in PB- 4, AGP Rs. 9500)
Ph.D.
06 years after Ph.D. or 09 years total (not counting Ph.D. enrolment period) out of which 03 years should be after Ph.D. Three years at the level of Assistant Professor with AGP of 8000/- or equivalent in a reputed university, R & D Lab. or relevant industry.
04 papers in SCI journals after Ph.D.; One Ph.D. guided as sole or principal supervisor plus one continuing.

Two projects ongoing or one ongoing plus one completed.

Two experiments or computational projects added to teaching in laboratories where appropriate.

Academic outreach activity equivalent to two self financed short term courses
01 or more patents; Supervising two or more students for Ph.D.; Strong liaison with industry; Offering courses through the application of ICT.
Job/Position Description-
The institute invites applications in the prescribed format from meritorious and highly qualified Indians Nationals for the under-mentioned faculty positions (under Four-Tier-Faculty-Structure) in the Department of Computer Science & Engineering (CSE), Information Technology (IT), Electronic & Communication Engineering (ECE), Mathematics and Physics.
Name of the post
SC
ST
OBC
UR
EWS
Total
Associate Professor (AGP-9500)
–
–
1
3
–
04
Assistant Professor (AGP-6000) (On Contract basis)
1
–
2
5
–
08
Total
12
Discipline wise No. of Vacancies:
| | | |
| --- | --- | --- |
| Discipline | Associate Professor | Assistant Professor (On Contract basis) |
| Computer Science | 1 (UR-1) | 2 (UR-1, OBC-1) |
| Information Technology | 1 (UR-1) | 2 (UR-1, OBC-1) |
| Electronic & Communication Engineering | 2 (UR-1,OBC-1) | 2 (UR-1,SC-1) |
| Mathematics | – | 1 (UR-1) |
| Physics | – | 1 (UR-1) |
| Total | 04 | 08 |
The candidate should pay a non-refundable application fees through SBI Collect as below:
For Unreserved/EWS/OBC category: Rs. 1000.00 (Rupees One Thousand only).
For Women, SC, ST & PwD category: Rs. 500.00 (Rupees Five Hundred only).
The candidates as recommended by the screening/shortlisting committee shall be invited for the written test/presentation/interview before the Selection Committee.

The shortlisted candidate should present his/her own research area before the committee for evaluation.
Based on the recommendations of the Selection Committee and approval of Board of Governors, the appointment letters shall be issued.
How to Apply-
Candidates applying for more than one post/department have to submit separate application form for each post along with requisite application fee..
Applicants should send application(s) alongwith self-attested photocopies of marks sheets/certificates in support of all the qualifications and relevant experience.
All Mark sheet, Certificates, Degrees, NOC and other documents must be produced in original at the time of interview as well as at the time of joining for verification.
In case, it is detected that the documents mentioned/ submitted by the candidates are fake or the candidate has undesirable or clandestine antecedents/ background and has suppressed the said information, then shall not be allowed to appear before the Selection Committee or to join.
In case of detection of any such willful concealment, fraud, suppression, service will be liable to be terminated without any notice at any time during the service even after joining.
The envelope containing complete application should be superscribed as "Application for the post of "……………" without fail.
The envelope carrying hardcopy of the application, fee receipt and other relevant documents as mentioned in the advertisement shall be sent by Speed Post/Registered post to the following address:
OSD (Administration)
Indian Institute of Information Technology,
New Teaching Block
MANIT Campus
Link Road No. 3, Near Mata Mandir Bhopal – 462003 (M.P.)
Last Date for Apply– 10 June 2022
The Last date of receiving a hard copy of the application in IIIT Bhopal is 10.06.2022 upto 5:00 P.M. after which the application will not be accepted.
Candidates residing in Jammu and Kashmir, North-Eastern region, Andaman & Nicobar Islands and Lakshadweep Island may send the hard copy so as to reach the Institute latest by 20.06.2022 upto 5:00 P.M.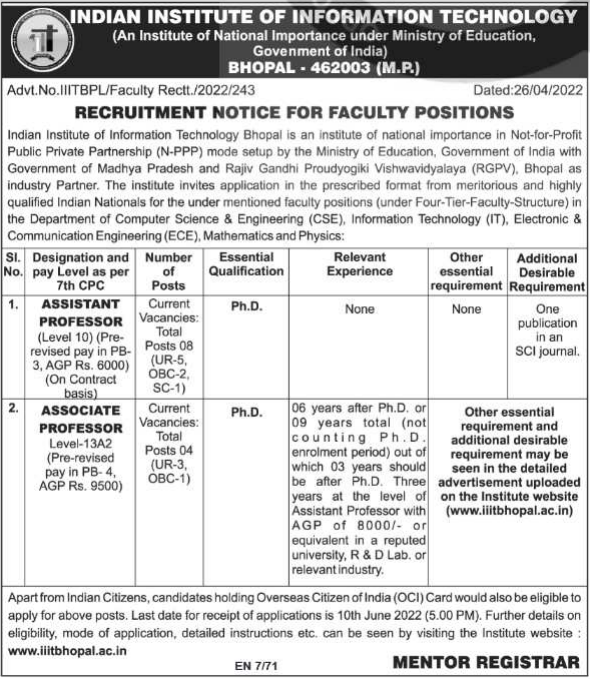 Find or Post Research Project PositionS – Researchersjob Board
Join Our Discussion Forum – Keep your view, share knowledge/opportunity and ask your questions