Faculty Positions in TIET, Thapar Institute, Punjab, India
Designation/Position- Faculty Positions in TIET
Thapar Institute of Engineering And Technology, Punjab, India invites application Faculty Positions in TIET from eligible and interested candidates
About-  Thapar Institute, one of India's premier institutions for higher education is a platform for world-class education and cutting-edge research in engineering, sciences and management across its state-of-the-art teaching & research laboratories and centers-of-excellence. In partnership with Trinity College, Dublin, the Institute has embarked upon a Contemporarization Program that incorporates global best practices. The Institute also has synergistic relationships with many other internationally renowned institutions.
Research/Job Area- Computer, Civil, Electrical and Instrumentation, Electronics and Communication, Physics and Material Science, Biotechnology, Chemical, Chemistry & Biochemistry, Energy & Environment, Humanities & Social Sciences, Mathematics, Managements, Mechanical, Liberal Arts
Location- Thapar Institute of Engineering And Technology, Punjab, India
Vacancy in Delhi University – Gargi College, Pay Level 10
Faculty Position in Deen Dayal Upadhyaya Gorakhpur University, UP, India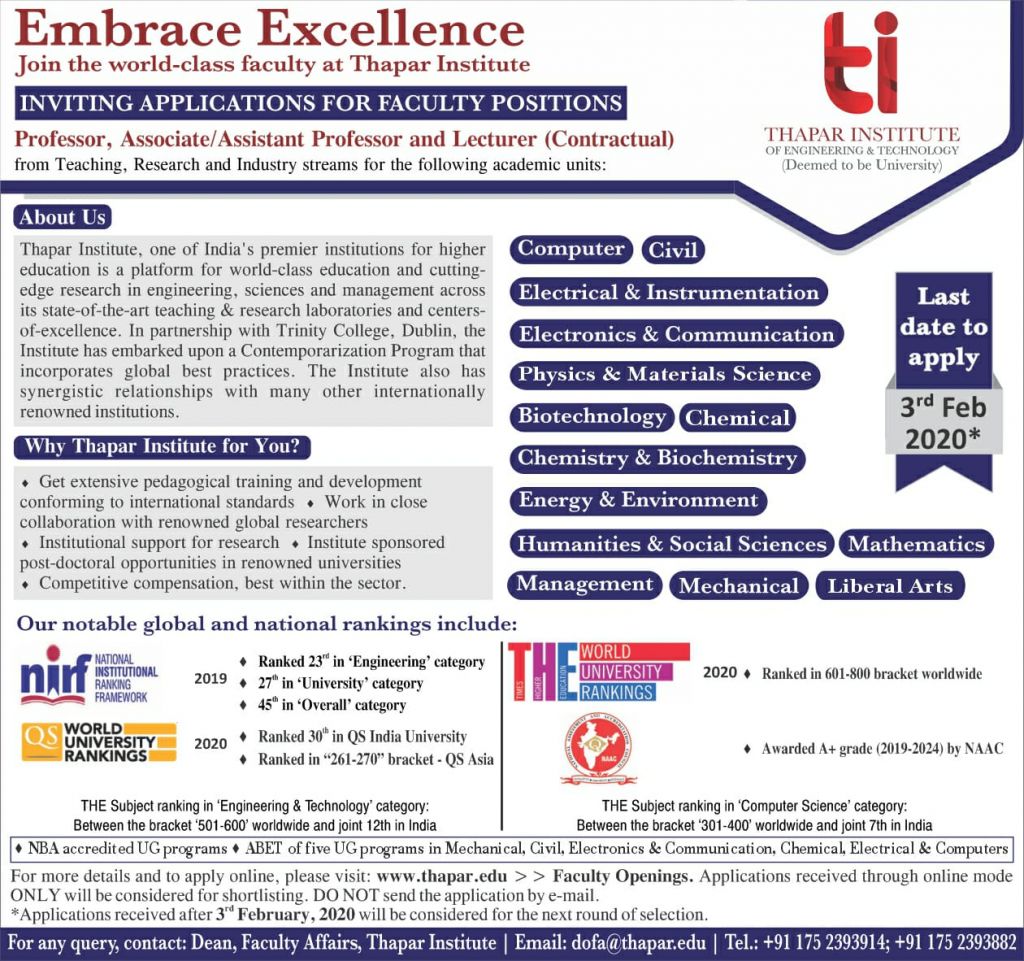 Job/Position Description- 
The Total Salary at TIET includes Basic Pay, Dearness Allowance (presently 17% of Basic Salary, as per Central Govt. DA), PF Management Share, Transportation Allowance, Medical Allowance, Communication Allowance, Academic Allowance and HRA.

How to Apply- Eligible and interested candidate can apply online.
For Contact- For a Technical Query/Help, please contact Dr. Khushneet Jindal; Email Id: khushneet.jindal@thapar.edu
Last Date for Apply– 3 February 2020
Join Our Discussion Forum – Keep your view, share knowledge/opportunity and ask your questions