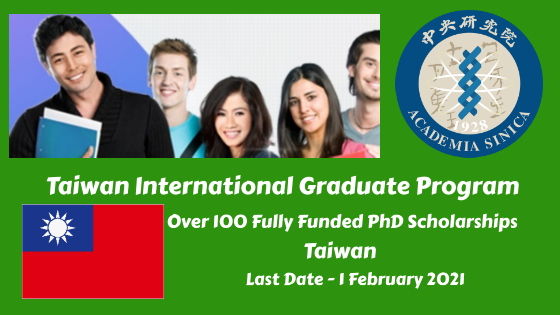 Designation/Position- Fully Funded PhD Scholarships
TIGP@AS, Taiwan invites application for Fully Funded PhD Scholarships for eligible and interested candidates
About- Looking for an exceptional Ph.D. program to accelerate your academic career? Academia Sinica, the preeminent research institution in Taiwan, announces that its Taiwan International Graduate Program (TIGP@AS) 2020 fall semester is now open to applications around the world from now on to February 1st, 2020. TIGP@AS provides 12 interdisciplinary and funded programs ranging from physical sciences, life sciences to social sciences, and the humanities. Fully Funded PhD Scholarships
Research/Job Area- PhD Degree
Location- Taiwan
Eligibility/Qualification–
Check here– https://tigp.sinica.edu.tw/news.php?_op=?newsID:113
Job/Position Description-
More importantly, once admitted, TIGP@AS offers students a monthly stipend of NTD $34,000 (about USD $1,100) for the first year. For students who perform well, this stipend will be extended in the 2nd and the 3rd year.
In subsequent years, financial support will come from the thesis advisor. Additionally, every year, TIGP@AS also holds Travel Grant Award for encouraging students to join competitive global symposiums as well as several Distinguished Lectures inviting academic and entrepreneurial masters including Nobel Laureates.
To facilitate first-year students' quicker adaptation to local environments, TIGP@AS provides them with free Mandarin language courses at the entry level, and a convenient and affordable fully-furnished dormitory. Furthermore, through Academia Sinica's substantial connections with first-rate institutions around the world, TIGP@AS is able to make arrangements for students to visit and conduct research in renowned laboratories.
How to Apply-
Application is entirely free of charge through TIGP@AS online system. More importantly, the deadline for completing and submitting your application is on February 1st 2020.
For any questions, please visit the TIGP@AS official website or contact the TIGP@AS Admission Office at: tigp@gate.sinica.edu.tw.
Last Date for Apply– 1 February 2021
More Opportunities
President's PhD Scholarships 2021-22 in Imperial College London, UK
Doctoral Scholarships at Victoria University of Wellington, New Zealand
International Research Scholarships at UNSW Sydney in Australia
PhD Positions in Chile | Universidad Tecnológica Metropolitana: UTEM