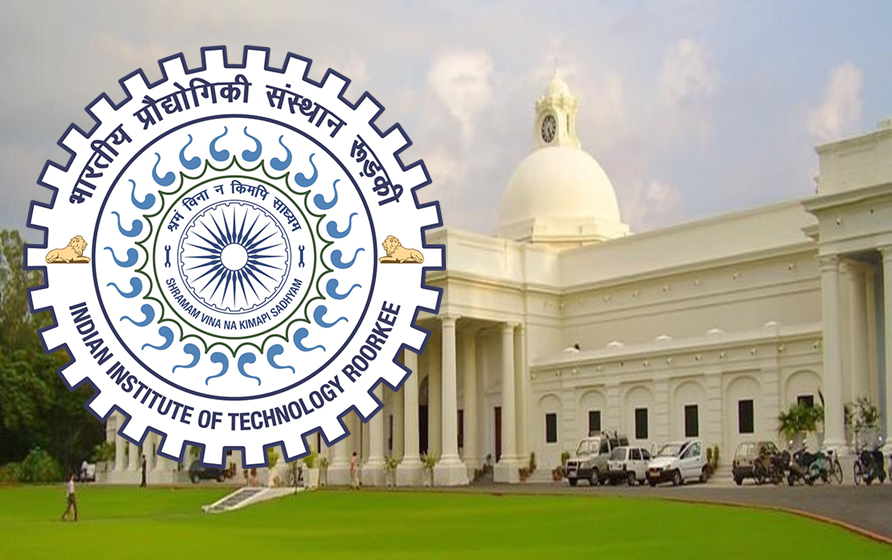 Designation/Position- Post-Doctoral Fellowship at IIT
IIT Roorkee, India, invites applications for Post-Doctoral Fellowship at IIT from eligible and interested candidates
About- Indian Institute of Technology Roorkee, formerly the University of Roorkee and Thomason College of Civil Engineering, is a public technical and research university located in Roorkee, Uttarakhand, India. Post-Doctoral Fellowship at IIT
Research/Job Area- Chemistry
More Opportunities:-
Scientist Jobs in India -Various Latest Labs and Government Scientist Jobs
Teaching Jobs in India: Various Faculty Positions in top Indian Institutes
Location- IIT Roorkee
Eligibility/Qualification–
Ph.D. in organic synthesis with high-quality work in one or more of the following areas – catalysis, visible light-induced reactions, and radical chemistry.
There should be atleast two publications from the applicant as a first author/main author in a Q1 journal having a good impact factor.
Job/Position Description-
The Department of Chemistry at the Indian Institute of Technology (IIT) Roorkee invites applications from outstanding and enthusiastic researchers for post-doctoral positions under the mentorship of Prof. Anuj Sharma, under the project 'Visible light photoredox catalysed C-2 functionalization of benzoxazoles'
The Prospective candidate is expected to have a strong background in organic synthesis and specifically in the areas such as catalysis, visible light-assisted synthesis and radical-mediated organic synthesis.
The candidate should be passionate about working on cutting-edge research leading to high-impact results with a potential for long-term applications. Apart from research, the candidate may be entrusted with other academic responsibilities deemed fit by the department.
Duration and Fellowship amount:
The fellowship duration will be two years, extendable to one more year, if necessary. The candidate is expected to join the Department as soon as the offer letter has been released. The fellow will receive a consolidated fellowship as below in addition to the contingency grant of Rs. 50,000/- per annum.
Rs. 55,000/- per month for the first and the second year
Rs. 60,000/- per month for the third year
How to Apply-
Candidates can apply with a cover letter, curriculum vitae, list of publications, and copies as first author/main author. The candidates must submit a research proposal based on the above project title. All this information should be sent by e-mail to:
Professor and Head
Department of Chemistry
Indian Institute of Technology
Roorkee-247667
INDIA
Email: chemt@iitr.ac.in
Cc: anuj.sharma@cy.iitr.ac.in
Phone (office): +91-1332-284381
Last Date for Apply– 11 August 2022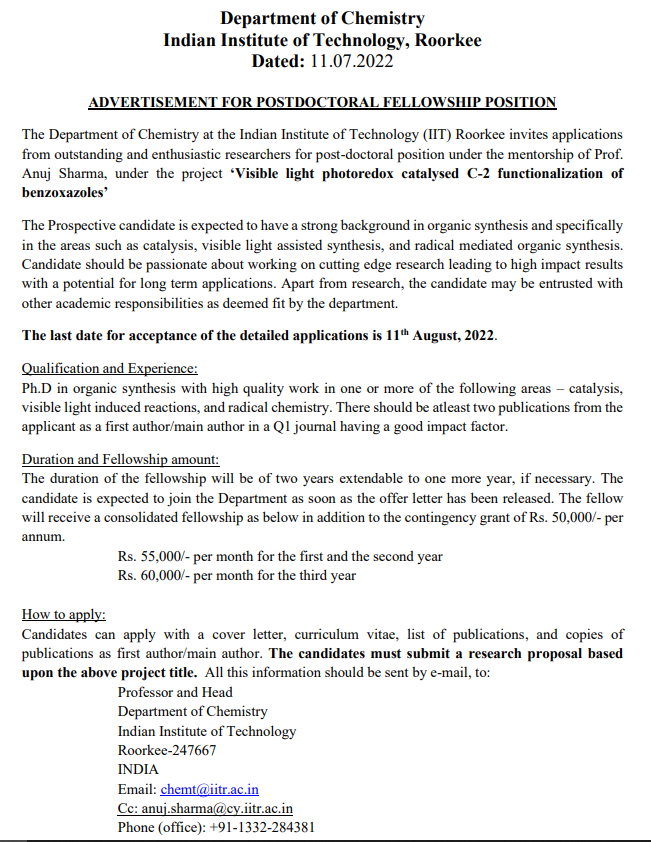 Join Our Discussion Forum – Keep your view, share knowledge/opportunity and ask your questions