Designation/Position- Post Doctoral Fellowship Position
IIT Roorkee, India, invites applications for Post Doctoral Fellowship Position from eligible and interested candidates
About- Indian Institute of Technology Roorkee is a premier public technical and research university in Roorkee, Uttarakhand, India, headed by Director Ajit Kumar Chaturvedi. It is formerly known as the University of Roorkee and Thomason College of Civil Engineering. Post Doctoral Fellowship Position
Research/Job Area- Agricultural Engineering/Civil Engineering/Electronics Engineering/Computer Science/Mathematics
Location- IIT Roorkee
Eligibility/Qualification–
The prospective candidate should have the following qualifications, i.e., Ph.D. in Agricultural Engineering/Civil Engineering/Electronics Engineering/Computer Science/Mathematics.s with first class in the degree preceding to Ph.D. and strong knowledge of IoT-ba.sed Smart Imgation systems, Sensors Development, and Networking.
Candidates who have recently submitted their thesis are also eligible to apply subject to the condition that they will furnish proof of the award of a Ph.D. degree at the time of interview at IIT Roorkee if shortlisted.
Job/Position Description- 
The Department of Water Resource Development & Management (WRD& M) at the Indian Institute of Technology Roorkee invites applications from outstanding and enthusiastic researchers for postdoctoral positions under the mentorship of Prof. Ashish Pandey (Professor, Department of WRD&M, IIT Roorkee), focused on "Design and Development of Internet of Things (IoT) based Smart 11Tigation System."
The prospective candidate is expected to have a strong background in the area of i) development of the indigenous soil moisture sensors and networking; ii) automation of irrigation at the fermi level, iii) Inter-net of Things (IoT) Based Integrated Irrigation Management System; iv) data collection using WiFi and the Internet. The candidate should have experience in working on cutting-edge research and should have publications in peer-reviewed journals. Apart from research, the candidate may be entrusted with other academic responsibilities as deemed fit by the department.
Duration and Fellowship Amount:
The fellowship duration will be two years, extendable for one more year. The candidate is expected to join the Department as soon a.s the offer letter has been released. The fellow will receive a consolidated pay as below in addition to the contingency grant of Rs. 50,000/- per annum.
Rs. 55,000/- per month for the first and the second year Rs. 60,000/- per month for the third year
How to Apply- 
Candidates should mention that Advt. No. and date with the title of the position applying for with cover letter, curriculum vitae, list of publications (highlighted with the most relevant publications for the post), copies of three most significant publications, a research statement describing past research, and plans for culture research by both regular and e-mail, to:
Dr. Ashish Pandey
Professor
Department of Water Resources Development & Management
Ill' Roorkee-247 667, Uttarakhand, India
Phone: 01332-285872; Mobile:+91-9412070399 E-mail: ashish.pandey(å)wr.iitr.ac.in
Last Date for Apply– 12 August 2022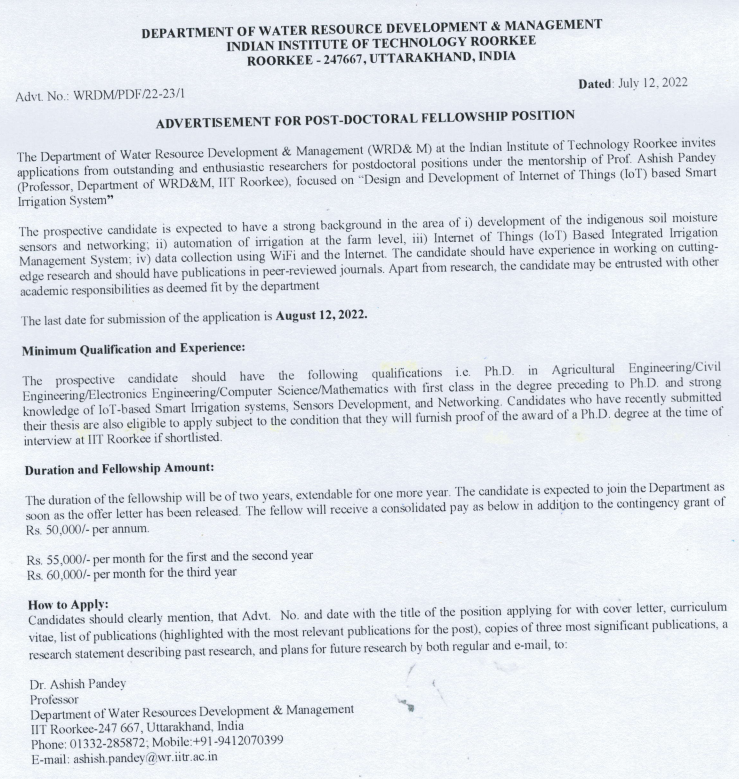 See Also: How to write a literature review: Tips, Format, and Significance
Motivation Letter for PhD, Postdoc, and Other Research Positions
How Can You Increase Your Citations for a Research Paper: Research Tip
Follow-up email to a professor: When and how you should write
Write an Email to Professor: Complete Dos and Don'ts Discussion
Join Our Discussion Forum – Keep your view, share knowledge/opportunity and ask your questions