Designation/Position- Postdoctoral Fellow or RA Position
IISER Bhopal, India invites application for Postdoctoral Fellow or RA Position from eligible and interested candidates
About- Indian Institute of Science Education and Research, Bhopal is an autonomous public research university in Bhauri, Bhopal district, Madhya Pradesh, India. Postdoctoral Fellow or RA Position
Research/Job Area- Chemistry/Life Sciences/or equivalent
More Opportunities:
Various Research Positions – 08 June 2021: Researchersjob- Updated
Project Postdoctoral Fellow at IIT Kanpur, India: Apply by 25 June…
Research Associate-I at IIT Kanpur, India: Last Date for Apply– 25…
Consultant: Scientific (Non-Medical) Position at ICMR-NITM Belagavi, India
Location- Bhopal
Eligibility/Qualification–
• Ph.D. (or equivalent) in Chemistry/Life Sciences/or equivalent from a recognized University/Institute with a minimum of 60% Marks or CGPA of 7.0 and above at a scale of 10.
Desirable: An experience of one or more years in protein bioconjugation.
Job/Position Description-
Applications are invited from Indian nationals for the post of postdoctoral fellow or RA in the research area of Bioconjugate Chemistry/Chemical Biology/Proteomics under the SERB Project No SERB/CHM/2021001.
Project Description: The project will involve the synthesis of a library of antibodydrug conjugates (ADCs). In the process, the candidate will have to perform (a) organic synthesis of a few reagents and (b) use them for antibody bioconjugation. (c) Further, the candidate will have to use mass spectrometry for sequencing and analysis of the ADCs. The candidate is expected to have expertise in at least two of the three tasks (a–c).
No. of Position: ONE (Postdoctoral fellow or RA)
Duration: 1 year (extendable to 2 years).
The extension will be based on the annual evaluation of the research progress.
How to Apply-
Applications containing a detailed CV (including name, photograph, date of birth, address for communication, phone number, email id, details of educational qualifications and name of two referees) can be submitted through online Google Form: https://forms.gle/pqtjkmVsnE1tTuN68
Shortlisted candidates will be called for an online interview. Photocopies of certificates/mark sheets and other testimonials will be required at the time of interview. The selected candidate will be expected to join at the earliest possibility.
Contact Details:
Dr. Vishal Rai
Department of Chemistry, IISER Bhopal, Bhopal Bypass Road, Bhauri, Bhopal 462066.
Email: vrai@iiserb.ac.in
Webpage: http://home.iiserb.ac.in/~vrai/
Last Date for Apply– 30 June 2021
Last date of receiving applications is June 30th, 2021; 5:00 PM (IST).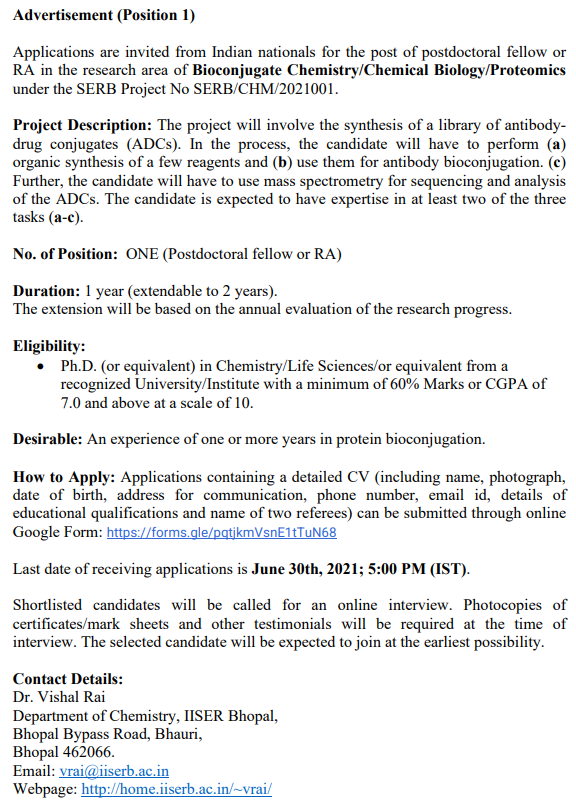 Join Our Discussion Forum – Keep your view, share knowledge/opportunity and ask your questions