Designation/Position- Postdoctoral Positions in IOPB
Institute of Physics, Bhubaneswar, invites applications for the Postdoctoral Positions in IOPB for eligible and interested candidates.
About- Application is invited for postdoctoral positions in experimental condensed matter in the sub-project: Advanced functional material of Prof. D. Topwal. Postdoctoral Positions in IOPB
Research Area- Physics
Location- Institute of Physics, Bhubaneswar
Teaching Jobs in India: Various Faculty Positions in top Indian Institutes
Eligibility/Qualification–
Candidates should have a PhD degree in Condensed Matter Physics. Those who have submitted their thesis are also eligible to apply. Shortlisted candidates will be asked to present a seminar and arrange letters of recommendation before final selection is made.
Expertise: Candidates are desired to have experience in chemical synthesis of materials, thin film fabrication by Pulsed Laser Deposition, thin film XRD, magnetic and magnetotransport measurements. Besides, they should have sound understanding on the fundamentals of magnetism, electron transport, superconductivity, topological materials and interface related phenomena in heterostructures.
Job/Position Description-
Postdoctoral position in Experimental Condensed Matter Physics
Applications are invited for postdoctoral position in experimental condensed matter physics to work in the broad area of designer quantum materials and novel phenomena in the group of Dr. Debakanta Samal at Institute of Physics, Bhubaneswar.
Number of available positions: Two
Fellowship: Fellowship will be as per the Institute norm.
Tenure: The position is initially for a period of one year with subject to extension for another year depending on the availability of funds and interim review.
How to Apply-
Interested candidates are required to send their application with a Cover Letter, CV and Research Statement (max. 3 pages) to dqm@iopb.res.in by 12th July, 2023.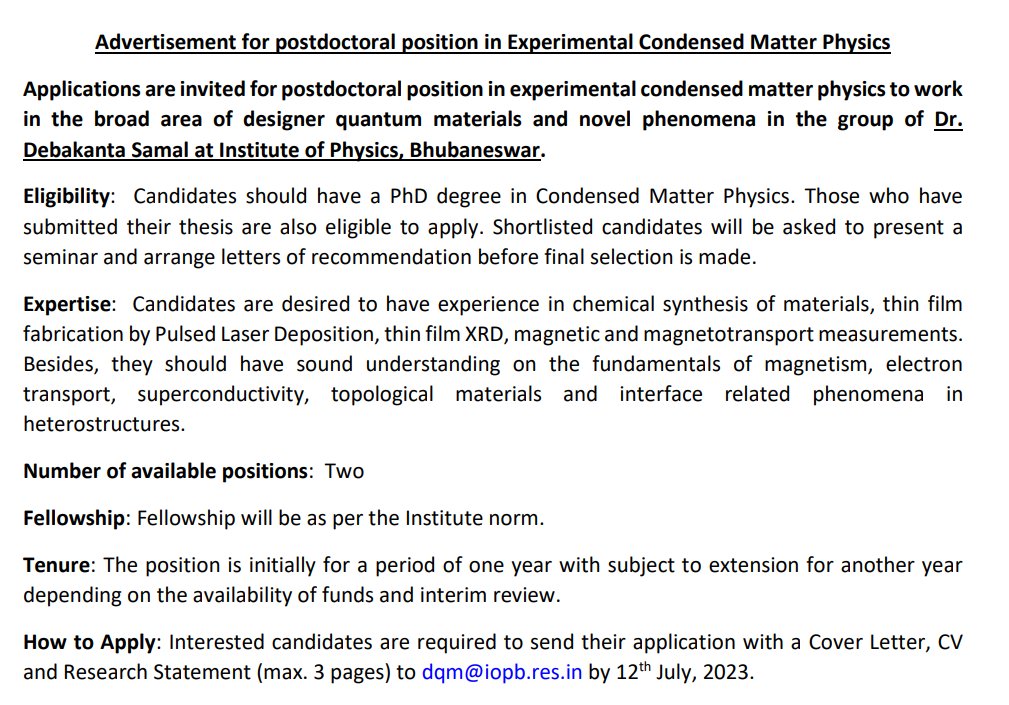 Last Date for Apply– 12 July 2023