Designation/Position- Research Associate-I Position in UoH
University of Hyderabad, India, invites applications for Research Associate-I Position in UoH from eligible and interested candidates.
About- Applications are invited from eligible candidates (Indian Nationals only) on a plain paper / prescribed format for the following temporary position(s) in the research project entitled Developing an artificial intelligence-based algorithm for exploring reaction mechanisms sponsored by UoH-IoE vide Sanction File No. UoH-IoE-RC2-21-010, Dated 30 August 2021.
Research/Job Area– Biochemistry
Location- University of Hyderabad, India
Eligibility/Qualification–
Ph.D. Biochemistry
Desirables: The candidate expected to perform Cell culture and routine laboratory tasks such as protein isolation, SDS-PAGE, Western blot, RNA isolation PCR and RT PCR. Candidate expected have good analytical skills, data acquiring, good laboratory practice, efficient in data handling and manuscript writing.
Job/Position Description-
Position: Research Associate I
Tenure: Initially for One year
Salary: Rs. 47,000/-+ HRA (as per ICMR rules) Place: Anil's Laboratory, Dept. Biochemistry, SLS, UoH.
Grant Agency: ICMR, Govt. India.
Title of the project: "HIF-1α induces mitophagy of glomerular podocytes and implicates in Chronic Kidney disease".
School of Engineering Sciences and Technology is inviting applications for one Research Associate position in Institute of Eminence (IoE), University of Hyderabad project entitled 'Smart Indigenous Miniaturized Portable Potentiostat Demonstrator Design for Low cost real time monitoring of Heavy metal ions in water by Electrochemical sensing (SIMPLE), No UoH-IOE-RC4-21-008'. Appointment is purely on temporary basis subject to satisfactory performance.
Remuneration: Rs.47,000/- INR per month consolidated.
Tenure of the post: Position is for a period of one year and extendable subject to satisfactory performance.
How to Apply-
Please send (uhnephrology@gmail.com) your resume on or before
27th February, 2023. Shortlisted candidates will be called for interview (Off-line only). NOTE: This position is contractual and time bound. TA and DA will not be paid for the candidates attending for interview or coming to join.
For Further details: please visit www.nephlab.com
Anil K Pasupulati, R. No: F73
Dept. Biochemistry
School of Life Sciences
University of Hyderabad
Hyderabad-46
Ph.: 91-40-23134519
Last Date for Apply– 27 February 2023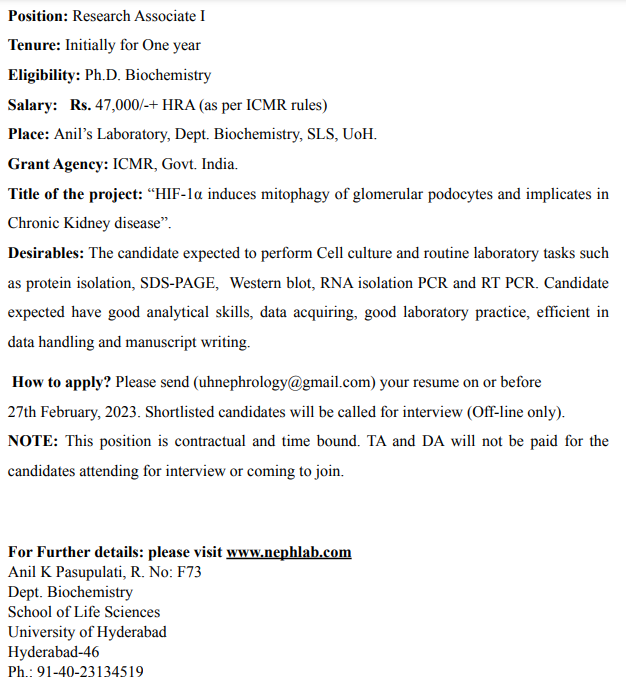 You can get our Regular updates on Telegram also
Find or Post Research Project PositionS – Researchersjob Board
See Also: Motivation Letter for PhD, Postdoc, and Other Research Positions
Whitesmoke Grammar Checker Online – Improve Your Research Writing Skill – Alternative to Grammarly
How to write a literature review: Tips, Format, and Significance
Research Proposal How to Write: Detail Guide and Template