Designation/Position- Research Associate(RA-I) Position
Indian Association for The Cultivation Of Science, Jadavpur, Kolkata, India, invites applications for Research Associate(RA-I) Position at IACS from eligible and interested candidates
About- The Indian Association for the Cultivation of Science (IACS) is a society registered under Act XXI of 1860 and the corresponding State Act viz. the West Bengal State Registration Act 1961, with its headquarters at 2A & 2B, Raja S. C. Mallick Road, Calcutta – 700 032, West Bengal, India. It has a Governing Council with several members elected or nominated and the Registrar as its Non-Member Secretary. The Council has the functions, duties and power as envisaged in the Memorandum and Bye-Laws per the relevant Act's provisions.
Research/Job Area- Physics/Chemistry/Materials/Nano-science
Location- Indian Association for The Cultivation Of Science, Jadavpur, Kolkata, India
Skype Interview Tips and Tricks – Best Practices in the Video interview
Eligibility/Qualification–
Candidates should have a Ph.D. in Physics/Chemistry/Materials/Nano-science in the area of 2D Materials and their applications in energy harvesting and storage area.
Candidates with expertise in synthesis and device fabrications are strongly encouraged to apply.
Research Area: 2D Materials, MXenes, PEC Water splitting, Photodetectors,  
Job/Position Description- 
Applications are invited for the post of a Research Associate (RA) to work in the area of 2D Materials based heterostructures for energy harvesting and storage applications at the School of Materials Sciences IACS, Jadavpur, Kolkata- 700032.
Number of positions: 01
Fellowship: As per the Rules of IACS
Duration: This post is purely temporary. The initial appointment will be done for six months, which is subject to an extension of up to two years based on the candidate performance review (after each sixmonth duration) and position availability.
Application closing Date: 12/06/2023, 5.00 PM  
Remarks: Shortlisted candidates will be informed by email.
Interview: Online interview process of the shortlisted candidates will be held on XX/06/2023. Just to let you know, an email would be sent to applicants prior to the date of the interview.
How to Apply- 
Interested candidates with the above qualification and experience are requested to apply with an updated CV by emailing it to Prof. Praveen Kumar (iacs.praveen@gmail.com; msprk@iacs.res.in)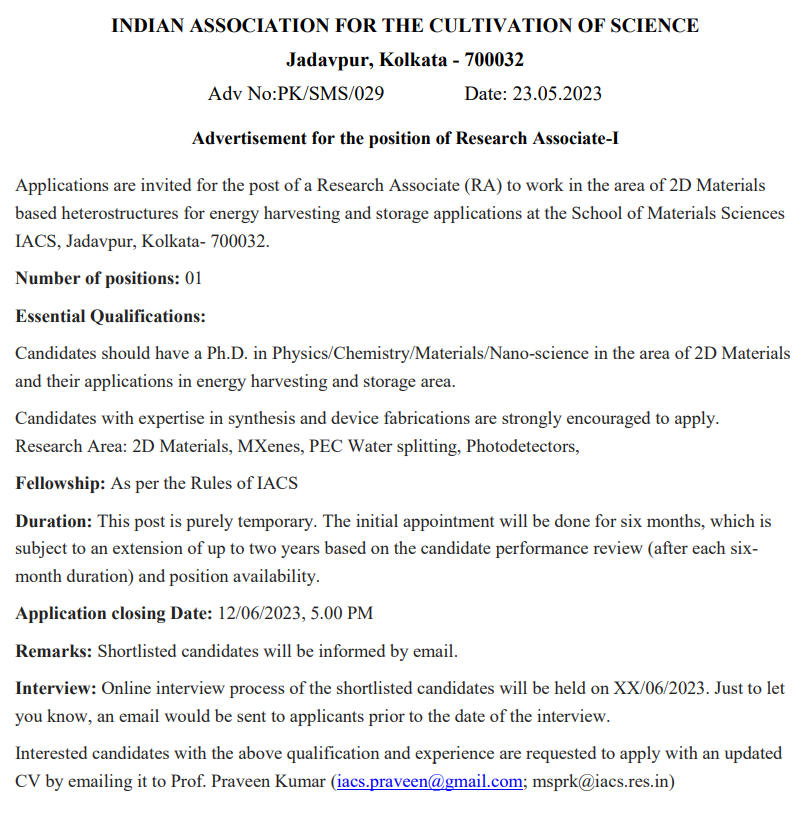 Last Date for Apply– 12 June 2023
Join Our Discussion Forum – Keep your view, share knowledge/opportunity and ask your questions