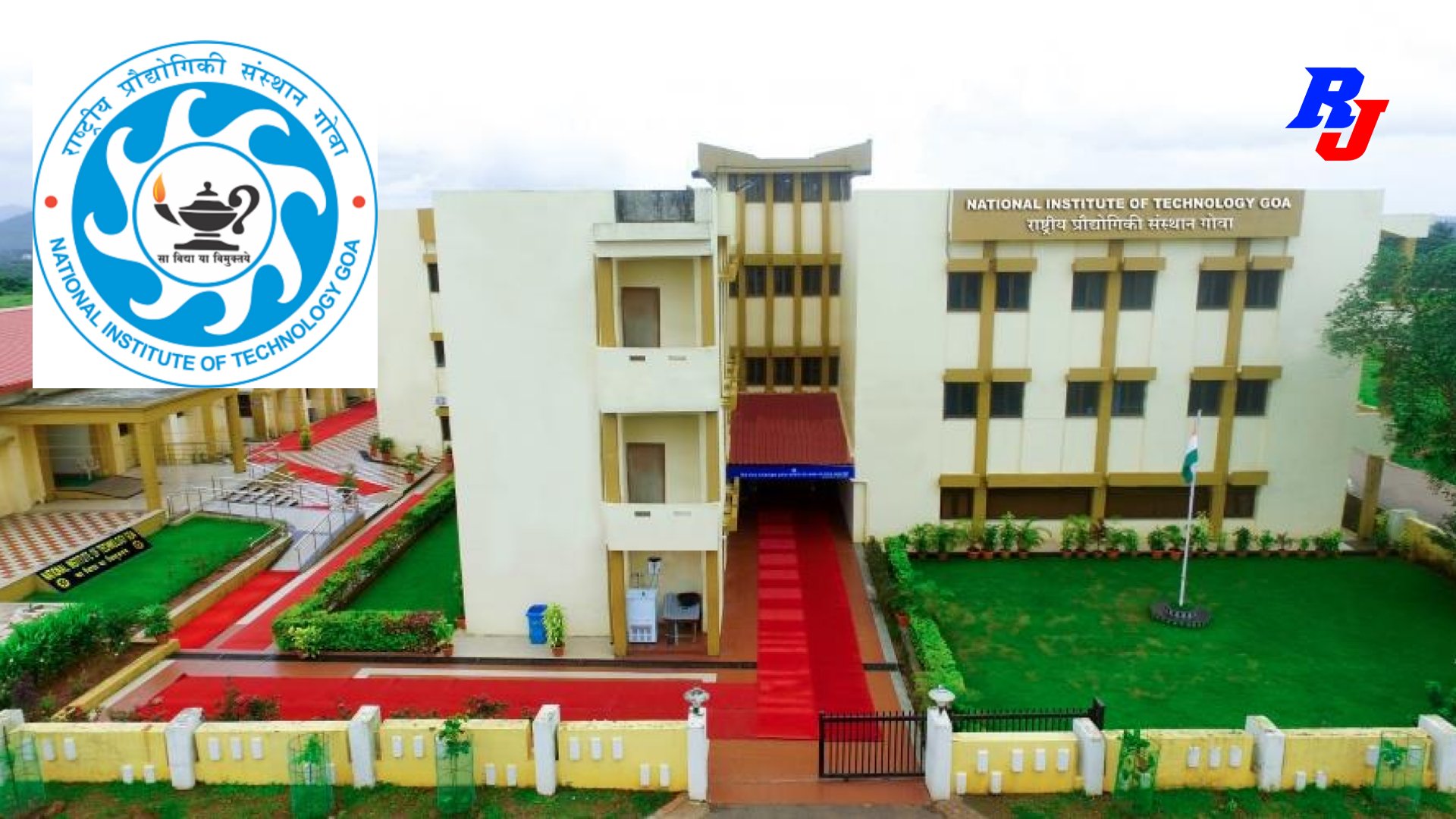 Faculty Position in NIT-Goa, National Institute of Technology Goa
Designation/Position- Faculty Position in NIT-Goa
National Institute of Technology Goa, India, invites applications for Faculty Position in NIT-Goa from eligible and interested candidates.
About-  The National Institute of Technology Goa (NITGoa) is the region's premier technical institute. NITGoa was established in 2010 by an act of parliament (NIT act 2007), and it is declared as 'The Institute of National Importance. ' NITGoa is an autonomous institute functioning under the aegis of MHRD, Govt. of India. The campus is located at Farmagudi, Ponda, approximately 29 km southeast of Panaji, the capital of Goa, and it is a temporary campus. The state of Goa is well connected by roadways, railways and airways in various parts of the country. Faculty Position in NIT-Goa
Research/Job Area- Mechanical Engineering
| | | | |
| --- | --- | --- | --- |
| No. of Posts | Department | Required Essential Qualifications |                  Desired specialization        |
| 03 | Mechanical Engineering | First class M.Tech. / Ph. D. (submitted/awarded) in Mechanical Engineering  | Industrial Engineering, Mechanics Production management,  Industry 4.0, Mechatronics, Engineering Drawing |
Location- National Institute of Technology Goa, India
Job/Position Description- 
Walk In–Interview for Faculty on Temporary Basis (Mechanical Engineering)
Period of Contract: Appointment is for the academic year 2022-23 (Odd Semester) for six months (Purely on temporary basis). It may be extended based on his/her performance.
Consolidated Pay: Selected candidate shall be eligible for a consolidated pay of Rs. 40,000/- per month with Master's degree and 50,000/- per month with a Ph.D. Degree.
The interview shall be conducted in Offline Mode. Date and timing shall be intimated to the shortlisted candidates after the scrutiny by email only.
Faculty members must be ready to join immediately if selected and be ready to take physical classes as per the Institute rules.
How to Apply- 
Interested candidates need to duly fill in the required data in the attached application format.
Duly filled application form, along with the scanned copy of original documents, published papers (if any), etc have to be compiled into a single *.pdf file.
For application submission, use the below Google sheet link, and attach the *.pdf file in the provided space. Link: "https://forms.gle/YKeURzuETMJ6mnkT9"
For any information, please contact:
The Registrar, NIT Goa, Farmagudi, Ponda, Goa-403 401. Phone: 0832-2404200/205
Last Date for Apply– 24 September 2022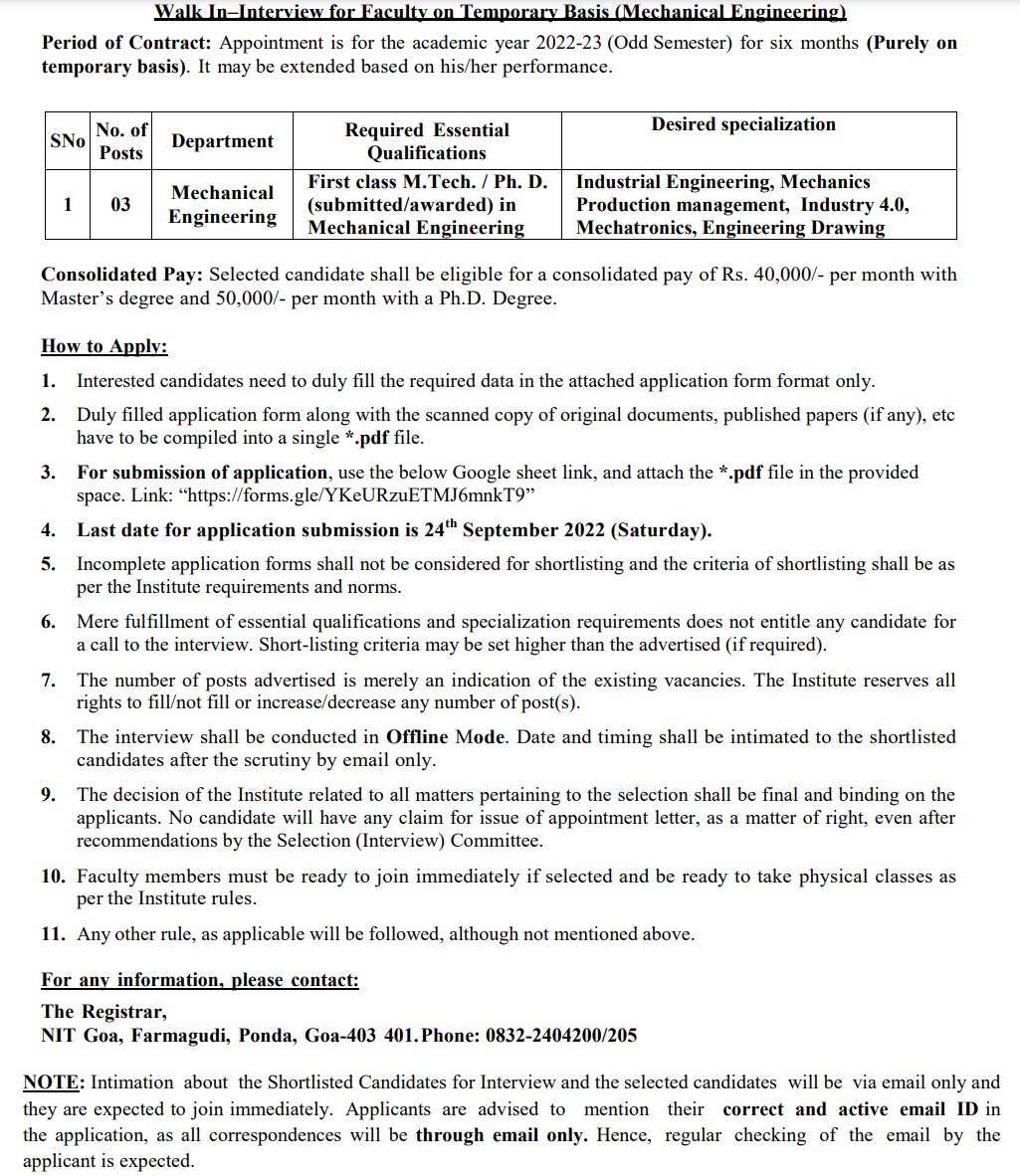 How to write an attractive research proposal?
How to Write an Effective Cover Letter – Prepare Yourself
6 golden tips for finding successful postdoctoral opportunities
Some Effective Tool to Improve Your Research Writing Skill