Guest Faculty Post in Central University of Tamil Nadu (CUTN), India
Designation/Position- Faculty Post in Central University
Central University of Tamil Nadu (CUTN), India, invites applications for Faculty Post in Central University from eligible and interested candidates
About- Central University of Tamil Nadu (CUTN) is an institution of higher education established by an Act of Parliament in 2009. The University aims the fashioning an enlightened society founded on a relentless pursuit of excellence through innovation in the teaching-learning process, interdisciplinary studies and research. Tucked away 8 km. off the headquarters of Thiruvarur District, which is both in the heart of the Cauvery Delta
Research/Job Area- Mathematics
| | | | | |
| --- | --- | --- | --- | --- |
| Department | Subject | Essential Qualification | No of Positions | Date of Interview |
| Mathematics | Mathematics | Master Degree in Mathematics & Ph.D in Mathematics / NET | 02 | 07-09-2023 |
| | Total | | 02 | |
Location- Central University of Tamil Nadu (CUTN), India
Research Proposal How to Write: Detail Guide and Template
Eligibility/Qualification–
*A Masters degree with 55% marks (or an equivalent grade in a point-scale wherever the grading system is followed) in Mathematics subject from an Indian University, or an equivalent degree from an accredited foreign University.
Besides fulfilling the above qualifications, the candidate must have cleared the National Eligibility Test (NET) conducted by the UGC or the CSIR, or a similar test accredited by UGC or who are or have been awarded a Ph.D degree in Mathematics in accordance with the University Grants Commission (Minimum standards and Procedure for Award of M.Phil/Ph.D. degree) Regulations, 2009 or 2016 and their amendments from time to time as the case may be are exempted from NET.
Further, the qualification for guest faculty shall be at par with the minimum qualification for Assistant Professors in Universities as per UGC Regulations, 2018.
Job/Position Description-
Central University of Tamil Nadu invites applications for the guest faculty positions for the academic year 2023-24.
Selected candidates shall be paid an Honorarium of Rs.1500/- per lecture subject to maximum of Rs. 50,000/- per month.
The selected candidates shall be engaged on purely temporary basis for a period of one semester / six months. The services of Guest faculty will be terminated without notice if found unsatisfactory. Under any circumstances, candidate cannot claim any right for permanent position.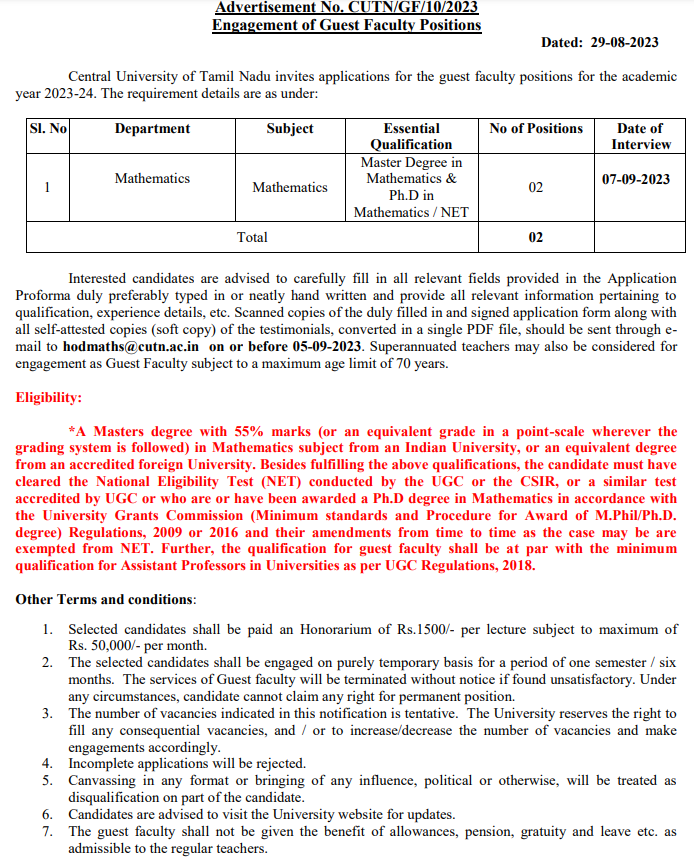 How to Apply-
Interested candidates are advised to carefully fill in all relevant fields provided in the Application Proforma duly preferably typed in or neatly hand written and provide all relevant information pertaining to qualification, experience details, etc. Scanned copies of the duly filled in and signed application form along with all self-attested copies (soft copy) of the testimonials, converted in a single PDF file, should be sent through email to hodmaths@cutn.ac.in on or before 05-09-2023. Superannuated teachers may also be considered for engagement as Guest Faculty subject to a maximum age limit of 70 years.
Last Date for Apply– 05 September 2023
How to write an attractive research proposal?
How to Write an Effective Cover Letter – Prepare Yourself
6 golden tips for finding successful postdoctoral opportunities
9 Important Tips to Publish Your Work in Journal with High Impact Factor
Some Effective Tool to Improve Your Research Writing Skill
Join Our Discussion Forum – Keep your view, share knowledge/opportunity and ask your questions